A photographic dichotomy
Two natives capture what they love about life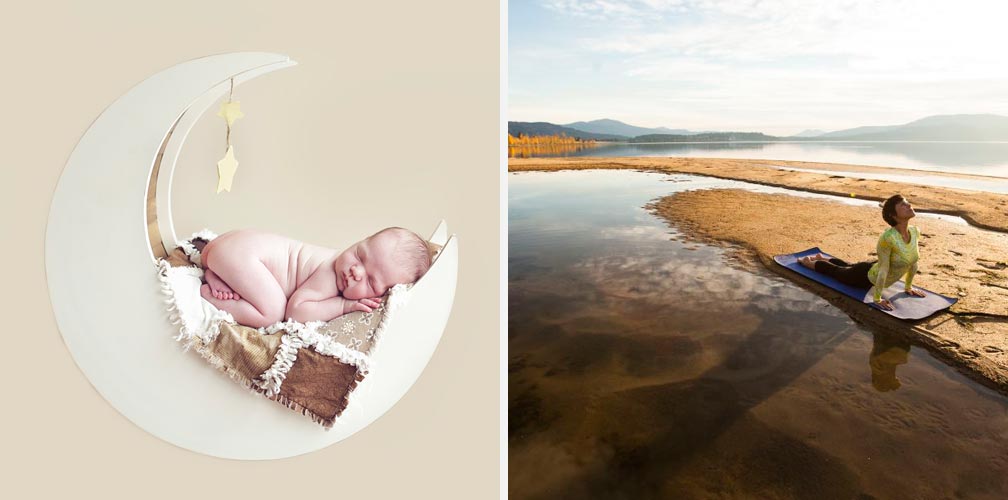 Two natives capture what they love about life
By Carrie Scozzaro
What do babies and backcountry skiing have in common? Plenty if you're photographers Staci Bailey and Patrick Orton. They share a love for living in Sandpoint, an appreciation for Canon's 5D Mark III camera and a desire to share their passion with the world.
Bailey, 36, a married mother of two, revels in photographing newborn babies bathed in natural light and the gentle stillness of her studio, while Orton, 24, lives for the thrill of the hill, camera in one hand and skis in another – when he's not snowmobiling, wakeboarding, or rappelling off a cliff. Here are their stories.
STACI BAILEY
Accidentally in love
Bailey fell into photography more than eight years ago after the birth of son Owen, followed two years later by daughter Bella. Armed with a mother's love for her children, a point-and-shoot camera and the support of husband Ryan – he owns Bailey's Plumbing – Staci Bailey set out to capture the fleeting moments of her children's early years.
"It wasn't about just taking a photo," said Bailey. "It was about freezing time and documenting all of their tiny details. Their chubby fingers, their long eyelashes, the fun they have while doing art projects, the messes they made and the joy they got out of those messes, watching them learn, all of it!"
But Bailey also saw business potential in being able to share her baby-love with other parents. "I started with (child) photography," she said, "but gradually migrated to newborns and babies as my own got older."
Eager to learn, Bailey honed her skills through practice, workshops and researching other photographers. She took classes from California-based "Baby as Art" photographers Carrie Sandoval and Brittany Woodall, featured in such publications as The New York Times and renowned for their use of props to create intimate newborn portraits. It's an approach pioneered by Anne Geddes, known for her whimsical portraits of babies and expectant parents.
"Being a mom myself has helped me be able to handle the babies with confidence," said Bailey. "I treat all of them as if they were my own."
A typical photo shoot, explains Bailey, involves gently posing the babies in natural light settings, most often indoors. Photographing against a neutral background with a short depth of field to blur the background, Bailey enhances the drama through the use of props: a shell-like swing, a vintage wicker baby carriage or tin bucket, a fur-lined drawer, a shelf shaped like a crescent moon complete with dangling star.
Fabric, color and texture are essential tools for Bailey, who makes many of the hats and headbands she uses in her photos. She also calls on family members – mom Cindy Derr of Spokane-based Knit Nan Knit and sister Jennifer Derr's Modern Rag Quilts based in San Jose, Calif. – to provide a range of fabrics, blankets and ridiculously cute accessories.
Bailey uses her Canon Mark III camera body and a 50 mm lens to capture every detail, occasionally doing after-image touch-ups, such as reducing blemishes on otherwise perfect, little faces.
"I like clean, crisp and clear images, so the least amount of editing the better," said Bailey, who will occasionally digitally merge two photos, such as trickier outdoor shots.
The least exciting part of the job, says Bailey, is paperwork. A fourth-generation Clark Fork/Sandpoint native, Bailey (née Derr) parlayed her volleyball skills into a scholarship at University of Southern Colorado (now called Colorado State) where she earned a bachelor's degree in finance in 1998.
"It really is quite funny that I have the financial background that I do as I loved that type of work once upon a time, but now that my creative side has kicked in, paperwork is on my 'chore' list," Bailey said.
What she loves, says Bailey, is continuing to learn and experiment.
"I miss everything 'baby' about my kids," said Bailey, "and find so much joy in getting to interact with newborns and their parents. There is something so magical about that time frame."
---

PATRICK ORTON
Living the dream
"Photography allows me to follow my passion," said Patrick Orton, who wants to inspire others to live their life to its fullest. "My favorite part is getting to experience amazing adventures with my best friends."
Adventures with friends was a process that started early for the Sagle native. "In the summers we would jump off cliffs at Green Bay, go wakeboarding along the edge of the Green Monarchs, and hike deep into the Selkirks and Cabinets," said Orton, who spent winters snowmobiling and skiing the backcountry.
Although he had been skiing since age 5, it wasn't until age 16 that it became somewhat of an addiction, admits Orton. But it was a healthy addiction, one that turned him on to photography when Orton's mother, Kristina, asked well-known local photographer Chris Guibert to take photos of Patrick while skiing.
"I fell in love with the lifestyle of photography before I started shooting," said Orton. "At 17, I purchased my first dSLR (camera) and Chris lent me two lenses to use until I bought my own." Orton shot countless images, finding an outlet for his energy and creativity that combined outdoor adventure, friendship and travel.
"Not much has changed," said Orton, who has been featured in such national publications as Rock and Ice and Powder magazines, "but now we jump off bigger cliffs and go to more remote areas to explore."
He went to Thailand, for example, where he photographed a BASE (buildings, antennas, spans, earth) jumper falling from a 460-foot wall for Outside magazine. For the shot, Orton climbed four pitches up a 5.11 route to position himself under the diver; captured Chris Bevins' astonishing, midair nosedive; and then rappelled back down the mountain. In Vail, Colo., Orton's photograph of a snowboarder catapulting over an ice waterfall cliff is now frozen in time on the pages of National Geographic Adventure's "Adventure Town" series.
Vail holds special meaning for Orton, who graduated in nearby Glenwood Springs where he earned his professional photography degree at Colorado Mountain College (Guibert's alma mater). It was a rigorous program and a turning point in his career.
"We started with 55 kids and I graduated with 6," said Orton. "Most of the kids thought photography would be easy. They had no passion, and it showed in their work." His passion caught the eye of Vail Resorts' director of photography, Jack Affleck, who offered Orton a job photographing the mountain.
Eventually Orton returned home to Sagle, where he worked two summers with Woods Wheatcroft, another nationally known local photographer. He also embarked on a three-year project with mother Kristina and father George Orton to build Starfire Cabin in Sagle, a rentable retreat.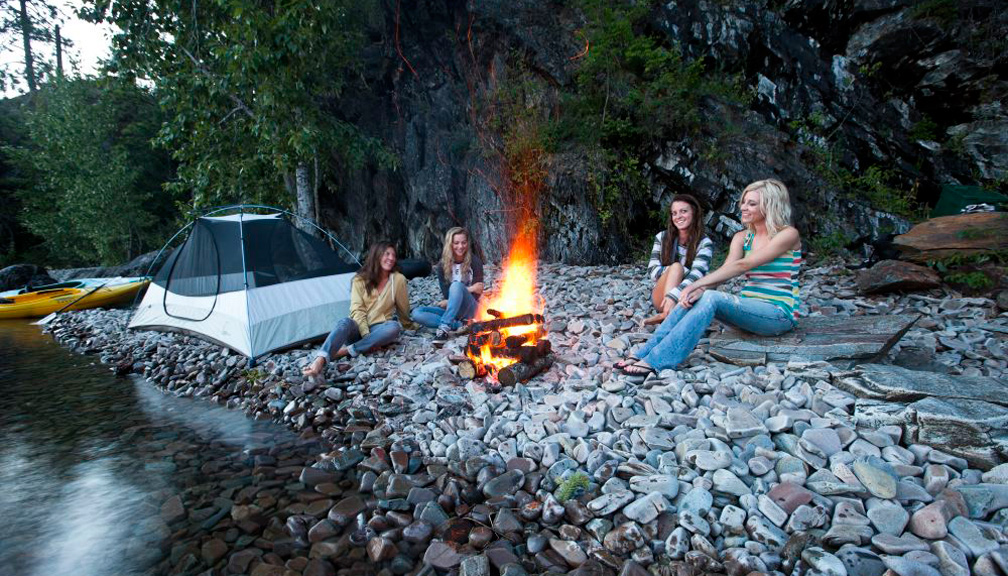 Constructed of native materials – walls from local logs, the hearth chiseled from Green Bay rock slabs, a fireplace from Hope's Lightning Creek – Starfire is a sanctuary on 40 acres surrounded by organic gardens, aspen and cedar trees and a pond. It also features a three-mile downhill mountain bike course Orton spent four years building.
As busy as he is – he recently hired an assistant and has gotten into both video and writing about his adventures – Orton has little time to ride his own bike course. He only spends about four months of the year in Sandpoint. "Out of all the places I have seen in the world," said Orton, "Sandpoint is my favorite. The beauty is unparalleled and it has such a friendly community."
Although most of what he shoots is adventure, Orton's portfolio (www.patrickortonphotography.com) shows broad ability and reflects a thoughtful appreciation for nature and portraiture. In the yoga section, he includes a black-and-white image of a yogi atop a crag in standing bow pose with a mountain goat grazing casually nearby. In the portraiture section, a pretty brunette blows snow at the viewer, her impish character framed in a halo of soft, white light. And even in the adventure category, he captures the quiet moment, such as a couple paddling away from a campsite, a silvery purple silhouette contrasting with the orange embers of the campfire.
"I love capturing a moment in time that wows people," said Orton. "Images are a way to show the world your unique, focused view. They give people a window into my world of adventure and travel – a way for me to inspire others to live their lives to the fullest."