Propel Yourself Into Kayaking
From the Summer 2017 Issue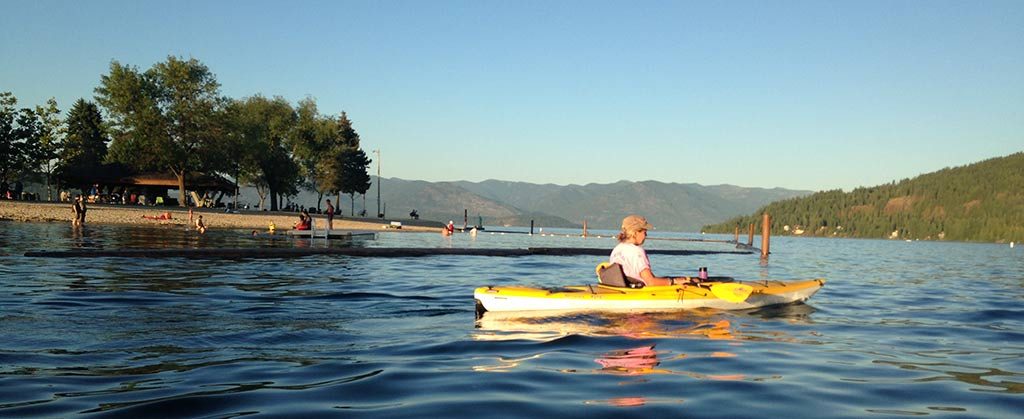 With no trouble at all I can get to a put-in on the lake, get my kayak in the water, slip into the cockpit, and I'm out. Just a couple of strokes of the paddle, and I'm gone from the "real world." Exploring the lake's many miles of beautiful shoreline is always intriguing and I can get into coves and inlets that elude most boaters.
Wildlife is often bewildered by kayakers and you can create great photographic opportunities by sneaking up or quietly drifting by curious critters. Fishing is enjoyable from a kayak because the fishy backwaters and shorelines are easily plied.
Kayaks come in all shapes and sizes. The length, width, weight, and material of the boat all make a difference in how it performs and in related maintenance. Borrow one from a friend, or take advantage of a local shop's demo days before buying. Action Water Sports in Sandpoint offers lessons and lake tours.
If you're paddling the lake you'll want to get a longer paddle with a thinner blade. Get one that breaks down for storage and that gives you the option of feathering the blades.
A personal flotation device is important on the water. Choose one that fits snugly, has pockets for things, and gives your arms plenty of range of motion.
Numerous open shorelines within easy reach of boat ramps afford relaxing places to get off the water, have some lunch, skip rocks, and soak up the sun on a warm beach. That's the beauty of living in Sandpoint: there's more than one way to get away from it all.
YOU CAN GET THE GEAR AT:
Alpine Shop 213 Church St. 208-263-5157
Outdoor Experience

 

314 N. First. 208-263-0628
Action Water Sports 101 N. First. 208-255-7100
Hope Marina 47392 Hwy. 200. 208-264-5105
KAYAK TRANSPORT:
Lake Pend Oreille Water Taxi and Tours 208-691-3158