Ethan and his treehouse
From the Summer 2014 Issue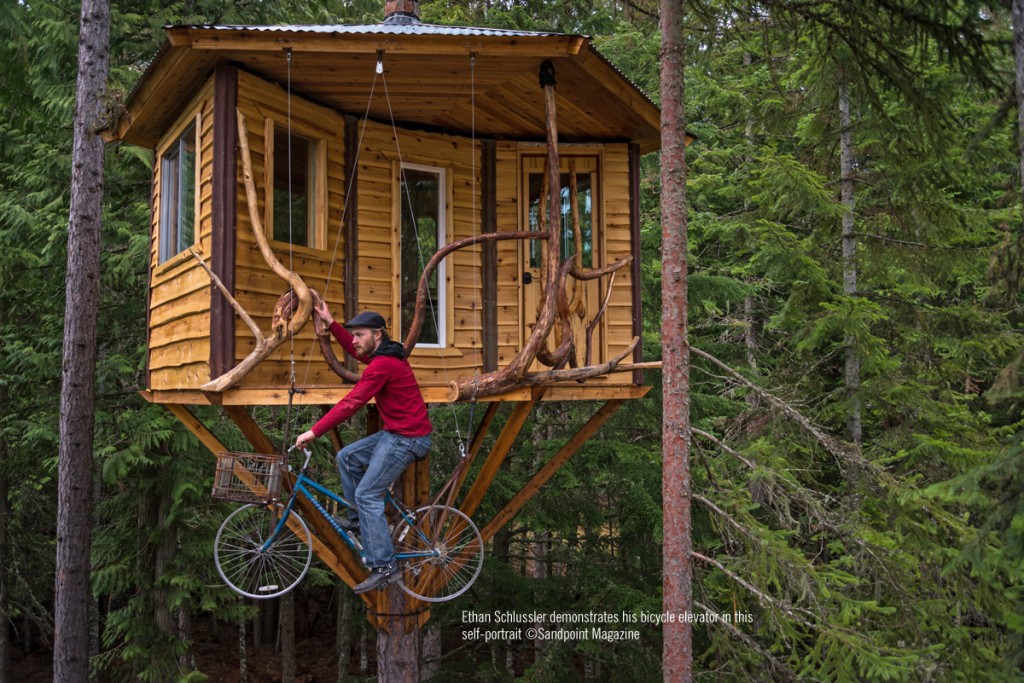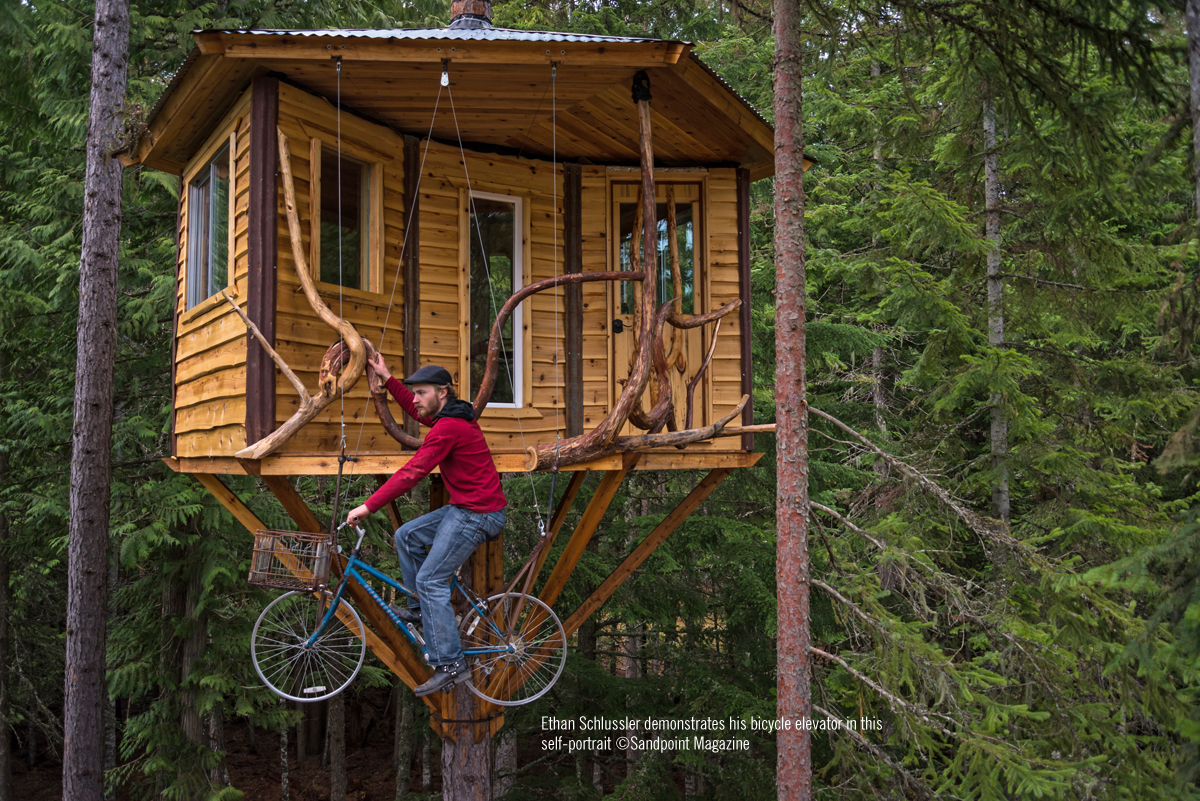 Bicycle-powered elevator goes viral
What's 30 feet off the ground and accessed by a human-powered bicycle elevator? Ethan Schlussler's treehouse, of course!
Since posting a 56-second video on his YouTube channel last August, Schlussler and his innovative elevator have garnered more coverage than you can shake a branch at – CNN, "Good Morning America," Fox News, a TV show in Japan, an online magazine in Norway, a radio show in Germany, a kids' science magazine in Turkey, and Animal Planet's "Treehouse Masters" – a real coup.
Ironically, the 23-year-old doesn't watch TV and hadn't even heard about "Treehouse Masters" when he started building last summer. Within a few months, though, a producer from the popular reality TV show contacted Schlussler.
Pete Nelson, the exuberant star, visited the building site up Rapid Lightning one day last October and filmed a segment that aired Jan. 17 in the "Black Bear Bungalow" episode. Nelson's shtick is swooping in to help do-it-yourself-treehouse builders fix a problem.
"It ended up being pretty humorous," Schlussler said. "They came totally unprepared."
Meantime, that YouTube video has attracted more than 1.6 million views from nearly every country in the world, and another reality show barked up his tree. A film crew visited in April to scope out Schussler's project for a potential series on the Discovery Channel, "Tree People." Plus, representatives from CabinPorn.com called about coming this summer for a two-day photo shoot for a book.
It all started when an idea popped into Schlussler's head last June 16. "I wanted to have a space of my own outside of my mother's house," he said.
He selected the biggest, healthiest Western larch tree on his mother's south-facing acreage for the hexagon-shaped, 80-square-foot treehouse. The site is conveniently located close to the house and a portable sawmill belonging to the friend and neighbor he grew up with, Aza Dhaenens. In real life, Dhaenens, 26, is the one who helped Schlussler with ideas – and who first suggested using a bicycle.
"It was such a simple idea, the bicycle elevator, and who would guess that people would be so inspired and so in awe of something so simple?" Dhaenens said.
Schlussler, though, designed and built the entire treehouse and its elevator himself.
"I just knew I wanted to make some way to get up there that was more interesting and easier than the ladder," he said. Starting with his mom's old bike and a counterweight made from a water heater, he manipulated the bicycle's gear ratio and added an extra pulley to create more advantage for lift as he fine-tuned his invention.
"The first time it worked and I was actually able to pedal up, it was really fantastic," he said.
Made of cedar and preserved with Danish oil, the treehouse won't rot, but its longevity hinges on the tree's life-span. "The (friction) attachment system I invented for it is entirely experimental," Schlussler said. "It does constrict some of the sap of the tree."
This spring he added two platforms on nearby cedar trees and three zip lines, including one to the house. He would like to build a pedal-powered contraption to facilitate an uphill return – and more treehouses.
Dhaenens said: "I'm even tossing around building a treehouse myself up there. Since they've pretty much adopted me, that means I can visit whenever I want to."
For this first treehouse, Schlussler used supplies that he had or could make from the property. He salvaged a logging cable found in their woods and metal roofing from a neighbor's dilapidated barn. He spent two weeks on design and preparation – building a miniature prototype followed by a full-sized one and milling the lumber.
First, he placed supports in the tree. Within a week, he built the floor that provided a usable platform. He built six trusses and the roof on the ground, hoisted it up a 40-foot ladder, and clamped it from atop a second, 8-foot ladder. The roof is self-supported – most likely another revolutionary design – that allows it and the walls to move independently, flexing as the tree bends in the wind.
His mom, Sandpoint Waldorf School teacher Julie McCallan, watched with interest and some trepidation: "A few minutes when he was dangling, I thought, Is that safe?"
"I've been doing crazy stuff since I walked," Schlussler said.
His mom loves the end result.
"It's just so gorgeous," she said. "From the beginning, it just had a beauty about it."
Although home-schooled after sixth grade, Schlussler learned most of his skills from neighbors and earned a GED at 17, followed by an associate's degree in photography at North Idaho College. Now he's leaning toward building treehouses for a living: "It keeps me outdoors and it's a lot of fun. I like anything that's dangerous, and building treehouses is somewhat inherently dangerous because it's higher off the ground than your average house."
Schlussler has done construction, operated heavy equipment, logged, cut firewood, been an auto mechanic, and fabricated metal. He even worked as a clown on a unicycle one "Scarywood" season at Silverwood Theme Park. He and his mom have pondered offering vacation rentals in the long-term.
"It's always been a dream of mine, a B&B, just because I like to cook," said McCallan.
"I learned a lot building this treehouse," Schlussler said. "Something I got out of the experience … is the sense of being able to invent or build anything I might need rather than going and buying it at the store, or looking it up on the Internet, or finding some plans, or paying someone else to do it. It's been a hugely rewarding experience."
7 responses to "Ethan and his treehouse"