Deep in Pend Oreille
From the Deep in Pend Oreille Issue
Underwater Photography by Allen Worst

Tales of the secrets of her depths abound
At top, diver on a steamboat wreck from around the turn of the century, in 60 feet of water in Scenic Bay, near Bayview.
Like any true lady of breeding and elegance, the outward appearance of Lake Pend Oreille's attire may reflect her mood – but her best secrets lie hidden in the depths of her heart, beyond the reach of prying eyes.
"You have to understand," says Tom Michalski, longtime diver on Lake Pend Oreille and former owner of Tom's Diving Adventures in Coeur d'Alene, "Lake Pend Oreille, she's steep and deep. … Normally, if you've lost something in Pend Oreille, it's there to stay."
The treasures she hides are as varied as the reasons she's acquired them. For example, over the years she's gathered trains, planes and automobiles, all delivered by a host of people crashing into her estate.
In September 1904, seven railroad cars hauling gravel tumbled into the water when the railroad trestle across the Pack River estuary gave way. Four rail cars were later recovered, but three slipped away into the deep at the far north end of the lake.
At the other end of the lake is another example. "If you go to Bayview and look over at the slide area," said Michalski, "you'll see where a guy who'd just gotten done paying off his Jeep parked it while he got out to 'ooh, aah,' and go 'wow' over the view. It rolled down and tumbled in. By the time it got to a certain depth, it was all broken apart."
However, limited road access near the lake means fewer automobiles than one might expect. "Most of the cars are on the north end of the lake," said Gary Dagastine, who's spent 40 years diving in Pend Oreille – much of it for the Bonner County Sheriff's Department. "Drunks only get so far off the road before they crash."
A Oct. 1, 1984, account in the Spokane Chronicle indicates that a Beechcraft Bonanza airplane landed and sank a quarter mile off of Mineral Point in what the paper reported as 5 to 7 feet of water.
"When I heard about it going down," said Michalski, "I went out looking for it. I had sonar on my boat. I'm sonaring and sonaring – 300 feet, 400 feet. I'm thinking where is it?" He finally found it in over 800 feet of water. "It's pretty much there to stay," he added.

Divers Matt Hoit and Rick Inman examine railroad cars that tumbled into the lake in 1904, now resting in 105 feet of water near Trestle Creek
If they're not crashing into her, they're sinking
Boats have been plying the waters of Pend Oreille since the first indigenous people launched a canoe. Over the centuries, a percentage of those boats have plunged below her waves never to be seen again, either by accident or through a deliberate scuttle. Littered across her bottom are a collection of hulls, screws, timbers, rudders, barrels once used as floats, and trolling motors from every type and shape of boat.
If it has ever crossed the lake on a boat, you can bet at least one has fallen off and been lost, including: tackle boxes, various tools, sunglasses, coffee cups, lawn chairs and coolers.
Which brings us to the distinction between trash and artifacts. The difference between the two is how long they've been down there.
Bayview used to serve as a dumpsite. Divers can find sinks, hot water heaters, vacuum cleaners, sewing machines, refrigerators and a host of other appliance-related debris – in short, trash. However, when divers find old bottles, pottery or other remnants disposed of by the community during the 19th or early 20th century, those are historic artifacts.
This lady also loves a man in uniform and, really, who can blame her?
The U.S. Navy has been testing unmanned model submarines in the depths of Lake Pend Oreille for several decades. They value her cold, even temperature and the silent dignity of her expanses. Submerged in the lake is a cable array described as being as big as a professional football stadium, rising 1,100 feet from the lake floor to within 80 feet of the surface. Within those cables exists a sophisticated net of hydrophones and the necessary apparatus to raise and lower the model subs for the purpose of testing acoustics.
On Jan. 25, 1972, waves from a huge storm broadsided the Navy's unmanned research barge, rupturing the steel pontoons on which it floated. It sunk. The Navy confirmed that the barge, equipment and research material were valued at $2 million. A spokesman for the Navy at that time indicated that recovering the barge from 1,000 feet of water did not seem economically feasible.
The Navy is not the only one to utilize Pend Oreille for working in, on or around. Nor are they the only ones to have lost or abandoned equipment and materials.
A portion of Vista Bay Marina located in Bayview burned, losing boats docks, and various other items into roughly 100 feet of water. Dagastine describes the area as being an interesting place to dive.
Sawmill logs were once gathered into huge rafts and floated across the lake to mills located down river. They didn't all survive the crossing.
Huge cranes attached to barges used for building on and around the lake have broken loose and been devoured during storms.
Thousands of pylons have been hammered into the bottom of the lake to support bridges, trestles, docks and homes. They are rarely removed. They are simply cut off below the waterline to make way for the next incarnation of building.
Speaking of the waterline, it has altered over the years, helped, in part, by the addition of two dams. Albeni Falls Dam regulates her outflow into the Pend Oreille River, and Cabinet Gorge Dam regulates her intake from the Clark Fork River.
The changes wrought by these dams means that once productive hayfields now lie beneath her surface; as do select hunting and gathering locations important to the Kalispel (also known as the Pend d'Oreille band) and Kootenai Indian tribes.
Even portions of the Humbird Mill, which in the early 1900s clung to the lake shore and extended out into the lake, are now under water, creating a unique diving area referred to as "The Ruins." The old mill site is just off Sandpoint's Pend d'Oreille Bay Trail and during winter's low pool portions of the ruins are exposed to landlubbers.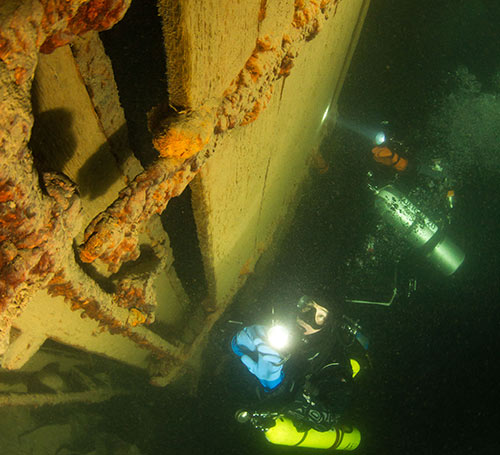 Don't look now, the jig is up
Many a criminal has desperately hoped that the lake will keep their secrets. Sheriff's department divers are routinely called upon to do evidence retrieval – everything from weapons to stolen goods to bodies. Unfortunately, not everything or everyone is recovered.
"Next to the Long Bridge, going into Sandpoint on 95 there's a safe," said Dagastine, "like an old Wells Fargo safe. … It's right alongside the bridge. It's like someone backed a truck up there and shoved it off. … A big safe – this thing probably weighs close to a thousand pounds."
There are also lots and lots of bicycles – as if kids have run off with them and then realized they can't keep them. They wind up ditched in the lake.
Rumors circulate from time to time. Even the most gracious of ladies can't escape from wagging tongues.
A July 15, 1996, article in the Spokesman-Review opens as follows: "An unarmed Navy torpedo, which slammed into the muddy bottom of Lake Pend Oreille 30 years ago, still rests there. It's unreachable beneath 1,200 feet of water."
Is there really a torpedo in the lake? Possibly, but if so, how did it get there? No other record appears to exist as to its location nor could its existence be verified beyond a shadow of a doubt.
Likewise, there are tales that claim the Navy lost a submarine. In an article written by Nicholas K. Geranios for the Associated Press, U.S. Navy Lt. Cmdr. David Pierce has laid that question to rest: "The base has never lost a model in the lake's vast waters," Pierce said. "That would be a bad thing."
Inevitably, there are stories of untold riches.
"I heard once," said Michalski, "in Garfield Bay they used to mine gold there. There's supposed to be a shaft that goes down and starts heading underneath the Garfield Bay area."
If so, it remains undiscovered.
According to legend, many years ago a man did find an underwater vein of gold in Pend Oreille, where he would go chip nuggets whenever he needed money. Of course, no one knows the name of this mysterious man or the location of his treasure.
Myths and tall tales aside, far greater than all the things that people have given up to the lake are the natural wonders that reside deep in the heart of the lady, Pend Oreille. Just ask anyone who's ever done a "wall dive" in the southern end of the lake or has come nose-to-nose with one of her resident silver-finned beauties.
2 responses to "Deep in Pend Oreille"