A Wild Passion
From the Summer 2023 Issue
Tiny, purple, and an irresistible lure, huckleberries are North Idaho's truest gem
By all definitions, it's the wild child of the plant kingdom—a free spirit, refusing to be tamed—and it has us all under its spell.
Its nickname—Purple Gold—speaks to our infatuation with the small, sweet-tart, sometimes-elusive, coveted beauty called the huckleberry, named the state's official fruit back in 2000, thanks to the work of a bunch of Sagle Elementary students.
"People love their huckleberries," said Patrick Lair, public affairs officer for the Idaho Panhandle National Forest Service. "Our phones get busier in mid to later summer, for sure. People want to know what to look for, where to pick them."
But if you're looking for hints from other "huckleberry hounds" as to where to find them, expect to get a lot of very general direction, as in "the hillsides of North Idaho" or even "Texas."
"Pickers are typically very proprietary of where they pick," said Lair. "Some places are definitely more plentiful than others; you just have to go up high enough and know what you're looking for."
While it's estimated there are about 20 different species of huckleberries in the Pacific Northwest, the Mountain Blue Huckleberry—the most prevalent in North Idaho—can be found at elevations typically between 4,000 to 8,000 feet.
Huckleberry bushes prefer part shade with dappled light but adapt to anything from full sun to complete shade. Flowering from late spring to June, the huckleberry plant has creamy-pink blossoms that are urn-shaped and thin, oval leaves, with a pointy tip. The leaves turn a brilliant red in fall.
Although purple is the huckleberry's most noted hue, it actually ranges in color from orangey-red to purple to deep blue-black—depending on the type of huckleberry. The berries like acidic soil and thrive where fires have thinned overgrowth and opened the forest canopy. (Pro tip: morel mushrooms like fire-burned areas as well.)
If it's a particularly wet spring, comfort yourself with the knowledge that all that water makes for an excellent berry crop. While the berries are ripe for picking from mid summer to fall, when that picking window opens is largely dependent on warmth. Start looking at lower elevations around the middle to end of July, and you just might spend your day picking; the higher the elevation, the later it will be before berries are ready.
And if you don't get out in the woods frequently, check local community Facebook pages; you'll find many people giving updates on whether the berries are ripe yet.
For many, picking huckleberries is a peaceful pastime, soaking in the quiet of the Pacific Northwest forests, eating as you pick, consuming more than you take home, and hopefully ending up with at least a quart or so to make delicious huckleberry shakes or perhaps even a pie. You can easily substitute for blueberries in any recipe you like.
There are those who would love to partake in this natural delicacy without the laborious efforts of hiking and picking. After all, the reward for picking is very well-earned.
Not only are the berries hidden underneath leaf cover, they are small, making picking a slow process. As well, there is the competition with wildlife—especially bears—who depend on them for the fatty nutrients and carbohydrates that are crucial for energy and who may have gotten to them first.
That's why there's a high price tag when buying from commercial pickers, who can ask $20 to $50 or more per gallon, depending on the season. And while many do buy from these pickers, be aware that commercial picking is illegal on Idaho Panhandle National Forest land. A $250 permit for commercial picking is required on Idaho Department of Lands property.
Hence, there's been a push for decades for horticulturists and botanists to try to cultivate the plant for the backyard grower. Despite their determined efforts, however, the huckleberry—like the natural-born rebel it is—has seemed to foil them, time and again.
One of the brave souls who embarked on this journey in 1987 is Dr. Dan Barney: affectionately known as Dr. Huckleberry, Barney still holds the title as the nation's leading huckleberry expert.
Barney spent 22 years trying to cultivate the huckleberry while a professor of horticulture at the University of Idaho and superintendent of the Sandpoint Research and Extension Center.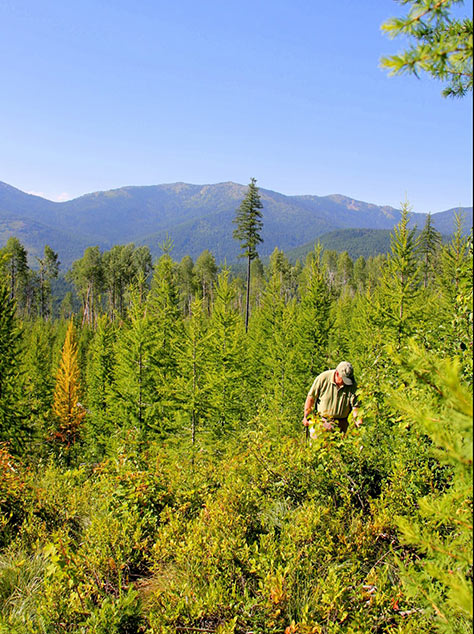 "We're working with a problem child," said Barney in a Spokesman Review article in 1997.
"Here's a plant that grows where the temperature reaches 50 below, but it freezes at lower elevations without snow cover."
Barney valiantly aimed to produce huckleberry/blueberry hybrids that tasted like huckleberries, but thrived under cultivation like blueberries. Unfortunately, this lofty goal never came to (ahem) fruition.
Starting at the UI about the same time as Dr. Barney left to continue his work in Alaska, Stephen Cook, department head and professor of College of Agricultural and Life Sciences, started a couple of projects involving the huckleberry.
"The huckleberry is one of their big money-makers. Being able to possibly cultivate and then sell them is a big deal," said Cook.
Cook's two projects look at the impact of soil amendments, and the viability of greenhouse starts.
"They didn't do real well; it's hard to get the huckleberry to do well outside the forest. I think there's a microbial component we're missing—that it's not just acidic soil but that there's a connection with the trees—that there's something actually in the soil in these conifer forests that benefit the huckleberry."
Despite the proven difficulties of growing huckleberries outside their natural habitat, there are always those who want to shake the dice and give it a try.
Kathy Hutton, nursery manager at Plants of the Wild in Tekoa, Washington, said they've been selling out of their 1,500–3,000 wild mountain huckleberry seedlings every year for 35 years now.
"There've been a lot of people who have succeeded in getting their plants to grow and maybe a little berry production but not a whole lot. However, everyone wants to give it a go."