Losing Coldwater Creek
From the Summer 2014 Issue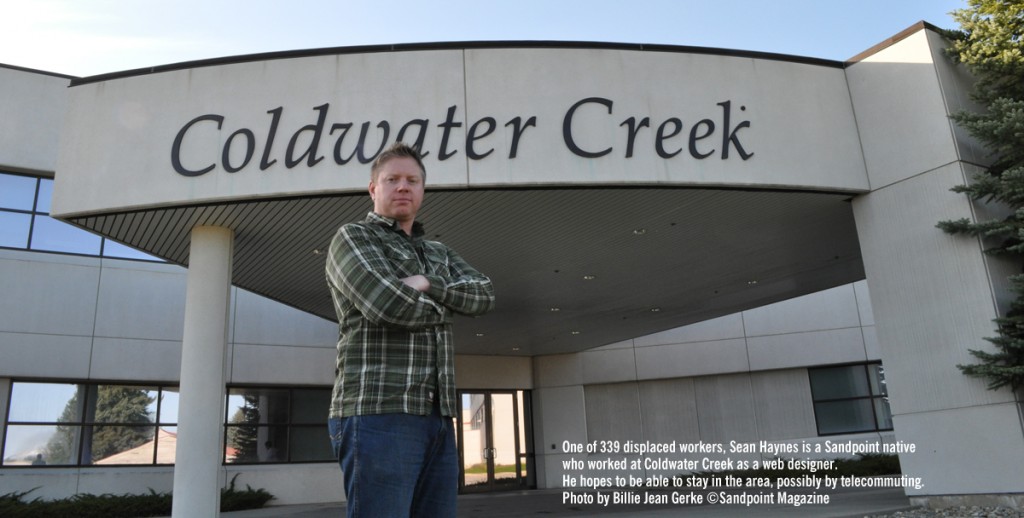 Demise of the Sandpoint-born retailer spells end of an era
The very factors that influenced Dennis and Ann Pence to open a national mail-order business in Sandpoint in 1984 – being surrounded by natural beauty, plentiful outdoor recreation, immersion in a funky, friendly community – are likely the same reasons that the city will not be devastated by the closing of that business 30 years later.
The Pences, famously, launched a mail-order catalog with 18 nature-related items out of their home in Sandpoint and grew it into the national women's clothing behemoth Coldwater Creek with 7,000 employees, $1.1 billion in revenue and 336 stores across the country at its peak in 2006.
The company also made the Inc. 500 list of the country's fastest-growing private businesses four years in a row, from 1992 to 1995.
Coldwater Creek has been in a slide since the recession, not posting an annual profit since 2007. The company declared Chapter 11 bankruptcy April 11 of this year, laying off the 339 remaining workers at its Sandpoint headquarters, and it began liquidating its assets.
Will the news, despite being foreshadowed for a couple of years, rock Sandpoint?
"There's no way our employers in the area can absorb 339 talented people," said Jeremy Grimm, Planning and Community Development director for the City of Sandpoint.
But, while Coldwater Creek is a significant employer in an isolated small city, Grimm is not panicked.
This is not like Flint, Michigan, with the auto plants shutting down. It's not even like Bonner County a few years ago when the JD Lumber mill in Priest River was shuttered, sending 200 millworkers into the cold.
Grimm hails the local economy as robust, diversified and filled with the sort of entrepreneurs and visionaries that the Pences represented back in 1984. "We have a long track record of innovative and creative talent here," Grimm said. He cites firms such as Litehouse Foods, the analytics startup Kochava, Quest Aircraft, Timbersled, Unicep Packaging, Tamarack Aerospace and more. It's a long list.
"The term that's used is lifestyle pilgrims, people who have the skills and expertise to choose where they want to live," Grimm said.
Dennis Pence sounded prophetic on this topic in a 2004 interview with the Bonner County Daily Bee.
"I am pleased we can build a great national brand here. The truth is we could be located anywhere. That is precisely why we are here," Pence said a decade ago, citing the quality of life that attracted he and Ann Pence to Sandpoint.
The article noted Pence helped found the Bonner County Economic Development Council (BCEDC) to attract jobs and businesses to the area: "The worst fate for this area would be for us to become a Vail or Aspen. We have to have jobs here to replace the ones we are losing in the timber industry," Pence said.
And it's worked, Grimm said. "I guess the takeaway is we are an authentic community in the sense we're not your typical resort town."
There is no doubt that losing Coldwater Creek will leave a hole in Sandpoint, but the very qualities of entrepreneurial spirit and creativity – especially in tech fields – that fueled the company's growth will also soften its crash.
The city, the BCEDC and others are partnering throughout May to hold a charette where Coldwater Creek workers and others can brainstorm potential new startup businesses and even offer incubator space.
"For a short period of time, we have access to 339 people who have a unique skill set and vast global experience, especially in fashion and retail and IT and finance. So what do we do as a community to at least plant the seed that you don't have to leave?" Grimm asked.
That would be fantastic for Sean Haynes, who spent the last two-and-a-half years as a web designer for Coldwater Creek. Haynes is a Sandpoint native whose tech career took him to places like Seattle.
As much as he enjoyed working in the Emerald City, a return to his hometown was compelling. "I think the whole vibe for me was I could relax again and not have to drive an hour to be in the outdoors, plus being around the people that I missed; I have a lot of family here," Haynes said.
And especially to work in software development and web design, job opportunities he didn't expect to be available locally when he was growing up.
Coldwater Creek "treated their employees very well, everyone there was fun to be around. There was a really good vibe there," Haynes said. He hopes to be able to stay in Sandpoint, even if it means telecommuting to work for a distant firm.
Shannon Barnes, who had worked more than eight years for Coldwater Creek in Human Resources, recently came across what she called "a dream opportunity," to work for the global firm, Insights, which uses principles of Jungian psychology in human resources training.
Insights is a tech-savvy company that allows Barnes to work from Sandpoint, where she lives with partner Diana Gore and their two children.
Barnes said she realized Coldwater Creek was facing challenges, but "no way did I ever imagine the outcome that happened," she said of the bankruptcy filing. "I left believing there would be some sort of shift that allowed the company to reorganize and continue. … I was quite devastated to hear of the loss.
"The people there are amazing. Some of the most dedicated, hard-working, smart, talented people I've ever worked with," Barnes said.
Exemplifying the Coldwater Creek tradition of giving, Barnes has persuaded her new employer to offer assistance to her former colleagues. Insights Marketing Manager Virginia Fraser said the Texas-based company will offer self-awareness workshops to help Coldwater Creek employees figure out the next steps after the sudden job losses.
Jake Ostman, a web developer for 12 years, says he was rattled a few months ago with the realization that Coldwater Creek really was going down. Despite the parade of shrinking revenues in quarterly reports, and even three rounds of layoffs in four years, Ostman said he and his coworkers were believers that the company would turn around.
Only in the last few months did he realize how dire things were.
It was a wrenching decision to leave, he said. Ostman said his work group was cohesive and happy, filled with colleagues who were cutting-edge, creative, and who made it a joy to live and work in Sandpoint.
"We were allowed to use the latest technology as it came out. We would use them in beta format and test them and improve them in production," he said. "We were first-to-market with a mobile website amongst our competitors."
Over the years, "I had plenty of recruiters contact me," Ostman said. But their offers paled in comparison to what he had with Coldwater Creek: "It was the combination of having the ability to work on the latest and greatest (tech) and being in Sandpoint. I had no reason to go anywhere."
In his travels around the West to pursue skiing and other outdoor activities, Ostman said: "I have never found a town quite like Sandpoint where you have world-class skiing and the mountains and the lake right outside your doorstep, but the town is still more like a normal town. You have tourist amenities, sure, but it's still a real town full of real people doing everyday things.
"I miss that about Sandpoint," Ostman said. He's on the outside now, hired as a software developer for National Flood Control in Kalispell and at the moment living with a sister near Whitefish, Mont.
Though he mourns leaving Coldwater Creek and Sandpoint, Ostman suspects both the city and many of his former colleagues will be all right.
"I know a lot of people over the years who have worked for Coldwater Creek and left to start their own cottage industries. It amazes me to think of all the different types of things that are going on in Sandpoint," Ostman said. "At Coldwater Creek we had people in fashion and marketing and technology and copywriting, and they were all the best in their fields. There is a lot of talent to draw from."
In fact, Alivia Metts, a regional economist with the Idaho Department of Labor, said: "Bonner County has one of the highest self-employment rates in the state – and surprisingly there are a lot of IT and tech startups. There's a lot of very innovative, entrepreneurial-spirited people up there."
In a perhaps unexpected way, these are the sorts of attributes the Pences were seeking – and helped introduce – to what was then largely a timber and tourist town. And it may soften the loss of the 30-year run of Coldwater Creek that became such an icon in Sandpoint.
2 responses to "Losing Coldwater Creek"