Don't wait 'til it's too late
From the Summer 2018 Issue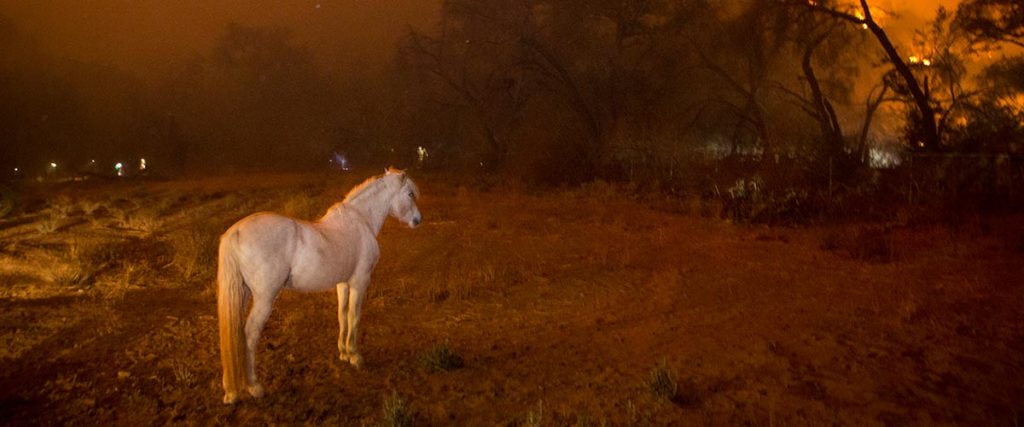 Get yourself—and your critters—out safely
When it comes to fire emergencies, awareness and preparedness can make all the difference, especially for residents who live in rural areas, and including those who have more than human life to safeguard.
Information is abundant on what to do before, during and after a fire, particularly in areas where wildlands interface with urban areas—agencies call these forested areas WUI. Firefighting entities are numerous and overlapping, however, and some residents may find themselves navigating multiple avenues of information and alerts. In addition to 13 fire districts serving local residents, state and federal agencies such as Idaho Department of Lands, the United States Forest Service, and Bureau of Land Management also impact our region.
If forewarned is forearmed, look to the federal Incident Information System or InciWeb (www.inciweb.nwcg.gov) for real-time fire information nationwide, especially relevant because of the Panhandle's proximity to Washington and Montana. InciWeb also posts evacuation orders, which are typically issued by law enforcement and begin at Level 1.
Level 1 orders indicate a current or projected threat, for which people should prepare and monitor the situation accordingly. Level 2 means "Residents should either voluntarily relocate to a shelter or with family/friends outside of the affected area, or if choosing to remain, to be ready at a moment's notice," according to the Pend Oreille and Bonner County sheriff's offices' notice during the 2015 Kaniksu Complex fires. Finally, Level 3 is the all-call for bugging out.
Every second counts during an evacuation order so having a "go" bag is essential. Although contents will vary depending on your lifestyle, health requirements, etc., the general consensus is to include the following: have one pack per household member; a three-day supply of non-perishable food, water, and necessary medications for each person; copies of important documents; clothing; cash; a battery-powered radio and flashlight with extra batteries; first aid kit; supplies for personal hygiene and sanitation; written plan/map for at least two evacuation routes and for meeting up later in case you're separated.
Remember to include domestic pets in your planning, too. The Centers for Disease Control advises a two-week supply of food, water and medications, as well as a secure carrier, recent photo of your animals, and medical records. They also suggest designating someone to get into your home and either rescue or retrieve pets if you're away. Another helpful source is the Bonner County Emergency Management Service, which addresses emergency planning for pets in a helpful online brochure (www.bonnercountyid.gov/emergency-management).
The larger the size and number of animals impacted, the greater the challenges. Emergency plans should include evacuation and a plan for sheltering in place, according to both the Federal Emergency Management Association and the Humane Society, whose guidelines can be easily downloaded from their website (www.humanesociety.org). If you have large animals that require extensive efforts to relocate, including locating habitation and moving supplies, you will likely want to consider evacuating them before a Level 3 notice is issued.
Regardless of the emergency, taking decisive action once an evacuation order is issued could be the difference between life and death. According to Idaho FireWise, the state branch of a national educational collaboration featuring the National Fire Protection Association, a large percentage of "lives lost to wildland fire occur when people choose to 'wait and see.'"
Carrie Scozzaro