Positive about plants
From the Summer 2018 Issue
Photo by Fiona Hicks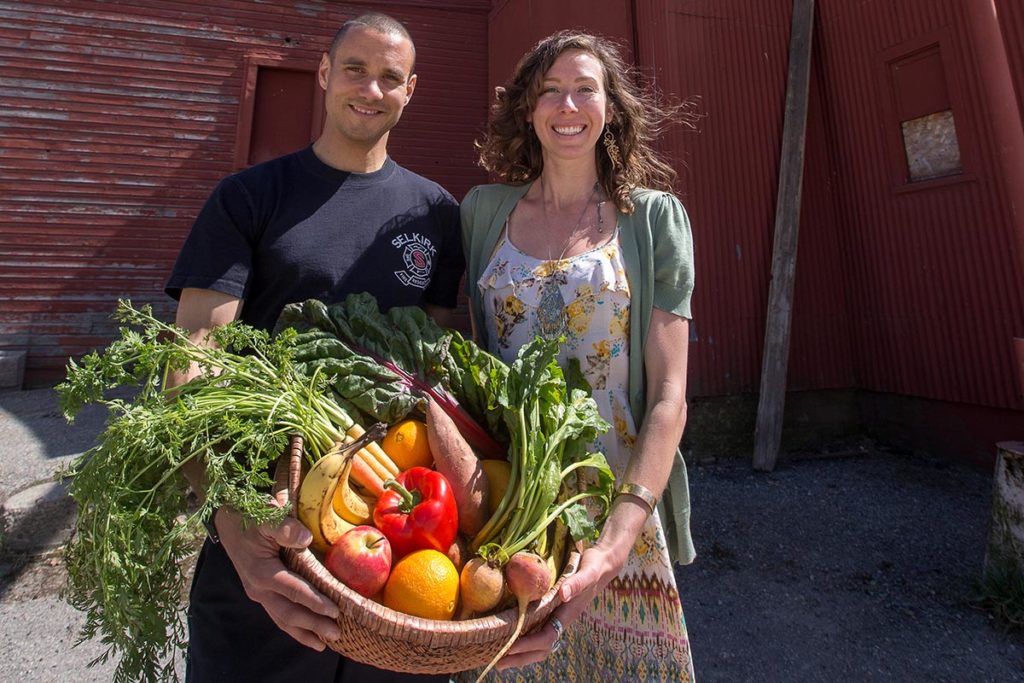 It is a love story as old as time. A handsome French firefighter meets a Sandpoint lass onboard a ship near Antarctica as they combine with the crew to save 932 whales. Quick, get Disney on the line…
Fate brought Gwendal Le Tutour and Katie Adams onto the crew of the Bob Barker as part of the Sea Shepherd program in 2013. Both single, they were looking for adventure and a way to change the world.
One might envision them bracing against the railing of the Bob Barker as mist arose from the frigid waters while the ship and crew bravely stared down whaling vessels. Le Tutour and Adams would presumably catch a glimpse of each other as the small vessel engaged in a dangerous game of getting between harpoons and whales. Adrenaline flows, passion follows.
While it is true the couple first caught each other's eyes onboard the Bob Barker off the coast of Antarctica, how they knew it was something special was the real test.
"We were in charge of the ship's sewage system," Le Tutour said.
"We learned a lot about each other at our daily poop party," Adams chimed in. "It was love at first sight."
It was during that quality time together that a plan to share their commitment to living a healthy life started to form.
Adams grew up in Sandpoint, graduating from Sandpoint High in 2007. The couple returned here to marry in 2014. Now the Frenchman who couldn't speak English the year before calls North Idaho home. Their next step is to make the world healthier.
Everyone has to eat, and must decide what kind of fuel they want to put in their bodies. This is where Adams and Le Tutour want to enter the discussion, doing so with clever blog posts, fun YouTube videos and good, old-fashioned just talking to people.
Welcome to Plant Positive.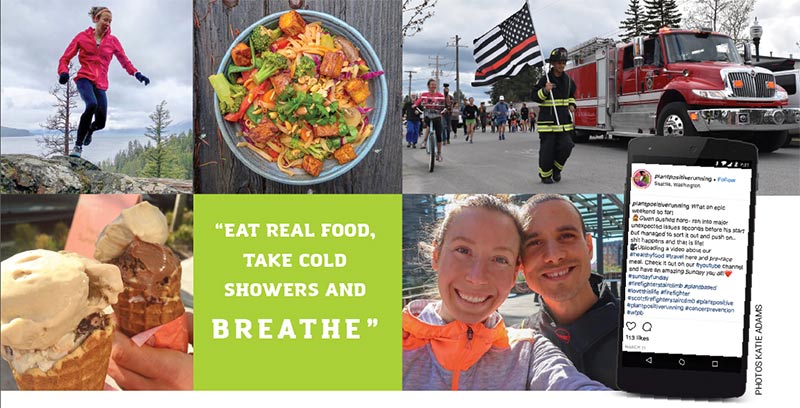 Their Sandpoint-based organization (www.Plant-Positive.org) is focused on developing a starting point for people who want to learn about healthier lifestyle options.
Plant Positive is a "one step more" initiative the pair hope will move society a step closer to a "healthier lifestyle and a healthier planet."
These millennials are quick to point out that Plant Positive is not hung up on terms such as vegan or vegetarianism. The all-in approach of veganism polarizes people and even vegetarianism is imposing for some. (Vegans eliminate all animal products from their diet—including eggs and dairy.)
"Never tell someone what they can't eat," said Le Tutour. "Show what they can eat."
Pretty soon the good food and choices will crowd out the bad.
"We show people what we eat­—a whole food, plant-based diet—and they can make an educated decision," said Adams. The right food choices can lower cholesterol and fight cancer. This, mixed with a steady dose of high level fitness, make these two poster children for squeezing the most out of life.
Plant Positive wants to start a conversation—not preaching but providing alternatives—and have some fun doing it.
Le Tutour and Adams' YouTube channel, their Facebook page, and their Instagram feed instantly pull people into their world.
Plant Positive Running on YouTube features 374 of their videos and has 1,690 subscribers. Most videos begin with Adams holding a huge mug of coffee in their kitchen or living room. There are racing bibs and medals on the wall and running shoes scattered about in the background to add flavor to the scene.
Topics vary from training with a spouse to the pros and cons of hydration packs to running and suffering. Each video attracts anywhere from 200 to 500 viewers.
"Some people love to suffer…Gwen does and so do I," is how Adams starts one of the videos.
Another video features a group of their friends joining them for a day of running to six area lakes while a third shows Le Tutour trying to choke down a very green smoothie.
The videos offer unique perspective into an uber healthy and fit life in a chatty, nonjudgmental way. The hosts often invite viewers to join in.
The couple also started a Patreon account to help fund some of their outreach programs. To date, 19 patrons kick in $163 a month with a goal of raising $1,000. 
The frequency of the videos ramped up recently as Le Tutour and Adams decided it was time for a coming out party for Plant Positive.
The couple is working to open a health-oriented bed and breakfast along with sprucing up their kitchen so they can host inexpensive, healthful cooking classes.
Le Tutour and Adams enjoy sharing their journey and hope that by leading by example and providing advice, others might come along for the ride.
"Until people are ready to make a change, they aren't going to listen," Le Tutour said. "Our goal is to give the tools and the 'why' to make choices."