Facing the flames
From the Summer 2018 Issue
Photos by Kari Greer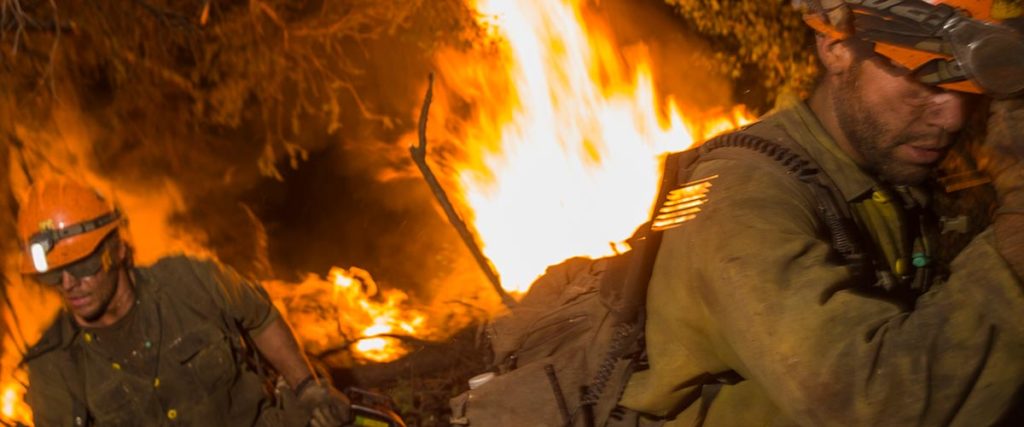 Wildland firefighters take on one of the toughest—and most dangerous—jobs
An out-of-control wildfire bearing down on you sounds like a gargantuan freight train. The noise is deafening, flames are snapping in the wind, smoke stings your eyes and in the intense heat, trees explode all around. If you're a wildland firefighter, your heart is doing double-time as you try to keep panic in check and focus on scratching out a fire line with your trusty Pulaski.
Who would want to do this? College students looking for a good paying summer job, some outright adrenalin junkies and others, like Brian Baxter, a long-time forester and outdoor educator, who see the bigger picture: "Wildfires are a threat to our way of life, our homes and communities."
Early foresters had to be knowledgeable about livestock and pack trains, timber management and first aid, in addition to having good fire experience. Today's firefighters are less jack-of-all-trades and more masters at fighting fires. Trainees are required to attend Guard School, a weeklong training session that focuses on practical application and knowledge about fire behavior, equipment, technology, and safety. Also, trainees must be able to pass the Pack Test: carrying a 45-pound backpack three miles in 45 minutes.
A few trainees fail the Pack Test and some wash out when they realize firefighting is tough and truly dangerous work. "Firefighting is a dangerous occupation so firefighters must be able to maintain focus during tense situations in adverse conditions for long periods of time" said Shane O'Shea, Mica District Fire Resource Specialist at Idaho Department of Lands. "But, the primary reason rookies leave is the hours. The job is 24/7 throughout the summer, May to mid-September. When the phone rings, any time day or night, you have to be ready to go."
Not only does the dangerous nature of the work take a toll, but fire details can take firefighters away from home for weeks and months at a time, which makes it hard on families. "In 2015, I lived in fire camps for 74 days [and] in 2017 I was gone for 50 consecutive days, mostly in Montana," said Dave Lovejoy, a 38-year veteran in forestry and firefighting.
O'Shea and IDL Assistant Fire Warden Ashley Stoneham, in Sandpoint, echo each other on the characteristics of an ideal firefighter. They are people who want to work outdoors, have outdoor hobbies, are self-motivated with a positive attitude, are willing to be away from home for extended periods, are hardworking and don't mind getting dirty. Lovejoy agrees, but adds, "An ideal firefighter has acute situational awareness and they need to have their head on a swivel, always looking up, down, and in every direction." Baxter adds a critical component: "An even temperament; someone who doesn't get emotional. You can't let emotions hijack logic. A calm and steady voice is critical in dicey situations."
Having highly trained and very experienced people like O'Shea, Stoneham, Lovejoy and Baxter is important. They provide superior guidance for individuals who make the grade and want to make firefighting their career. Their calm voice in the midst of chaos helps rookies stay focused, not panic, and learn what to do when faced with difficult situations. Additionally, when large fires erupt in the Inland Northwest, their local and regional knowledge is indispensable for overhead management teams and crews coming from other regions.
The Pulaski, a ubiquitous and highly functional tool used by ground crews to fight wildfires around the world, was crafted by U.S. Forest Service ranger Ed Pulaski, then based in Wallace, after he survived the historic 1910 fires that ravaged northern Idaho and northwestern Montana. Back then shovels, axes, water buckets, mules, and mostly untrained men were the ground force fighting wildfires.
The magnitude of the resource damage and loss of life from the 1910 fires, collectively known as the Big Burn, changed the way the newly created Forest Service fought wildfire. Roads and trails were constructed, hundreds of fire lookouts were built, and an investment was made in training employees on wildfire suppression; firefighters were no longer any out-of-work man who needed a paycheck.
Increasingly in recent years, Mother Nature has been engineering hot, dry, fire-producing summers that keep firefighting ground crews swinging their Pulaskis for months. A lot has changed since the Big Burn, but one thing that hasn't is this indispensable tool for digging a fire line, and the courage and stamina of the men and women who wield it.