Off the beaten path
From the Winter 2018 Issue
Doug Marshall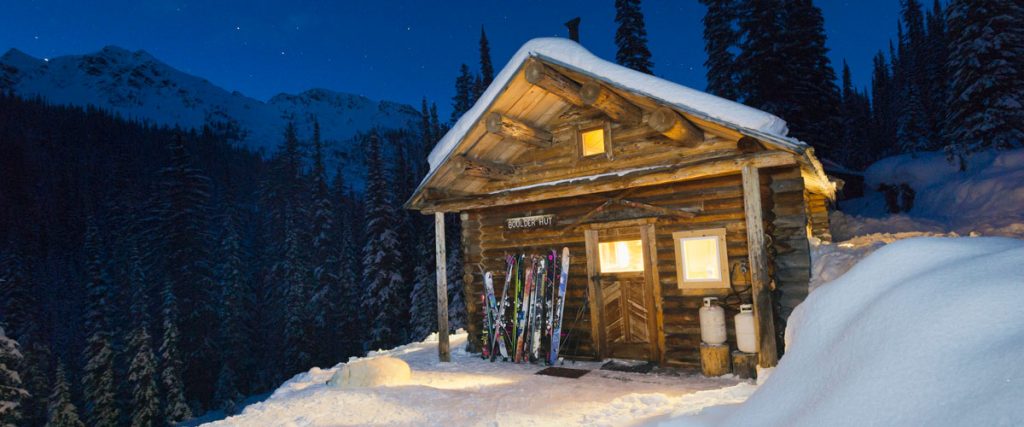 Sandpoint family caretaking a legend, Boulder Hut, a back country ski hut in British Canada
Sandpoint family caretaking a legend, Boulder Hut in BC
In southeast British Columbia, on the edge of the Purcell Wilderness Conservancy, lies a steep and scenic valley where snow-covered peaks and rocky ridgelines jut high overhead. Located at its edge is the historic Boulder Hut. Nestled in old growth forest, Sandpointers Mark, Sarah, Grace and Alden Yancey welcome the adventurous into a backcountry paradise each winter.
Established in 1984 by famed photographer and cinematographer Art Twomey and his partner, Margie Jamieson, Boulder Hut is one of the original, privately held backcountry huts in North America. Twomey and Jamieson are legends in conservation circles and were instrumental in the establishment of the Purcell Wilderness Conservancy. It protects over 500,000 acres of pristine and critical mountain landscape that border Boulder Hut's 15,000-acre ski tenure.
Thirteen years ago, Mark and Sarah learned the historic backcountry ski lodge was for sale. "I built my career in the backcountry," said Sarah, who had worked for the Forest Service in Idaho, Washington and Alaska. Mark, who was avalanche forecasting for the ski patrol at Schweitzer Resort was equally at home in areas off the beaten path. "It's not something we had necessarily dreamed of doing," Sarah said, "but it was a natural evolution of what we loved to do. We couldn't pass it up." For a baker's dozen years now, they have welcomed visitors into the Canadian wilderness.
"We stepped into a 30-year history," said Sarah, and while they have expanded operations in that time, the Boulder Hut experience "is (still) for the purist at heart," they write. "We offer a down-to-earth, no frills, backcountry skiing experience." 
Those interested in deep powder, and with a strong, intermediate skiing ability, can book a guided and catered experience, or a self-guided lodge rental of either a full week or half week at Boulder Hut. While the huts offer electric lights and running water, there is only one indoor toilet, wood heat, and no cellular or internet service. With access to the backcountry lodge only by ski or via helicopter flight from Kimberley, B.C., you're there for the duration. That said, guests rarely want to leave on account of the legendary Boulder Hut hospitality and epic nature of their trips, truly a respite from the rigors of busy, modern life.
During the off season, the Yanceys return to Sandpoint. Though Mark still works as a carpenter, he is increasingly focused in the off-season on lodge renovations and building their Canadian company. Sarah does some landscaping when she's not being a mostly full-time mom to her kids. Many know their faces from the days when they spent their winter season on the ski patrol at Schweitzer: snow has always played an important role in their choice of lifestyle.
The pair say their two homes of Kimberley and Sandpoint have a lot in common. "Each community is comprised of individuals who are frequently more invested in adventuring outdoors than in serious material acquisition," Sarah explained, "…people who are willing to risk stepping off the beaten path to experience a slower pace of life."
The quality of life the Yanceys are so passionate about providing on their trips embraces an "unplugged" experience while at the hut. Though the skiing draws people there, the conversation around the table and the friendships that grow out of the adventure provide an unforgettable foundation to the experience.  
In an essay last year for the magazine Go Kimberley, Sarah described their work as an "opportunity to make a living on our skis in a beautiful place, and to live a life on our terms." 
It's a lifestyle many in Sandpoint will find familiar. 
See: www.boulderhutadventures.com