Get dropped into the Backcountry
From the Winter 2018 Issue
Ryan Zimmer

Selkirk Powder Company brings heli-skiing to the Selkirk Mountains
Selkirk Powder Co. brings heli-skiing to the Selkirks
If you're on the summit of a local peak during a North Idaho winter, chances are you're there to ski. In North Idaho, the Cabinets, Purcells and Bitterroots challenge the pioneering spirit, but it is the most northerly range that pushes the bar higher: the Selkirks. A granitic mountain chain, the uplifted Kaniksu Batholith, when viewed from higher elevations the Selkirks remind one of a storm-tossed sea. First descents on both named and obscure peaks still exist, some in plain view, just calling out to be schralped by the first hardy soul with the desire and the guts to get there. It's hard not to dwell long and hard about how to get there, to stand on top, then rip that line, down the long untouched snow field gleaming so far off in the distance.
Ken Barrett, cofounder of Selkirk Powder Company, has been gazing out at the Selkirks for a long time. He currently operates a snowcat ski business from the top of Schweitzer Mountain at 6,300 feet, but like all powder hounds, he's drawn by the allure of the big untouched, that 7,500-foot paradise where no ski lifts operate.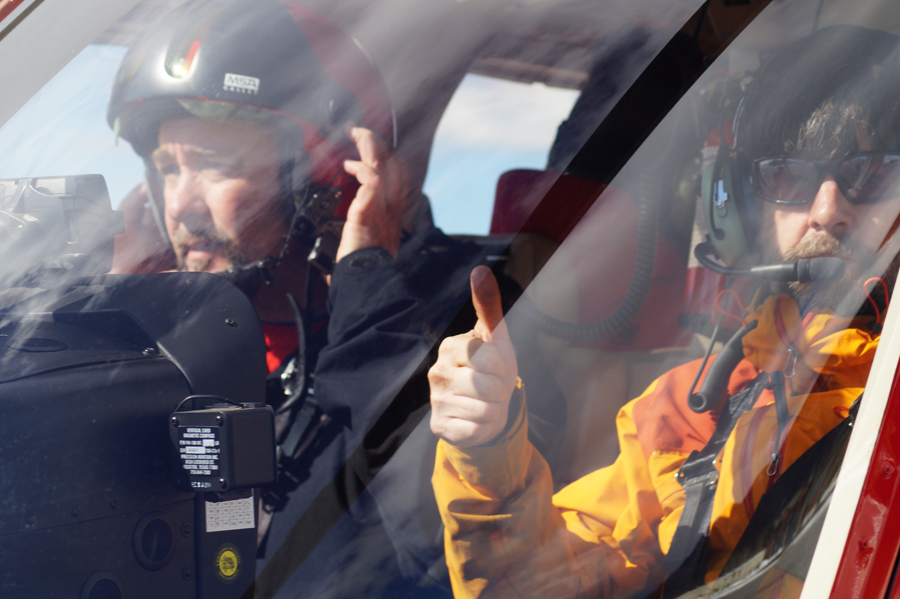 Last year, Selkirk Powder Company introduced North Idaho to the first season of heli-skiing in the Selkirks. This is good news for those of us who can't wait to ring that bell. If heli-skiing is on your bucket list, now is the time to fulfill that desire.
Alf Cromwell, Barrett's lead for helicopter operations, explains: "The Selkirk Mountains are such an incredible range and we want to make it easy for people of all abilities to experience that beauty in a way that they will never forget. We are literally breaking new ground," he said. Barrett and his crew are now poised to offer a memorable experience in the sky and on the snow.
SPC has a permit from the Idaho Department of Lands to access state-owned lands in the Selkirks north of Schweitzer. This mountainous region is prime for skiing open bowls, spruce glades, gentle powder fields, and steep alpine runs.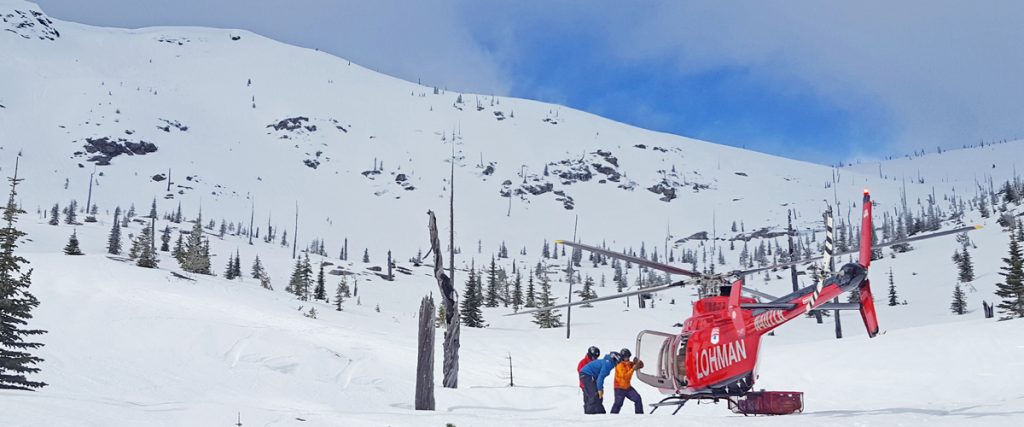 Much of this portion of the Selkirks is locally known as the Sundance Burn. Back in 1967, the Sundance fire charred a several-mile-wide swath through the landscape and essentially turned the peaks into alpine terrain, above treeline. This is a unique characteristic for these lower elevation peaks and gives the skiing experience a very different quality. As a bonus, the southern Selkirks get dumped with the deepest snow in Idaho.
Barrett had long set his sights on reaching this coveted realm. The advent of heli-skiing for SPC all started to come together in 2014, when Morgan Lohman, president of Lohman Helicopters out of Lewiston, contacted Barrett and asked, matter of factly, "Why aren't you heli-skiing?" Barrett was busy running a cat ski business but had to admit he didn't have a good reason why he wasn't pursuing it.
Then, an important bit of fate occurred at about that same time: Alf Cromwell became an investor in SPC. Cromwell had retired from an extensive aviation background with U.S. Customs and Border Protection. He had been powder skiing as a client of Barrett's since 2010 and was enamored with the prospects of heli-skiing. Cromwell teamed up with Barrett and adeptly took the reins on permitting and working with Lohman to develop a plan of operations.
Barrett likes to share one other morsel of serendipity, like sunshine on a powder day. "I was working up at Schweitzer when this gentleman approached me and exclaimed in an Austrian accent," as if relating a secret, "Your mountain, it is @#$%ing awesome!" Barrett, with a similar expletive, responded, "I @#$%ing know!" The Austrian guffawed with amusement and they quickly became friends. What Barrett didn't know at the time was he had just bantered with Wolfgang Keller, one of the pioneers of heli-skiing. (See sidebar)
Breaking into the inner sanctum of the 7B winter wilderness used to require multiple modes of transportation, unless you were embarking on skis on a multi-day trek to bag a peak. That began to change in the spring of 2017, the inaugural run for SPC heli-skiing. On a wintery day in March, I was on top of Jeru Peak in a howling wind, digging pits for the avalanche advisory with Jeff Thompson, Idaho Panhandle Avalanche Center director. We saw a red helicopter skillfully touching down on a neighboring peak. "That's not fair," I told Thompson. "I've been eyeing that line for years."
"You need a helicopter," was his 'no duh' response.
Lohman Helicopters is dedicating their Bell 407, a high-altitude bird with heavy lifting capabilities, seating for seven passengers, and lots of windows, to SPC's heliskiing endeavors. The workhorse of the whole operation, it's a sleek yet powerful looking craft; it's not a stretch to call it an airborne Ferrari. And it has to be since SPC is hoping to provide eight runs minimum per day, weather permitting, in the 2018 winter season, and an average of 1,200 to 1,400 vertical feet of skiing per run.
SPC has two dedicated lead guides plus two in training for this project who will provide a consistent two-guides-to-four-clients ratio. The guides all meet Idaho Outfitters and Guides Licensing Board medical certification guidelines. "The logistics testing from last spring went well," said Barrett.  "We're excited by all the new lines we discovered and the helicopter is the bomb."
A heli-skiing adventure in Sandpoint begins at the Sandpoint airport. The participant meets the pilot, the guides, and gets a safety briefing before lifting off. Flying in a helicopter is like nothing you've ever experienced as the ground drops below you like you're playing a video game. Don't worry; you're in good hands. Heli-skiing has a good safety record and SPC has operated for 15 years without a major incident.
Then, weather permitting, you can expect to get in four plus hours of some of the most exciting skiing in the Pacific Northwest. The helicopter is yours for the day, and skiers can pick and choose from a number of peaks where they can break new ground. "Basically," explained Cromwell, "the helicopter becomes a very mobile ski lift."
SPC expects to be flying from February 16 to March 24 of 2018 to take advantage of the best snow conditions and good weather. Late winter in the North Idaho high country is when alpine lines are fat with powder and windows of stable snow conditions are easier to read. Cromwell is eager to expand local skiers' horizons. "Our target market locally is the Sandpoint, Coeur d'Alene, Spokane area but we're betting we can attract skiers from Portland and Seattle." Prices run from $1,975 per person or the entire bird (up to four skiiers) for $7,900.
Heli-skiing in the U.S. actually has its roots in Idaho. The first heli-ski operation began in 1966 in Sun Valley. It's natural that heli-skiing came to Sandpoint, with its copious snowfall and rugged peaks, connecting the dots between the first heli-ski operation in Idaho to the south, and the newest heli-ski operation here. All it took was that Idaho pioneering spirit and a little bit of serendipity.
What's it like? Check out a day on the backside with Selkirk Powder…
See: www.selkirkpowder.com.