A visit to Boulder Hut
From the Winter 2018 Issue
Doug Marshall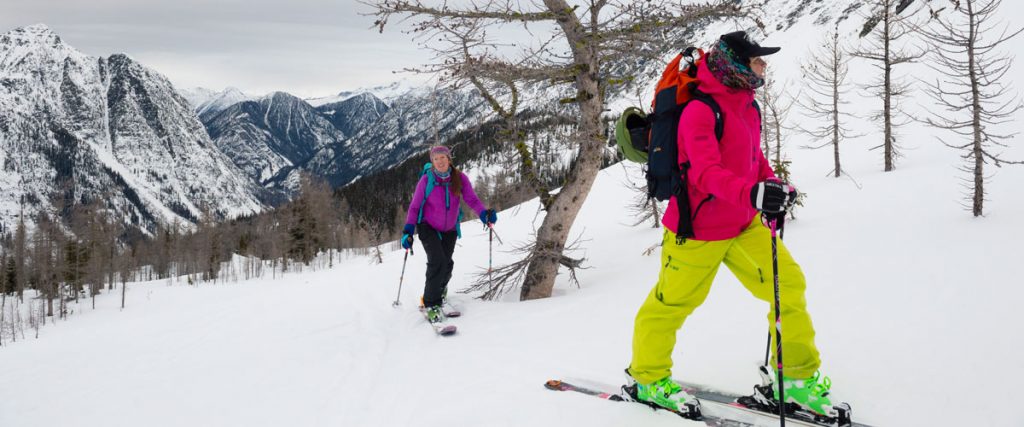 Boulder Hut in B.C. Canada is hosted by the Yancys, a Sandpoint family
The Yancey kids are helping move our bags and skis off the heli-port and asking a million questions a minute. They exclaim they know my sister Emily and that I look just like her… or am I she? They laugh infectiously. These kids are clearly at home here in the pristine wilderness of the Purcell Mountain Range.
We tromp our way along a well-compacted snow path through the woods to the cluster of buildings that make up the Boulder Hut compound. The historic, original Boulder Hut cabin is front and center. It is rustic and inviting. Just uphill from the main lodge are the cold cellar, employee lodging, sauna/shower buildings, outhouse, and hydroelectric system.
We are very remote; the infrastructure has been built by hand, a labor of love and creativity. I am already enamored. The operation is modest yet impressive, located, as it is, deep in the heart of the wilderness.
We sit around the dining table for a group orientation with Sarah and Mark while drinking good coffee and snacking on homemade muffins. Sarah covers handy information for our week-long stay and Mark discusses skiing conditions and logistics. We are shown to our sleeping quarters in another cabin just ten feet beyond the main lodge, connected by a breezeway where the firewood is kept dry for all the woodstoves that keep us warm. Reggae, folk, jazz and modern alternative tunes waft from the kitchen as our extraordinary chef works her magic for dinner. We quickly sprawl out to get packed for an afternoon of skiing.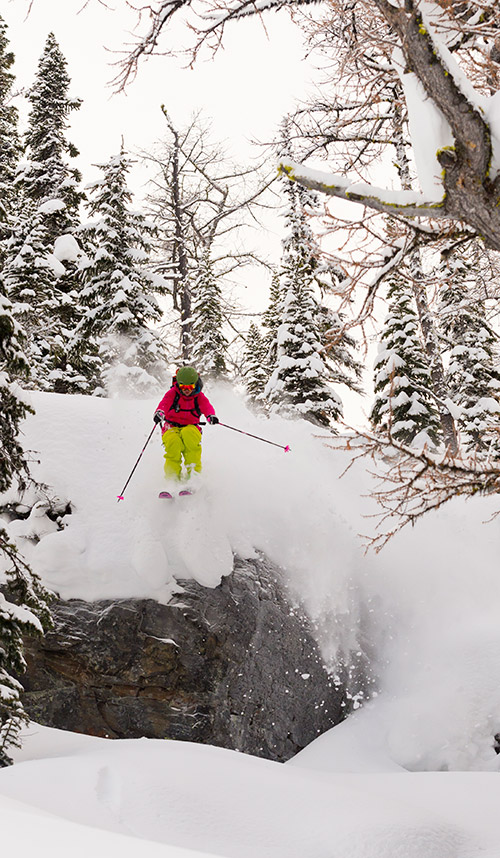 I step out to the front porch and strap my skins on to my skis. We are surrounded by incredible ski terrain. I am drawn instantly to a pair of strikingly aesthetic couloirs—a narrow, mountain gully—to the north that look to be a 3-hour jaunt away. To our west there are pillow lines clustered amongst the tall tamarack trees; the snow looks soft and lovely. Behind the compound is endless tree skiing with nicely spaced lanes to keep your groove going all the way down. I can see the summits and ridgelines of jagged peaks 3,000 feet above us. It's majestic, a little intimidating, and a complete skier's dream because there is something for everyone.
We head off the back side to get some tree skiing as the light is degrading rapidly, and Mother Nature's refresh is about to turn on. After an hour of skinning we find a steep pitch full of features and nicely spaced tamarack. We lap the zone until nearly sunset, and then schuss back to the lodge just before dusk.
There are fragrant smells wafting from the kitchen and laughter in the air. Rachel and I crack a cold one and enjoy the last vestiges of daylight while the Yancey kids hit a small kicker just below the lodge. The good life. Disconnected from the internet, phones, media; just a group of passionate skiers converging in a cozy little valley with a mountainous playground as far as the eye can see. It feels like my community through and through.
It will be hard to say goodbye to this place, but to the Yanceys I can say, "See you in Sandpoint," and we know that our community thread will continue to run strong no matter how far we are flung.