Four decades of mountaintop worship Schweitzer Chapel serves all
From the Winter 2018 Issue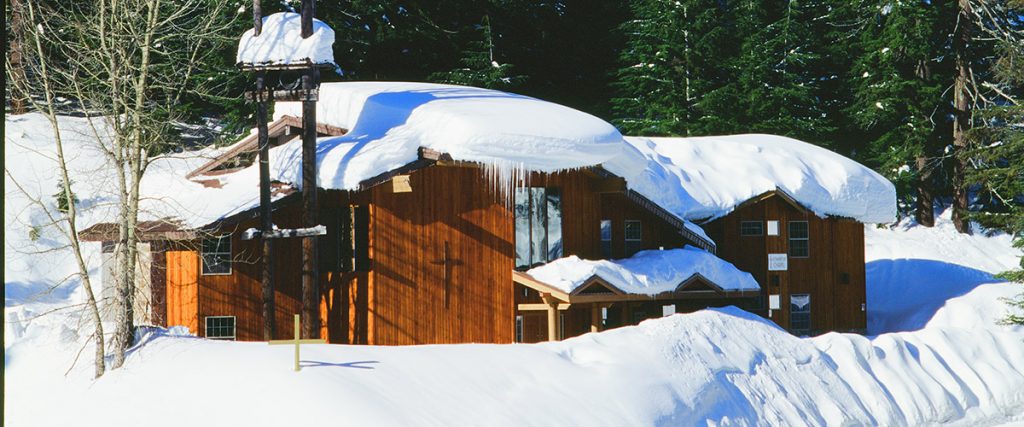 Nestled beneath the bustling main road at Schweitzer Mountain Resort, Schweitzer Chapel has been hosting non-denominational services and Catholic Mass, as well as housing church group retreats, for 40 years now.
The chapel's origin dates back to the generosity of the ski resort's very first founders, Jack Fowler and his wife, Dorothy, whose vision was to build a large chapel for both services and youth retreats. The Fowlers donated the property where the chapel was built in 1978, and drummed up a cadre of volunteers and donated materials to turn the idea into a reality.
More specifically, it was Dorothy Fowler's vision to build a large chapel that would house services and host church youth groups at the resort.
Shirley Creighton, who bought a place at Schweitzer in 1976 with her husband George, recalls the grassroots nature of getting the chapel built. "It was really hands-on, and there were lots of people involved. I remember sitting on a really tall ladder and tacking on insulation."
Creighton explains that between Dorothy and Jack, they had six children, a lot to load in a car for a trip to town. "She didn't like that there was not a place to attend church up there," Creighton said. "She was a doer and a mover. We got everything gifted, the wood that was put on the walls, everything. We knocked on doors and asked folks to help."
According to chapel records from 1977, Dorothy also helped outline the guidelines pertaining to the new chapel. Written under "Primary Uses" is this: "The priority use of the building shall be for religious activities of any faith or denomination." That inclusive directive still remains in place today, nearly three years after her passing. "The chapel is open to all religions and all faiths," said Carroll Ensminger, a member of the chapel volunteer board along with her husband Dick. Both avid skiers, the couple lives full-time at Schweitzer and helps keep an eye on the place. "It's handy if we need to check on a problem," Ensminger said.
The sanctuary is a light-filled space that features volunteer-made benches and a beautiful bronze door artwork created by Dorothy Fowler, who was also a renowned sculptor. (She has bronze pieces in galleries and churches throughout the world, including a bronze door in an Israeli cathedral that is similar to the one at Schweitzer.) Tall windows at the front of the sanctuary sometimes provide a reminder of where the chapel sits when the occasional young skier will dart across during services.
The basement beneath the sanctuary is a large, open dining and recreation room that was completed with funding from the Metcalf Foundation—named in honor of the family's son, Rick, who died in an avalanche in 1982 while skiing at Schweitzer. The fund continues to benefit the chapel to this day. "It's been a saving grace," Ensminger said about the family's lasting monetary gift.
And, as they did in the past, countless volunteers and generous supporters stepped in to add a 48-bed dormitory in 1999, which comfortably houses youth and adult church groups. This full-service retreat facility includes bunkrooms, shower rooms and bathrooms.
Chapel services are held on Saturday afternoons during the ski season.
"Attendance is good in the winter," Ensminger said. "And it's absolutely packed on Christmas Eve!" For those interested in attending, the non-denominational service is held at 3:30 p.m. "It's a good, real-life experience for them," she added. Catholic Mass follows at 4:30 p.m. "Consistently, Gonzaga Jesuits come up for that one," she said. "They do love skiing!" 
See: www.SchweitzerChapel.com
One response to "Four decades of mountaintop worship Schweitzer Chapel serves all"