One train, two trips: Amtrak winter weekend
From the Winter 2015 Issue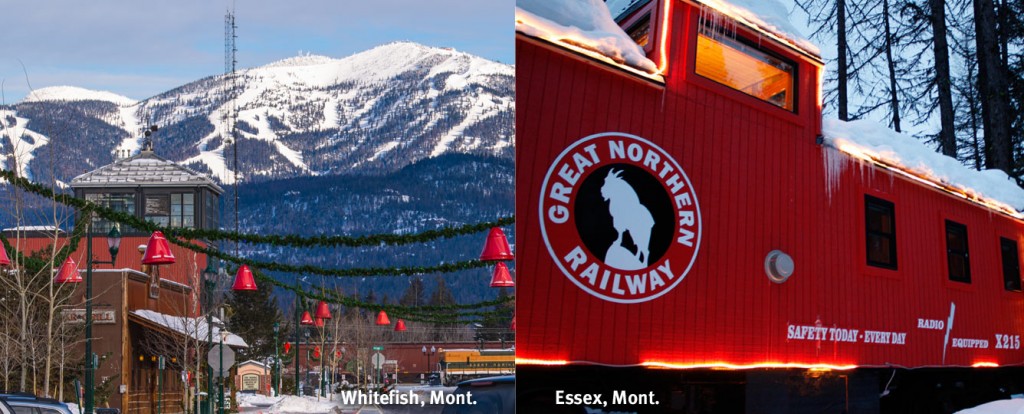 Riding the Rails, Amtrak style, in dual trip logs on winter weekend getaways
It all started with a Groupon offer in my inbox: two nights at Izaak Walton Inn in Essex, Mont., for $99. From there, it grew into a story idea. I roped in one of my freelancers, Aaron Theisen. It wasn't hard to convince him to join me on Amtrak for a winter weekend getaway last February, with him going to Whitefish during its famous winter carnival and me visiting Essex, a Nordic skiing mecca on the edge of Glacier National Park.
Sandpoint is Amtrak's only stop in Idaho, and soon its historic railroad depot will reopen after a major renovation. While Whitefish and Essex totally take advantage of their positions on Amtrak's Empire Builder Route, Sandpoint has yet to come up to speed on this aspect of tourism. Amtrak is ideal for taking weekend trips west to the big cities of Seattle or Portland, or east, such as we did, to Whitefish or Essex. Take some ideas from our dual trip logs, and then book tickets on Amtrak.com.
Friday
AT, 6:47 a.m. The upside of a delayed train? The opportunity to see the upper Kootenai Valley in the wan midwinter morning light. The Selkirks, sprawling farms at their feet, stretch past the tracks. Although lack of sleep and the lolling rhythm of the train recommend otherwise, I stay awake for the scenery.
BJG: After a brief meeting in the observation car, Theisen returns to his seat while I stay in the observation car for the entire trip to Essex, Mont. Like Theisen, I'm glad the train was almost five hours late, because now we get to see scenery along the Kootenai River that would have otherwise been in the dark.
AT, 10:31 a.m. The train trundles past Whitefish Lake and eases up to the historic Whitefish depot, the fifth-most popular stop on the 2,200-mile Empire Builder line. A lakeside town of artists and athletes at the feet of a world-class ski resort, Whitefish bears a striking resemblance to Sandpoint – and over the course of my trip, many Whitefish residents will tell me they enjoy visiting Sandpoint because it feels like home.
AT, 11:08 a.m. Luggage and ski bag in hand, I catch the free SNOWBus shuttle to Whitefish Mountain Resort at Big Mountain. Financed by the Big Mountain Commercial Association, the SNOWBus shuttles skiers and snowboarders to and from the resort all winter. (One tip: do not bother with the wooden ski racks on the outside of the bus; locals bring their gear inside the shuttle with them.) Coupled with the Amtrak's location on the edge of a compact, walker-friendly downtown, the SNOWBus facilitates easy car-free travel, a boon in western Montana's wild winters.
BJG: While Theisen is schussing at Whitefish Mountain Resort, my friend and I arrive at the remote outpost that used to serve Great Northern Railway workers. Izaak Walton Inn has vans waiting to transport us the 200 yards between Amtrak's stop in Essex and the historic lodge. It's hard not to notice rows of Nordic skis on the porch and their Lycra-clad owners traversing the lobby. Bleary-eyed from staying up all night to catch the train, we retreat to our room – no TVs, no phones! – for a long nap.
AT, 2:15 p.m. From the Summit House, I sidehill down the steep drop-in to Moe-Mentum, my ski instructor yelling pointers. Big Mountain is, well, big, but not intimidatingly so. However, novice or not, skiers can benefit from a guided lesson simply to orient themselves to the resort's vast landscape.
BJG: In Essex you have one choice for breakfast, lunch and dinner, and that's The Dining Car at the inn. A friendly server brings frosty beers and buffalo T-bones in the warm light. We overhear another diner regaling fellow guests with tales from backcountry ski touring in Glacier National Park earlier that day. That plants a seed in my head. I wonder if I could finagle a backcountry ski tour. The day is capped off by some time in the outdoor hot tub surrounded by towering larch trees behind the inn.
Saturday
AT, 8:41 a.m. Sitting in front of the metal moose grille-work of the Hidden Moose Lodge's vast stone fireplace, I strike up a conversation with fellow guests. These lodge regulars are northern Idaho residents, and, as it turns out, the parents of an acquaintance. This exchange typifies my experience in Whitefish: Everyone has a connection to, or at least an affinity for, Sandpoint, its spiritual ski-town kin.
BJG: After devouring The Dining Car Omelet with spinach, sun-dried tomatoes and feta cheese, I muster the courage to ask manager David Gatton if we can join a backcountry ski tour for beginners that departs Sunday morning. Turns out, only one guest has signed up, so instructor Mark Ambre is happy to have a couple more guests tag along for tomorrow's tour. Score! By the way, Essex has no cell service, but the inn has Wi-Fi.
AT, 12:10 p.m. I watch a man belly-flop into a 4-foot-deep pool cut in Whitefish Lake, like ice fishing in reverse. Temperatures that flirted with the minus sign did not deter nearly 200 revelers – with costumes ranging from Mardi Gras masquerade ball to superhero – from participating in the Penguin Plunge as part of the Whitefish Winter Carnival. Scuba divers assist the participants out of the plunge pool and into waiting towels, but only adrenaline – and perhaps a little liquid courage – keeps these hardy souls warm.
BJG: It's already afternoon by the time we don our snowshoes and hit the inn's Nordic trail system (33 km worth) on the other side of the tracks. Ambre suggested a route that would afford great views into Glacier National Park. The day is crisp, the skies are blue, and we quickly warm up on our four-mile snowshoe hike. Nary a Nordic skier is to be found.
AT, 3:24 p.m. Swiveling their jump suit-clad hips and windmill-strumming air guitars through a cloud of red capes, a troupe of Vegas-era Elvis impersonators hand out candy during Whitefish's Grand Parade. Grand Marshal Wayne Newton completes the Vegas theme. For an hour or so, the climate in downtown Whitefish feels downright desert-like.
AT, 8:05 p.m. Back at the mountain, a group of youth skiers carve big, swooping turns down the Big Ravine, lights aloft, for the Torch Light Parade. The bracing cold – and the free-flowing beer – keep the spectators in the bar, but the sight is impressive nonetheless.
BJG: While Theisen is carousing downtown Whitefish, we're in the midst of a six-course, wine-pairing dinner with a South American theme created by Chef Eduardo Leon. The elegant evening begins at 6 p.m. with a surprise extra course in The Flagstop Bar. Our sommelier is a most enthusiastic and informative gentleman who begins each course with a discourse on the wine choice. From the beef heart skewers with roasted garlic and lime glaze to the last course of coconut rice pudding, we enjoy a delightful and delicious evening. My friend purchases some of the featured wines and squirrels them away in his luggage.
Sunday
AT, 8:47 a.m. Hitchhiking from the Hidden Moose Lodge after I've missed the SNOWBus, a friendly Canadian version of a "snowbird" – he travels as far south as Whitefish for the winter – picks me up in his truck. It's amazing what a pair of skis and a popular resort can do to make ski buddies out of strangers.
BJG: While Theisen's on his second trip to Whitefish Mountain Resort, we're with Ambre and fellow guest Marjorie Pammell, from Chicago, backcountry skiing in Glacier National Park. While it's hard to beat last night's dinner, the tour proves to be the highlight of the trip. It's exactly 0 degrees when we step out of the van. As soon as we cross the tracks, we're in the park. Because of the wind and bitter cold, Ambre chooses to lead us into an aspen forest where we're protected from the weather. I race to keep up with Ambre, but he backtracks often to check on the stragglers. Ambre points out a spot where moose had bedded down, and not long after that, we spot one of the huge beasts. It quickly retreats. He leads us to an open spot where we get a good view of the Rocky Mountains, a bit obscured by whirling snow. We glide down a gladed forest, where some bumps catch me off-guard and send me sprawling. By the time we return to the van, we've trekked about six miles.
AT, 3:20 p.m. After a morning spent on the north side of Big Mountain, where long, loping runs access treed powder stashes far from the masses, I point my tips down Inspiration, No. 20 on CNN's list of top 100 ski runs in the world. From the Summit House the blue run appears to plunge into Whitefish Lake some 4,000 feet below – a familiar view for Schweitzer skiers.
AT, 4:30 p.m. I sip a drink in the Bierstube in the Upper Village as I wait for the day's-end SNOWBus to ferry me back to town. Locally known as "The 'Stube," the nearly half-century-old bar has been named one of the top 10 places for après-ski nightlife by USA Today. Every Wednesday the bar presents the "Frabert, Clod of the Week" Award for the most boneheaded maneuvers by a resort employee or guest. Fortunately my ski follies escaped notice. There are worse places to miss the bus than the 'Stube, the most popular après-ski spot in Whitefish.
BJG: Amtrak is running three hours late. We tour two of the cabooses, including one of the luxury railcars, GN X215, to take photos. We hang out in The Flagstop Bar and visit the hot tub and sauna one last time. My tired bones collapse on a couch in the game room downstairs, until I'm gently woken up with news of the train's impending arrival. About 10 p.m., Amtrak glides into Essex and carries us home in the darkness.
AT, 10:13 p.m. As a light snow falls on the silent streets of Whitefish, the Amtrak station alone is alight with activity. The train is delayed – the Bakken oil boom in North Dakota has snarled train traffic along the Empire Builder line – but the passengers seem unruffled. Perhaps they're too exhausted from a weekend of skiing, sub-zero swimming and parade tailgating. Or perhaps it's because they're in no rush to end this Whitefish winter dream.