The honorable senator from Sandpoint
From the Winter 2016 Issue
Marie-Dominique Verdier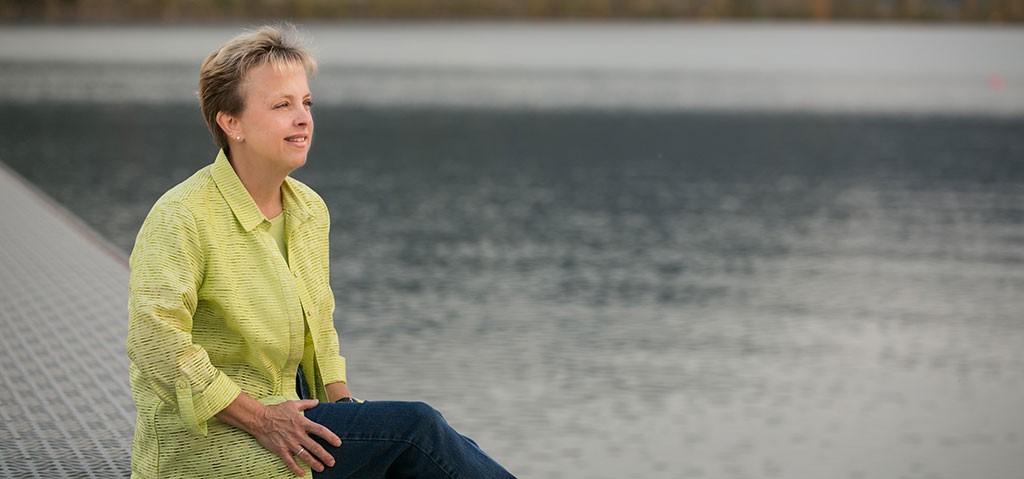 Shawn Keough looks back on 20 years in the Statehouse
Shawn Keough makes history in Idaho Statehouse
When District 1 Sen. Shawn Keough returned to Sandpoint after the 2015 Idaho Legislature, she came home with a special honor: the flag that flew over the state Senate. Keough, 55, was presented with the flag by Senate Pro-Tem Brent Hill in recognition of her long service, which has broken two records.
First elected in 1996, Keough, a Republican, is not only the longest-serving female senator in Idaho history but the winningest incumbent of either gender, in either chamber of the Legislature, from Bonner or Boundary counties. When lawmakers gavel into the 2016 session in Boise, she will celebrate 20 years in office and eight re-elections.
"I was very humbled and I think the recognition that it gave me was pretty cool," said Keough, who added she keeps the flag, neatly folded, in a wooden box hand-crafted by former Boise Republican Rep. Max Black.
Two decades is a long time to hold down any job, including politics – and maybe especially Idaho politics. Still, in her years in office Keough has earned a reputation as a pragmatic, constructive and effective lawmaker.
Her philosophy is simple: Be honest and respectful.
"When you're honest and respectful, even those who are total opposites on an issue will respect you for treating their issue or treating their viewpoint with respect," she said. "It's all about credibility and keeping your word, and that's what I try to do in life, and that has served me well in navigating through the halls of the Capitol as well."
Keough has had her scrapes, though.
In 2011, she and former District 2 Sen. Joyce Broadsword, of Sagle, bucked their party to vote against the so-called Luna Laws education reform package, which was ultimately rejected by Idaho voters in a historic referendum. That same year, she and Broadsword teamed up to challenge a GOP redistricting plan that would have pitted them against each other in the 2012 primary election. The Redistricting Committee went forward with its plan to shift Broadsword into District 1, resulting in the Sagle lawmaker dropping her re-election bid. What's more, the pair earned a censure and vote of no confidence from the District 1 Republican Central Committee.
In 2012, Keough faced stiff opposition from Tea Party-backed challenger Danielle Ahrens in a primary election unmatched for its vitriol. During the campaign, Keough found herself among the targets of a concerted spending campaign orchestrated by no less than the Republican Party leadership itself, attempting to purge the Idaho GOP of lawmakers it considered to be too moderate.
She weathered all those storms and has come out as one of the Legislature's most powerful leaders. In August 2015 Keough was appointed cochair of the Joint Finance-Appropriations Committee, which sets the state's budget for everything from education to roads.
For Broadsword, who served as Bonner County Commissioner following her departure from the Legislature and now helms the North Idaho Region of the Idaho Department of Health and Welfare, Keough's success in the face of opposition – even from her own party – stems from that simple philosophy.
"Shawn is one of the most thoughtful, kind and considerate people I know. She has paid her dues all the while keeping her common sense and not giving up her core values," Broadsword said. "During my years in the Legislature, I saw firsthand the honesty, integrity and dedication Sen. Keough puts in on behalf of her constituents. Shawn never ceases to amaze me. Her work ethic can't be beat. She is always at the Capitol before 7 a.m., rarely leaves before 6 at night and often goes back after dinner and on weekends."
It was Keough's work ethic that brought her to public service but not before the Cincinnati native spent some time exploring.
"A girlfriend and I loaded all our belongings in her car in the fall of 1978 and headed out West from Cincinnati. We landed in Dillon, Colo., where I worked during the ski season," she said.
Like many young wanderers before her, Keough worked odd jobs, going where life led her.
"I worked several jobs: cleaning rental units at the Keystone Resort, selling lift tickets and working in a deli," she said. "While there, I met some people from Sandpoint, and after the ski season I moved north to Sandpoint and haven't looked back."
That was in 1979 – about a year after Keough graduated high school.
Once in Sandpoint, she worked in the restaurant, hotel and service industry, including bartending at the Donkey Jaw and managing the Kamloops Bar. It wasn't until 1988, when Keough began a 12-year stint working with the Greater Sandpoint Chamber of Commerce, that the seeds of her eventual political career were planted.
"My inspiration for public service evolved as I worked in the business sector in Sandpoint," said Keough, whose "day job" is executive director of the Associated Logging Contractors. "My work with our business community in those years, coupled with my ethic that you can't complain unless you are willing to jump in and try to help and come up with solutions, are my foundations for public service."
Specifically, by 1996, Keough began to sense that there was a voice missing in the Idaho Legislature.
"I felt like North Idaho was not getting its fair share of attention from Boise in terms of road projects, school funding, economic development attention, those type of things," she said. "I felt like I had some skills that I could offer and asked the voters for their confidence, and they've blessed me with that confidence. I feel like my contribution has been to provide a steady, common-sense, main-street type of voice for our community."
Looking back on 20 years of service, Keough can count a lot of changes. Road projects, for one, have dramatically improved infrastructure in northern Idaho during her tenure at the Statehouse. Significantly, after more than 60 years of debate, the Sand Creek Byway was constructed on her watch. At the same time, Sandpoint and northern Idaho in general has greatly increased its manufacturing base and received much healthier state support for business retention and recruitment.
"Those are all things that I didn't see happening at the time that I decided to jump into the arena," Keough said.
Some issues, though, seem to be perennial. Despite increased infrastructure spending, Keough said fighting to maintain that level of investment is an ongoing struggle as is ensuring schools in the region are adequately funded.
"You win some, you gain some ground and you slide backward," she said. "I don't think they're ever solved and I think that's the wisdom of being there for a while and looking back."
Among the other changes Keough can look back on is a growing acceptance of women serving in the Legislature. Such was not necessarily the case when she first arrived in Boise.
"When I first got into office, my children were young," said Keough, who added that her two sons, both recent college graduates, "don't appear to have suffered" from a childhood spent with a mom in politics.
"I certainly got a couple of comments from both men and women, surprisingly to me, suggesting that my kids were too young and I shouldn't be there. And comments to Mike (Keough, her husband and former mayor of Kootenai) that shouldn't I be at home," she said. "I have seen a shift since then to more acceptance to women serving and a welcome to women who step up – including those who have young families – and I think that's a good shift."