Panhandle Backcountry
From the Winter 2016 Issue
Aaron Theisen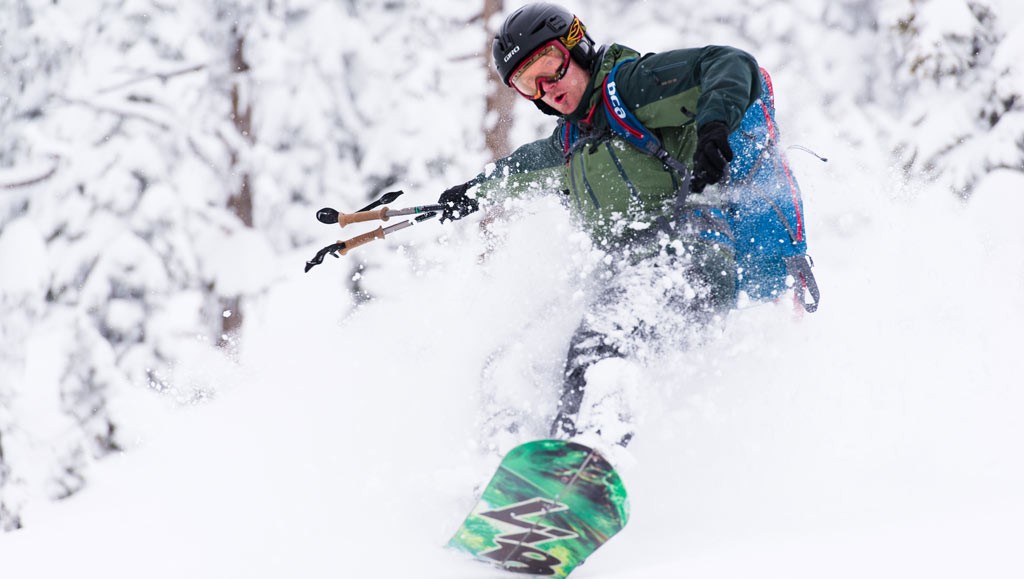 Online community crowdsources routes for snow seekers
crowdsourcing routes
Secret stashes, honey holes: For a sport that's all about making tracks, backcountry skiers and snowboarders are notorious for covering theirs.
But Liberty Lake splitboarder Larry Banks and Spokane skier Mike Brede, the cofounders and administrators of the Panhandle Backcountry online community, hope to open-source the skin track.
Banks, 49, began snowboarding 25 years ago at Mount Hood, when the sport was in its infancy. Like many before him, he caught the backcountry bug ducking ropes. Then he ducked a bigger rope – that separating the Pacific Northwest from the Inland Northwest.
"I was tired of how much traffic there was over on the west side of the Cascades," said Banks. "I came on a snowboard trip to Red Mountain (in Rossland, British Columbia) and wanted to try to figure out how to move out here."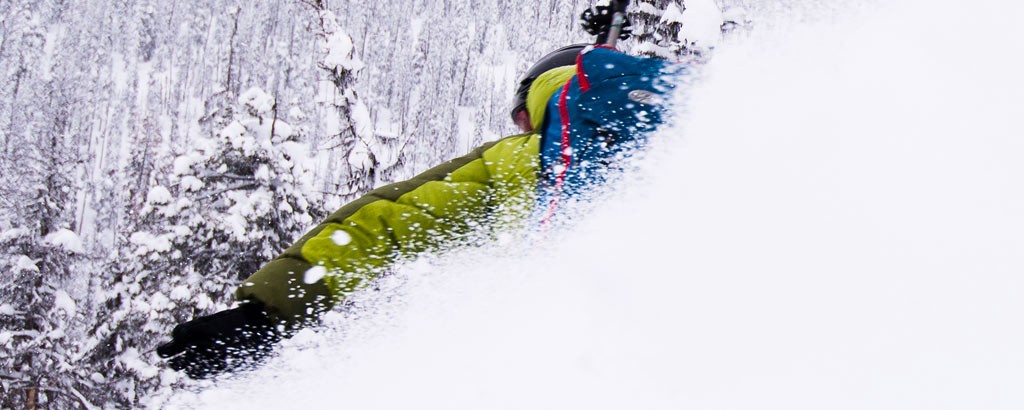 Brede, 31, has lived in the Inland Northwest most of his life. He learned to ski at Schweitzer but began exploring the backcountry in earnest when he moved back to the area after graduating from college in 2006.
Banks and Brede met in the backcountry, and as they began touring together, they discussed how every region in North America with backcountry skiing and snowboarding worth discussing had online forums – everywhere except the Inland Northwest.
Said Banks: "I told Mike, 'We're missing the boat; we're at the forefront of splitboarding and even ski touring. We've got to figure out something where you can use your talents as a web designer." The result was the Panhandle Backcountry forum – as Banks describes it, "one-stop shopping for backcountry skiing and snowboarding."
Democratizing routes
Whereas information on backcountry touring in the area has traditionally been on a need-to-know basis, passed down to privileged touring partners, the Panhandle Backcountry forums have democratized routes.
Banks added: "A lot of people on the forum are fresh to the area and just had no idea who to talk to, no idea where to go, what the snow conditions were. A lot of people didn't even know how to find conditions in the area."
The forum boasts far-flung members from Colorado, Utah, England, France, Canada and New Zealand. In any given week, users might file fresh trip reports from the Beehive Lakes to the Bitterroot Divide. Forum members have even begun organizing an annual outing to ski Glacier National Park's Going-to-the-Sun Road on its opening weekend.
Banks and Brede are, first and foremost, evangelists for our backyard backcountry.
"We don't have the huge lines like you find in, for example, the Wasatch, but it's unexplored," said Banks. "We've got a nice little spot here in North Idaho as far as the low number of people getting at it and the weather we get."
"One of my favorites is Lookout Mountain," said Brede. "It's a 9- or 10-mile snowmobile ride up, followed by a decent climb on skis, but it has some of the best views of Upper and Lower Priest Lake there are, especially from the lookout site, in addition to nice lines." Brede also cites Round Top Mountain – "a great view of Lake Pend Oreille, kind of an inverse view from that of Schweitzer" – and Scotchman Peak as high-Panhandle favorites.
Hero snow and backcountry safety
"Our snowpack, because it's intercontinental, is awesome – we have stable conditions, especially in the Silver Valley, compared to, say, the Cascades," said Banks. "You can feel confident in finding something stable and steep even a day after a big storm. We call it 'hero snow': it's so light and fluffy but still gives a little structure and stability underneath. For example, you don't ride a pillow line in Utah or Colorado, but you can ride them here."
But it's not all about hero snow, for with great pow comes great responsibility: As vocal as they are about the great backcountry touring to be had in the area, Banks and Brede are equally bullish on backcountry safety. That means the proper gear – avalanche beacon, probe and shovel – and the proper training in their use.
Brede and Banks feel an added sense of responsibility to spread the avalanche-awareness message, having encountered forum users in the backcountry who devoured the trip reports but skipped the safety briefing. They've even turned away groups they met on the skin track who did not have proper avalanche safety gear with them.
Fortunately, the majority of forum users are avy-savvy, and their field observations can supplement the regional avalanche advisories with zoomed-in details; call it crowdsourcing avalanche safety.
"The Idaho Panhandle Avalanche Center (IPAC) only issues reports once a week, so it's hard to fill in the blanks without collaborative knowledge," Brede said. "One of the goals of the Panhandle Backcountry forum is to fill in the gaps." Brede notes that, because of the remote and little-traveled nature of the region's mountains, skiers and boarders must be even more self-reliant.
Banks and Brede say they have heard scattered criticism of the forum, that they are stash-poaching profiteers, but most backcountry enthusiasts appreciate the sharing of information and the discovery of new places they didn't know about.
"We're definitely seeing more people at trailheads than in years past," said Brede. "But it's not like we're giving away honey holes or secret stashes."
"I think there are a lot of people who don't understand this is all out of our pocket," said Banks. "We're not making any money from anyone, getting any money from anyone. It's just something Mike and I saw a need for."
The nature of difficult, human-powered travel in general, and the long approaches of skiing in the region in particular, will do more to limit numbers than tight-lipped touring partners. Banks notes that, unlike, for example, backcountry skiing at Stevens Pass in the Central Cascades, where one's vehicle gains most of the elevation, "Over here you have to work for it."
"We've had some favorite places that we like to ski, and this past season – probably due to the site – we've run into tracks in some of them," said Brede. "But the nice thing in our area is you can just go to the next drainage over."
Banks and Brede continue to build a safe and connected backcountry community, both online and off. They have recently struck up partnerships with IPAC and the Selkirk Outdoor Leadership & Education program to offer avalanche certification courses, and they have begun partnering with SheJumps, a Salt Lake-based nonprofit whose mission is to increase female participation in outdoor activities, for women's skills clinics. Someday they may even get involved in backcountry-access issues. But for now they're content to build a backcountry community one forum user at a time.
"We've already accomplished what we wanted to, which is to bring people together," says Banks. "I've been in Revelstoke and run into people on the chair with Panhandle Backcountry stickers. It makes you realize how small the world is."
But as small as the world is, there are still plenty of places in the Inland Northwest to set a fresh skin track.
Look up www.panhandlebackcountry.com for trip reports and to sign up to partici
3 responses to "Panhandle Backcountry"