A Gentle Thrill
From the Winter 2019 Issue
Fiona Hicks, around. Phillip Belena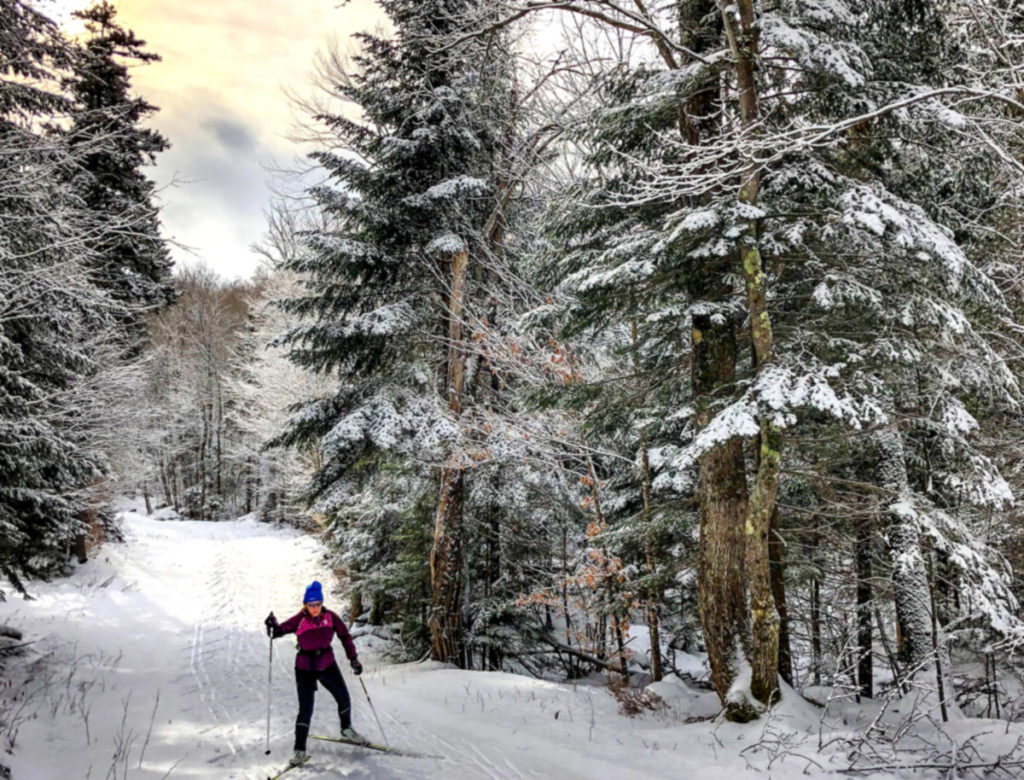 Cross-country skiing offers peace, views and a winter workout
The thrill of racing down the side of a mountain at 60-plus miles per hour, nothing but thin wood between yourself and the snow, is a huge winter attraction for many Sandpoint visitors and locals alike. But for those looking for a slower pace, the gentle pace of cross-country (or Nordic) skiing is enjoying a resurgence both nationally and locally, as evidenced by a huge increase in the use of local trails and a doubling in membership at the Sandpoint Nordic Club. Nordic skiers enjoy the contrast with downhill, lift-assisted skiing as it can be quiet, contemplative, and the best whole-body workout going.
Cross-country skiers use thin, light skis that are attached only at the toe. There are two kinds of skis for different techniques, classic and skating. Classic skiers stride forward and their skis leave a parallel track in the snow. Skate skiers move on wider, groomed trails in a manner similar to ice skaters. There is no shortage of places to go in our area no matter what type of skiing you want to do.
The Sandpoint Nordic Club grooms loops that make up 4 kilometers of trail in town at the University of Idaho Extension Center property on Boyer Avenue. While conditions in town aren't always ideal, they average enough snow to ski on for about six weeks every winter. In 2018—a heavy snow year—nature set a record: trails were groomed from November through March.
These trails are level and great for beginners, with outstanding grooming. Skiers often sneak out for a quick ski on their lunch hour and ski at night with a headlamp. Trail fees are just $3 and Sandpoint Nordic Club members ski free. Skiers will see everything, from racers training, to kids out skiing after school, to little old ladies shuffling along in fur coats. A separate trail is groomed for hikers, bikers, dog walkers, snowshoers and snowbikers. By the way, it is always considered bad etiquette to hike, bike or snowshoe on top of existing cross-country ski tracks.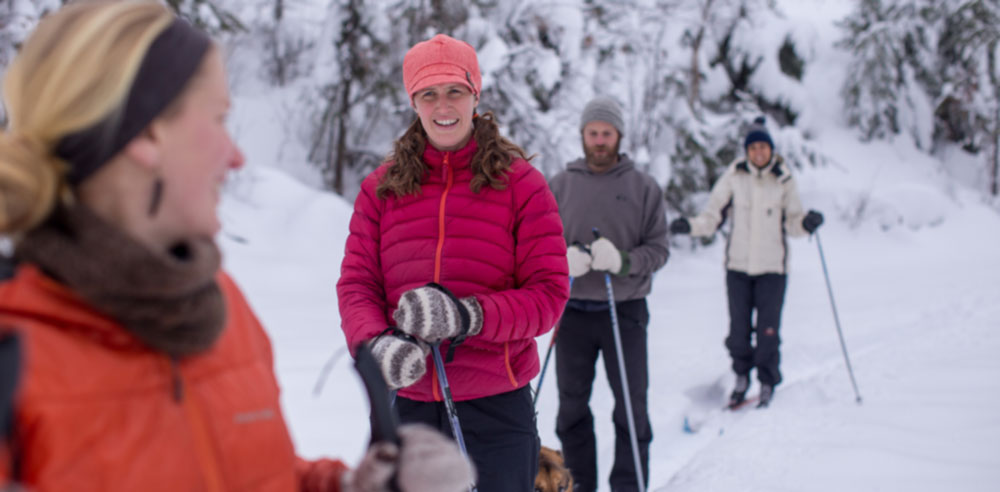 For the most consistent snow, biggest variety of trails, and most kilometers groomed, Nordic skiers head to Schweitzer Mountain Resort. Their groomed 25 to 30 kilometers include a backbone trail of 15 kilometers that is groomed daily for both skate and classic skiing. The trails are not suitable for beginner skiers, as the first mile or so are a bit hilly, but once you get out there you can find just about anything, whether it be more hills and twisty trails or wide open, gently sloping terrain. Great views of the lake seem to open up around every turn. This is the highest elevation skiing in the area, so a lack of snow is never a problem. Just be sure to save some mojo for getting back to the village or "Buzzkill Hill" will live up to its name. Schweitzer is the only venue that also rents cross-country skis. Both skate and classic skis are available.
At Schweitzer, trail passes are $17 for adults and $14 for those under 18 and over 65. A season pass is $169 and can be added on to a regular pass for a discounted rate. The trails take off to the right of the Great Escape Quad chairlift near the yurt by the tubing hill, and are open to snowbikes and snowshoes. Snow biking is sometimes limited depending on conditions, and they offer a few snowshoe-only trails. Dogs are prohibited from the Schweitzer trails.
Here's a secret: The roundabout at Schweitzer has a short trail that is groomed weekly for skate skiers and sometimes has a track for classic skiing. It is a gently sloping, just-under-a-mile-long out and back road. There is no charge and dogs are allowed. The Nordic club holds their Learn to Ski Day here every year (see sidebar).
Western Pleasure Guest Ranch, north of Sandpoint on Gold Creek Road, is another popular destination for Nordic skiers. It sits about 500 feet higher than town and often has great snow even when Sandpoint doesn't. They groom about 15 kilometers of trails, split evenly between some meadow loops and a trail that winds up in the woods above the main lodge. Both skate and classic skiing are featured on all trails. Dogs are allowed on the hill loop, but not in the meadow. Trail fees are $10 for a day and $65 for the season. Relaxing in their lodge with a cup of cocoa after a ski is one of the highlights of many skiers' winters.
The loop road at the Kootenai National Wildlife Refuge, just west of Bonners Ferry, is open for skiing in the winter. The 4.5 mile loop is quite flat and edges along dikes above the Kootenai River and different low points in the refuge. It is free, but there are no groomed trails. You may hit it on a nice day just after a group of skiers, or the trail may be smashed up as it is shared with hikers and snowshoers. There is no fee. Leashed dogs are allowed.
If you're paying attention to conditions, the best skiing is sometimes right on Lake Pend Oreille. When the ice is solid underneath and just after the snow gets too deep for ice skates, the skate skiing can be tremendous. As the snow gets deeper, switch to classic skiing. Slap on your boards at City Beach and head north as far as you want to go. Or take off from Third Street Pier and glide your way to Dover and back.
Many skiers travel to the south end of Lake Pend Oreille at Farragut State Park. The park offers groomed tracks for classic skiing, but not skate skiing. A 10-kilometer loop is set up on rolling, open and lightly wooded land with cutoffs in between so you can tailor the length of your trip. They also have a large, ungroomed, dog-friendly area on the north side of the park road that is open for skiers, snowshoers and snowbikers.
Round Lake State Park, in Sagle, is also open to Nordic skiers. Their ungroomed trail around the lake is about 2 miles long. Like Kootenai Refuge, you never know what you will find there. Sometimes the trails are in great shape for classic skiing, and sometimes the other users have left things almost unskiable. Leashed dogs are allowed. Like at Farragut, the park entrance fee is $5.
Whether you want to get out and skate ski on perfectly groomed trails, find some nicely groomed tracks to guide you along on classic skis, or set down your own track stomping across new snow while classic skiing, there is no shortage of places to go to get outside in winter.