Kramer finally gets the call
From the Winter 2019 Issue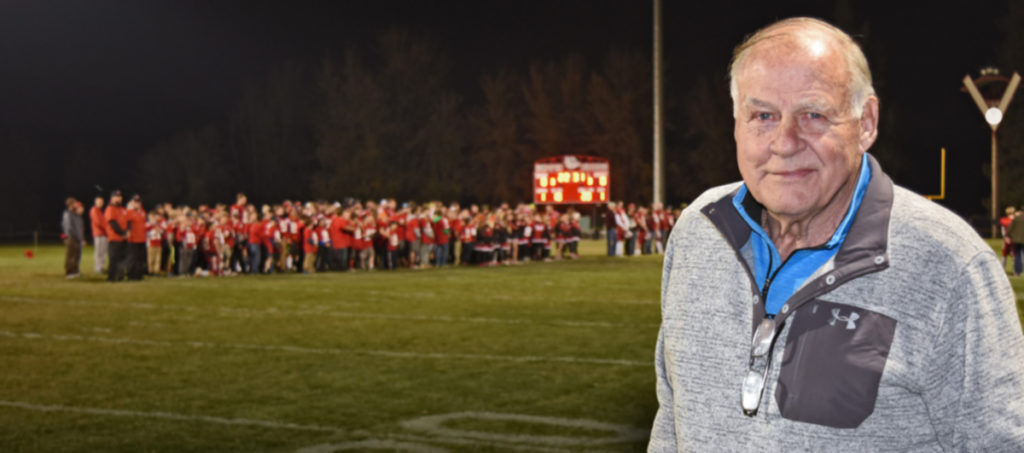 Sandpoint's Jerry Kramer found his way to Canton, Ohio, and the Pro Football Hall of Fame this summer. This gridiron star for the Sandpoint High School Bulldogs (Class of '54), Idaho Vandals (Class of '58), and the Green Bay Packers achieved what only 318 NFL players have when he donned the golden jacket and unveiled his brass bust in August as a newly inducted member of the Hall of Fame. He's finally a 1 percenter.
A right guard who played for the Packers from 1958 to 1968, Kramer won five NFL championships, garnered five, first-team All-Pro selections, and was named to the NFL All-Decade team of the 1960s. He was immortalized in a photo while carrying Coach Vince Lombardi off the field on his shoulder after a win. NFL fans still recall his block in the 1967 NFL Championship game, where he cleared the way for Bart Starr to follow him in for a quarterback sneak in what was called the "Ice Bowl."
Kramer became eligible for the Hall of Fame in 1974 and was named a finalist 10 times—the most times anyone has ever gotten that far without being enshrined. Just less than 1 percent of pro football players make it to the Hall of Fame. But the journey to Canton wasn't a straight line for Kramer, his family, or his legion of fans.
Why did it take so long for you to make the NFL Hall of Fame?
If you ever find out, let me hear about it, will ya? No one seems to know exactly. Heard a lot of possibilities like the Packers have too many players in there now, some of the other teams need some players in there … . One other thing, the position is a hard one to measure. We don't have any stats, any fumble recoveries, receptions, carries, anything. We are just a part of the team and we are in the middle of everything where maybe a wide receiver or even a tackle is more visible than the guard. There is a pile in there and even your momma don't know what the hell is going on out there.
What was it like growing up in Sandpoint?
It was a bit smaller but always a good football team. Good football focus. Fans supported the school very well and came to the games. The fans were always loud and supportive so it was kind of a big deal to be on the football team. It was a chance to maybe differentiate yourself from the crowd. We all enjoyed the heck out of it, so it was a fun game and a fun time and Coach [Cotton] Barlow was the man of the hour. Life was good.
Do you have a favorite memory of Coach Barlow?
He was all business with me. We didn't have a warm and fuzzy relationship but he was solid. I thought he was bright and hard working and stayed right on top of things and didn't let anything go to chance. Did a helluva job overall.
What did Coach Barlow say that stuck with you?
We were supposed to play in Wallace and there was a young guy that burned the stadium in Wallace down, so they moved the game to Coeur d'Alene. We found out before the game they weren't going to let our band in unless the band paid. Coach made that an issue and said they were disrespecting us. [He] gave us a fire and brimstone speech and got us all fired up and we went out and beat Wallace 55-7, just thrashed them. I got to thinking about it later. I am not really a band guy and it didn't really impact me that the band had to pay but Coach Barlow made an issue of it and got us all pumped up and excited and we went out and kicked Wallace's ass because they were insulting our band. Like it was a big deal.
At the professional level, what's the difference in [Green Bay] Coach Lombardi's coaching style and what you see today?
I think Coach Lombardi's philosophies didn't really come from Coach Lombardi but from ancient Greek literature—Aristotle, Plato, some of those deep thinkers. There was a set of principles more than a style. There was preparation. This applies to many areas of life and business. We prepared to the nth degree. We watched films for hours upon hours trying to pick up a little fact, [like] the defensive tackle was standing up on the goal line on short yardage plays. He was making a mistake and was doing it for three weeks in a row so we could expect him to do that with us. So we put in a quarterback sneak on the goal line and we win the game with 13 seconds to go. Then there is commitment. Consistency. Discipline. Pride. Character. Belief in your team and your organization and yourself. Tenacity. Those kinds of things were things Coach Lombardi believed in and taught.
When you played and retired, you became a multimillionaire like these modern players, correct?
I wouldn't say I became a multimillionaire. I was making about $8,000 a year the first year. It would cover the refrigerator payments and the car payments but I had to work in the off season. I had an opportunity to work for Boise Cascade in the executive training program and they were going to pay me $450 a month. Well, I couldn't live on that. I had a baby or two. When I came back from Green Bay to Boise I started working for Morrison-Knudsen driving a Cat. And I drove a Cat 10 hours a day, six days a week and I got paid just about as much on the off season as I did during the season. We have linemen making $6 or $7 million a year now. It just wasn't that way when we were playing the game.
How did it feel to have your daughter Alicia give the speech prior to your induction in the Hall of Fame?
She has been sensational. She has taken five or six years of her life to get her pop in the Hall. Worked her tail off night and day. Joe Horagan, who is with the Hall, gave me a call [when I was notified] and said "Jerry, you can't believe how happy I am about your nomination. This will reduce my incoming mail by 90 percent. Those Packer fans have questioned my mentality, my morality, my manhood, my education, my everything. I am so happy to get you off my list." Miss Alicia kind of spearheaded that.
Why do you give so much to Sandpoint?
There is something about Sandpoint that represents home and while I haven't lived there for a long time it is still home … and there is something about your hometown that is very special. I did get up there awhile ago to go fishing with a couple of my high school buds and we ended up bullshitting and drinking beer more than we did any fishing but we had a great time. I need to do more of that.
What do you think of the new stadium versus the old stadium?
Well, I thought the old stadium was the cat's meow. It was huge for us. The lights were sensational. Everything about it was pretty damn cool. Love the location. I enjoyed our stadium a lot and I think I will enjoy the new stadium a lot. It is a sign of standing up and caring about your team, your players, students, and everyone else. It's a positive thing.
[Sandpoint] was a wonderful place to grow up. A wonderful place for anyone to grow up. Everyone cared about the community and kids and common sense. A little community of folks looking after one another and taking care of one another. A beautiful place.
Is it true you had flashbacks of Sandpoint when you stepped onto an NFL field?
Yes. There was a moment when we got lights during an evening game—a sparkling evening game, where the lights were bright and the Star Spangled Banner was being played and I kind of affixed that memory in my mind. It was a very emotional moment for me and I will always have that for the rest of my life. I travel back to Memorial Field when I hear the Star Spangled Banner. Back to that evening. Didn't expect to do that.
At right: You know you've made it when you have a Bobblehead. Courtesy of the John Elsa collection