Alone
From the Winter 2020 Issue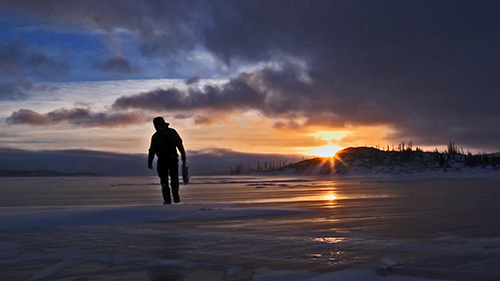 Area native Jonas Jordan takes on the wilds of Alaska to win History channel's survival special
Jordan Jonas, winner of History television's sixth season of the survivalist reality show "Alone," came from humble beginnings as a farm kid raised near Kelso Lake in Bonner County.
"When you grow up on a little farm in Idaho, there's a level of resilience you develop that's helpful," he said. "It's a big part of laying those foundations for me."
Jonas, whose "Alone" victory came with a $500,000 prize, graduated from Sandpoint High School in 2000 and went on to lead a life rich with wild experiences in unforgiving environments. Perhaps most integral to building his passion for the survivalist lifestyle was his time in Siberia living and working with nomadic Evenki reindeer herders. That experience, he said, brought him closer to his core human needs.
He explained survivalism as, "You just have your needs and meeting your needs directly. You feel designed for it."
"Alone" chronicles the experiences of 10 survivalists completely on their own in a foreign environment with only 10 handpicked survival tools to assist them. For season six, contestants were dropped at various locations around Great Slave Lake in the Canadian Arctic. Jonas' tool choices were a saw, ax, sleeping bag, frying pan, ferro rod, fishing supplies, multitool, a bow and arrow, trapping wire, and paracord.
The contestants spend the entirety of the competition in solitude―though medical assistance is nearby―filming themselves as they build shelters, hunt, gather, elude predators, evade harsh elements, and figure out how, exactly, to pass the time until only one survivalist is still healthy or willing enough to continue on.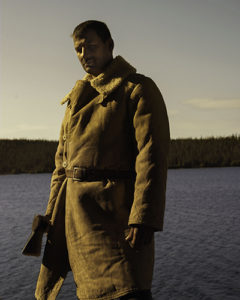 Jonas―who won on day 77 of the show―said he spent a lot of time thinking about the future, but also about all the people he'd met in his life. Overall, he said, he didn't mind being alone with his thoughts.
"For the most part I enjoyed it, but I wouldn't want to be the last person on earth indefinitely," he said. "Fortunately I had enough calories to keep active."
Those calories came from many sources; most notably from a moose Jonas killed early on with his bow and arrow. He said the experience was a "roller coaster," as he worked for hours to butcher, pack, and safely store his main food source―all with only the small knife on his multitool to help him. He also foraged and fished, a favorite moment on the water coming on what Jonas didn't know would be his last day of competition, when he caught a large pike with a handmade net.
"On the last day, when I caught that huge pike, it made me change my whole perspective," he said. "Before that I thought I wasn't doing enough. I was just assuming I wasn't doing very well the whole time … [After the pike I realized] I could be out there as long as I needed, it seemed. I had a whole new positive outlook."
Now, back to his day-to-day life in Virginia, it seems "Alone" did nothing but further solidify Jonas' love for surviving with only those basic needs at hand.
"The modern world has so many distractions that it's easy to float on by," he said, "but this way of living connects you to yourself." His winnings from the show will be used, in part, to help Jonas and his family―he and his wife, Jahnahlee, have two children, with a third on the way―move back to this area.