Bringing the Classroom to Real Life
From the Winter 2020 Issue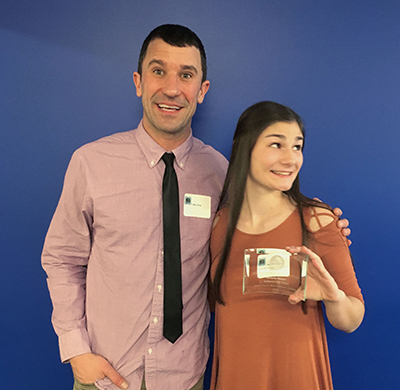 Businesses and organizations work with local schools to jump start careers
For the past several years, Lake Pend Oreille School District's schools have been a bright spot in Idaho's education system, with a high national "Go On" ranking, successful Advanced Placement, and an active Career Technical Education program to prepare students for a career in the trades. This is no small feat considering Idaho's low financial ranking when compared nationally. It's truly remarkable what our teachers, school leadership and community support can accomplish together.
Perhaps one of the reasons for this success is a symbiotic relationship that local businesses have with the school district. Whether it's apprenticing at a local tech firm or building something that will be used by the community, students benefit from the collaborative relationships the school district has built with local businesses and organizations. It's a relationship that brings textbooks and classrooms to life, opening students' eyes to the infinite possibilities that exist after they graduate.
The relationships are an asset to the community, too. Local business leaders are quick to point out that strong schools are essential in attracting workers, which can be challenging in an economy with low unemployment and in an area that's highly desirable, yet "off the beaten path" like Sandpoint.
"If we're recruiting from outside the area, the first question prospective employees ask is about the quality of our schools," said Susan Jordan, CFO at Quest Aircraft.
CTE Provides More Than Tech Skills
"Students who know how to weld, use a lathe, a mill, and a CNC machine become more valuable employees." Jake Stark teaches welding, fabrication, and engineering manufacturing as part of Sandpoint High School's career technical education department. His students work on real-world projects for the community while developing skills they need for a better future.
Each year, Stark's class collaborates with local businesses and organizations to build community projects. Students recently were tasked with building a burrito bar and palm tree for local Mexican restaurant Joel's. They also created the CNC metal cut-outs of dog silhouettes for the dog park fence in Ponderay.
"Even if they never go into this field, they know how to build something from start to finish. It teaches them a lifelong skill—something they'll have for the rest of their life."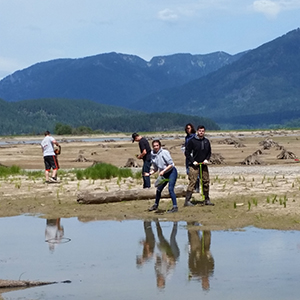 A 'Class' that Lets Students Go to Work
As part of their senior project, all students at Clark Fork High School are required to participate in an Independent Track program in which students shadow someone in the community, based on their career interests. A wide range of businesses and organizations throughout the Inland Northwest have participated, offering diverse professional opportunities from aerospace engineering to restaurant management and equine therapy.
"Some students find that they are even more excited to pursue the career while others find that they don't like it after all," said Rebecca Palmer, the program coordinator "This is invaluable for them as they think about their post-secondary options. Regardless of the path they choose, they learn soft skills like professional communication, timeliness, interview techniques, and customer service. Most of the students who have participated in the program over the last four years have been offered employment or excellent references."
Learning Comes Alive in Lessons Outside of the Classroom
Track programs are available to all students at Clark Fork Jr/Sr High School. The initiative evolved from the school's efforts to introduce experiential learning—a concept that involves more hands-on learning opportunities for students of all ages. Taking place over 10 Fridays in a semester, students can select from Health & Wellness, Business, Culinary, Outdoor or Parks & Rec, Art, and Robotics.
History teacher K.C. MacDonald leads an outdoor-oriented Track with participation from local organizations such as Selkirk Outdoor Learning Center, Schweitzer Mountain, and Kaniksu Land Trust. The track gives students an outdoor experience that can include ice skating, fly fishing, or learning outdoor survival skills. MacDonald says there's typically a 'good citizen' aspect to the experience in which students give back to the local benefactor by clearing land or doing needed property repairs.
"I remember sitting in my classroom when I was this age and the only pictures we saw of the world were in our textbook," said MacDonald. "Our students get to see their science lessons come alive."
Learning about Careers in Healthcare
In 1995, Kathy Holm created a clinical health education program for Sandpoint High School students in collaboration with local health facilities. Kathy's niece, Trina Kennedy, has led the Health Occupation Pathway program for the past four years and calls it an incredible opportunity for students interested in health occupations.
"Starting in their sophomore year, students can take an introductory to health occupations class that offers a broad overview of the profession," said Kennedy. "In their junior year they can enroll in a medical terminology class that earns them dual credit with North Idaho College. And for the capstone their senior year, they can spend about six months in various clinical settings to earn their Certified Nursing Assistant degree."
During the clinical rotations, students are sent to Bonner General Hospital, Life Care Center in Sandpoint, and Valley Vista Care Center in Sandpoint. They have the opportunity to observe a wide range of health professionals, from physical therapists to lab experts to medical records professionals.
"Lots of kids come out of these classes with jobs," said Kennedy. "I've always been amazed by the support that our medical community gives the students. The incredible commitment and collaboration contributes to help students jumpstart their careers in healthcare."
Projects that Protect the Environment
John Hastings teaches ecology, environmental science, horticulture, and forestry at Sandpoint High School and is passionate about developing projects that allow students to apply their classroom lessons in the real, i.e. natural, world.
Hastings and his students work closely with Idaho Fish & Game on numerous restoration and habitation projects. At the Clark Fork and Pack River deltas, for example, they helped to rebuild islands, establish new vegetation, and monitor the restoration progress. They've also worked on Habitat Evaluation Procedures by running transects, or evaluating the habitats at specific measured areas and entering the data they gather into statistical formulas to gauge how suitable the environment is for certain species.
'Learning by Doing' is more than just a saying in Hastings' classes; students leave the classroom to clear land and gather information about local flora and fauna. One can see the result of this effort at the Bonner County offices' native plant demonstration garden on Highway 2. Future plans have students working with the local Kaniksu Land Trust to develop self-guided nature trails at Pine Street Woods.
From Tech to Career or College
In her senior year of high school, Victoria Hewitt worked after school as a support engineer at Kochava, a data solutions company headquartered in Sandpoint. She monitored networks and worked with the tech support team. "The classes at the high school helped me prepare," said Hewitt. "And working here has shown me this is what I want to do as a career."
She is now studying in the same field at college in Boise this fall. "Sometimes students decide to move right into their career from high school, which is uniquely possible in tech fields," said Kimberly Manning, Kochava's senior brand director, "but working here doesn't always mean those students are foregoing college because of a tech career. We want to provide a wide range of opportunities with varying outcomes for our local young people."
"We like to see our school system invest in the natural talents of individual students. That's how they really blossom and that's the right chemistry to get local young people to move successfully from high school to a career environment," said Charles Manning, Kochava's founder and CEO. "Providing training and career opportunities for students in our community benefits both the students and our company, as local young people are often excellent contributors to our team. Education is the most effective investment there is, as far as return on investment, and it's a primary focus for Kochava in terms of how we give back to the Sandpoint community we love."
Community Support Through Teacher Grants
In 2002, a small group of citizens concerned about their public schools formed the Panhandle Alliance for Education . This non-profit local education foundation supports public schools in the Lake Pend Oreille School District by raising money to fill the gaps taxpayer-financed programs aren't able to in an effort to help raise the achievement levels of all students.
"Residents and businesses throughout our community are engaged in a myriad of ways in support of schools, teachers and families," said Marcia Wilson, executive director at the PAFE. "There is widespread, on-going support of LPOSD and its essential role as a magnet for new jobs, workers, and community prosperity. There is a tangible culture of pride for quality education and the community understands that LPOSD is an economic and societal asset."