Granary Arts District Blooms
From the Winter 2020 Issue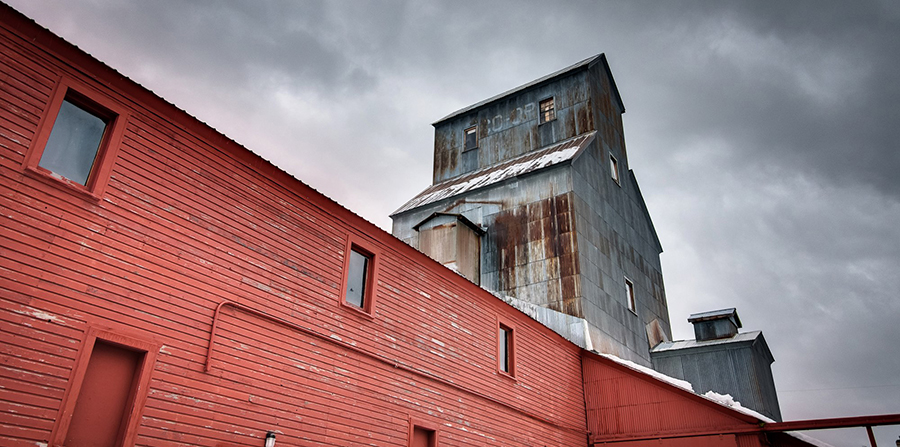 New businesses and old anchors are creating a thriving arts culture in one of the area's most photogenic historic areas
Steve Holt and John Edwards saw promise in the Granary District when they first purchased the centerpiece property in the late 1990s. They just didn't know what, precisely, that promise was.
Scouted out as a potential location for their expanded Misty Mountain Furniture, the property was sandwiched between Oak and Church streets near Sixth Avenue. It was a promising piece of real estate, reasonably close to downtown Sandpoint and home to the iconic and historic granary, one of the town's tallest buildings. The business partners ultimately decided not to move their furniture store there. But they followed through with the purchase anyway.
Two decades later, the promise Holt and Edwards saw has blossomed into a Sandpoint district with an identity all its own. It is home to anchor businesses like Evans Brothers Coffee and, just last year, the new Matchwood Brewery. Artists have come and gone over the years, with Woods Wheatcroft being one prominent mainstay. Thrift stores line the streets, funding many of Sandpoint's philanthropic efforts. Recently under new ownership, Murphy's is a legacy building buoyed by fresh perspective, while Charles Mortensen's Syringa Cyclery brings in new entrepreneurial energy.
On the cusp of 2020, the now-called Granary Arts District is a place for creation—of art, of artisanal goods, of dreams both old and new.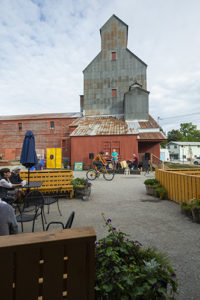 eThe modern iteration of the Granary Arts District began in 1999, when Holt and Edwards purchased the granary property from the Co-op. The farming supply store was planning a move to its Ponderay location, and Holt and Edwards stumbled upon the real estate opportunity while it was still under wraps.
"We asked them how much they wanted for it, and we agreed on a price before it even went on the market," Holt said. "We got our foot in the door early on, so yeah, we got lucky."
"We thought, oh, this is a huge opportunity," added Edwards.
The property's value was immediately evident. It was close to downtown and well known to the public. But Holt and Edwards wanted to move it from industrial use to a community centerpiece. They saw the center stretch near where Evans Brothers exists today as a prime location for live music, fundraisers, and special events.
From the beginning, challenges to that vision cropped up. Idaho Transportation Department owns right-of-way adjacent to the granary property. And twice now, transportation officials have proposed constructing a highway extension diverting U.S. 2 traffic. Dubbed "the Curve" project, the first proposal surfaced in the early 2000s shortly after Holt and Edwards purchased the property. ITD officials told them a portion of one of the buildings butted against that right of way.
"They told us we'd either have to move the building or tear it down," Holt said. "Well, we knew we weren't going to move it."
That project ultimately fizzled. But a decade later, ITD was back to propose the project a second time. This iteration of the Curve was proposed to divert highway traffic from downtown Sandpoint in conjunction with the recently completed Sand Creek Byway. This time, transportation officials assured Holt and Edwards the proposed roadway would bend around any Granary Arts District buildings. But the city of Sandpoint ultimately shut the proposal down, worrying about the effect a large new roadway would have on the center of town. It was a pivotal decision for the Granary Arts District, one that preserved its peaceful, neighborhood character.
Another key moment came more recently when Kaniksu Health considered buying the whole property for a move into town. Holt and Edwards weighed the option carefully. Though potentially lucrative, it was an evolution that didn't match their vision. While medical services are valuable and important, they don't generate the cultural cachet and community presence that the pair felt was vital.
"We looked at it seriously because it would have been some money for us," Edwards said. "But it wasn't really what we wanted, and in hindsight, it was great it didn't work out."
Instead, the Granary Arts District has defined itself by the businesses and organizations that have planted roots there over the years. Some were like Beet and Basil. Originally a food truck stationed in the Granary District, the restaurant has since expanded to become a successful brick-and-mortar restaurant in downtown Sandpoint.
Other businesses, like Evans Brothers Coffee, have remained. Holt and Edwards consider its founding 10 years ago to be one of the most important events in the development of the Granary Arts District, establishing an anchor business in the area that sparked people's creativity and invited them to linger over a cup of joe. The business celebrated its  tenth anniversary  in 2019.
"It's a milestone for sure," co-owner Randy Evans said. "In some ways it feels like it's gone by pretty quick, but a lot of businesses have come and gone in that time, and we feel very lucky to still be doing what we do."
Originally, Randy and his brother, Rick Evans, planned to open shop in Ponderay, intending to focus on coffee roasting without the now-familiar cafe. They were sold on their Granary Arts District location, however, when local artist Jeff Dunwoody spread the word about an open building.
"It was very much an  eleventh-hour thing, but we knew right away this is where we were meant to be," Rick Evans said.
The subsequent decade proved that intuition true. Evans Brothers is among the most successful of Sandpoint's artisanal businesses, distributing its coffee throughout the Inland Northwest. Along with a milestone anniversary, 2019 saw the pair celebrate the first year of a new Evans Brothers Coffee location in Coeur d'Alene.
"We definitely feel that a part of our success has been our location," Randy Evans said.
Charles Mortensen sees the Granary Arts District as an ideal location for his business, Syringa Cyclery. Located on Oak Street in the former home of the Sandpoint Arts Alliance, Syringa Cyclery offers an attractive, remodeled store interior where bike enthusiasts can eye new models or have their favorite wheels reworked. Mortensen said many of his clients wander off for a coffee at Evans Brothers or a beer at Matchwood while their bike is maintained.
"It's kind of symbiotic in a way," Mortensen said. "And the new street improvements on Oak Street last summer, with the bike paths, make things more appealing and more convenient for people."
The Granary Arts District is a hot spot for special events, from art installations to beer gardens to holiday parties. And Mortensen is contributing to that culture by introducing the Three-Quarter Minus Cykeltur. A timed gravel ride benefiting the Pend Oreille Pedalers, the Cykeltur kicked off its inaugural race this May, and Mortensen aims to make it an annual tradition.
"That's the nice thing about the whole Granary District there with Evans Brothers and Matchwood, who both supported that event," Mortensen said. "It's perfectly set up for that kind of thing."
Like Syringa Cyclery, the nearby bike path and amenities are also important for the new Murphy's. Operated for decades as a small engine repair shop, the building was purchased in early 2018 by Bart Murphy. The fact that the new owner's name matched the iconic storefront was a happy coincidence. But the building's name and character is about all the new Murphy's has in common with the previous business; while they'll work to help your family have fun, sadly, they won't sharpen your chain saw
"I think everyone is very pleasantly surprised that we've kept the charm and history that this building has while putting a fun spin on the business," said Lisa Hazan, who manages the shop.
The new Murphy's is all about family fun, offering ice cream, milkshakes, and fresh doughnuts daily. It is the retail location for 7B Apparel, offering custom-designed clothing. And it rents out a full range of bikes, from electric bikes perfect for longer trips to fat-tire bikes ideal for wintertime to Surrey bikes that can seat multiple people.
"Starting a new business is always scary, and everyone that comes in here is really excited to see the business keep on keeping on," Hazan said.
It was no easy task rehabilitating the Murphy's building for its new life. Cleanup proved a substantial effort, but Murphy and Hazan tried to incorporate elements of the old building, like its chain-link fencing, into the interior design. That commitment to history and community is reflected in the new Murphy's approach to business, too. Hazan and Murphy provide space and opportunities for local musicians and artists, host workshops, and interface with organizations like Greater Sandpoint Chamber of Commerce. It's a communal space in every sense of the term.
"We fell in love with this neighborhood and then fell in love with the building," Hazan said. "It's just a humble, down-to-Earth, cool part of Sandpoint."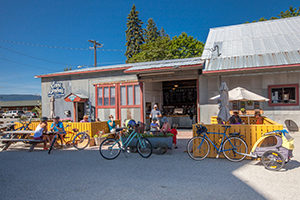 The neighborhood's latest major addition, Matchwood Brewing, aims to follow in Evans Brothers' footsteps as a true Granary Arts District anchor. The new business required a major renovation of one of the Granary District buildings, but Holt and Edwards believe the end result speaks for itself. With a year of business under its belt, Matchwood brings its own unique spin to the local brewing scene. And its location is an important part of its style. It offers meeting space across two stories for everyone from local organization and business staffers to neighborhood families seeking a night out.
For Edwards and Holt, Matchwood's completion represents just how far the Granary Arts District has come in 20 years' time. It's taken on a life of its own as local businesses have come and gone. Now the business partners can truly say their original vision for the area—a community gathering place enhancing Sandpoint's culture and character—has come to pass.
"I was sitting over here in Matchwood a month and a half ago," said Holt. "The sun was setting. Matchwood was humming. And I was just sitting here with all these people around thinking, man, it's just so gratifying."