At the Ready
From the Summer 2020 Issue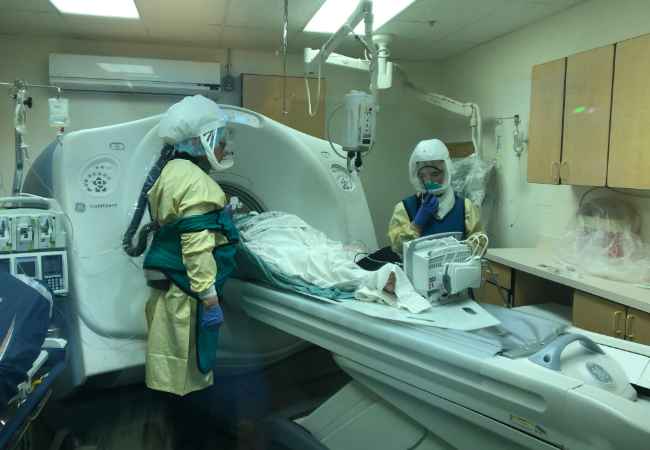 Bonner General Health on the front lines of the coronavirus pandemic
On the front lines of the coronavirus, staff at Bonner General hope for the best, prepare for the worst
by Carrie Scozzaro
Imagine you can see dark clouds roiling on the horizon, hear the storm growling as the weather shifts, menacingly. You are in the storm's path, yet you do not know where, when or how hard it will hit. What you do know is that it's your job to protect your community regardless of the unknowns. You're scared, frankly, including for your own safety and that of your loved ones, but you know you're not alone; your team is all-in. Yet even as you hunker down, double-checking all you've done to prepare, you're witnessing the storm's onslaught in other areas, hoping you will be spared the worst of it.
So you go over your list one more time. And then you wait.
"My biggest concern was how fast things could ramp up and overwhelm our hospital," said Curtis Johnson, director of facilities for Bonner General Hospital. Johnson is part of a dynamic team spearheading response efforts to the novel coronavirus—COVID-19—that has transfixed the world since early 2020.
"Personally, I was worried that my loved ones would contract the virus and I wouldn't be able to say goodbye before they passed," admits Johnson. "If I was exposed to the virus I wasn't sure if I would be able to go home, so our family was making contingency plans for healthy family members to live together and for me to self-quarantine."
Putting aside personal worries goes with the job, however.
And the job was a big one. Bonner General Health is a rural, 25-bed hospital serving a county of just under 46,000 people. But that county is also a mecca for tourists; visitors can swell the population to over 130,000 during peak summer months.
Medical Surgical Unit Nurse Manager Bryce Cordle remembers discussing with his nursing team the frightening reality of caring for patients suffering from a potentially highly-contagious and fatal disease. They were stoic, telling him, "'Bryce, we are nurses. We take care of sick people every day. This is what we do. Bring it on.'"
"It's not that they thought they were invincible," said Cordle, "but that they recognized the responsibility that comes with being a healthcare professional and were ready to meet the challenge presented by COVID-19, even if the circumstances were not ideal."
In addition to being a previously-unknown disease with implications for treatment, prevention, protection and more, nationwide equipment shortages and rampant misinformation has made responding to the virus that much more difficult.
"With very little known about the virus we were making sure we were prepared for the worst and at the same time hoping for the best," said Johnson.
That simply-stated, two-pronged approach would guide BGH through several intense months of modifying facilities and procedures, mobilizing support, educating themselves and the community—efforts that continue to this day.
Although they had been meeting about COVID for a little while, said hospital CEO Sheryl Rickard, they formalized a response team on February 26. On the same day the Center for Disease Control sounded the alarm, BGH activated their Incident Command team, representing such areas as hospital administration, clinical operations, nursing, emergency medicine, public information, facilities, and infection prevention.
"The Incident Command team is responsible for monitoring the situation, educating staff, monitoring the inventory of personal protective equipment (PPE), and working closely with community partners, including Panhandle Health District," said Rickard, who notes the hospital has a robust emergency preparedness program.
"There was already a structure in place and we all knew our roles," she added, noting that put BGH ahead of other facilities. "This has given us a chance to use the skills and knowledge that we have been practicing."
Since then, they have spent weeks reviewing policies; evaluating services and staffing; generating restrictions, protections and screening; and revamping communication amongst staff and with the community, said Rickard.
One of the first changes at BGH was readily visible from the outside—an outdoor testing site—while inside, adaptations involved everything from facilities to protocol to staffing.
The emergency care unit was the first to get anterooms where staff could safely go through the lengthy process of putting on and taking off the masks, gowns, and other PPE necessary to protect themselves and prevent incidental spread to others.
BGH added isolation rooms in several units, including emergency, the 6-bed intensive care unit, and obstetrics. They also built a COVID isolation "pod" in their 18-bed medical-surgical unit that could house six patients, and developed a "surge" plan should the need arise.
Although much of the press has focused on intensive care, said Cordle, 80 percent of virus patients hospitalized nationwide were being treated in med-surg units, according to the American Nurses Association.
Access to accurate data in a rapidly-evolving environment has been essential to their decision-making process, said many BGH staff members interviewed for this article.
"Guiding a hospital and a community through this is kind of like using a mud puddle for a crystal ball, because so much is still unknown about COVID-19," said Cordle.
"We are constantly making new decisions, discussing new ideas, and addressing or readdressing problems as current information changes," said Cordle. "As health care leaders and professionals we have a strong responsibility to ensure our decisions are based on the best science and math available, and not on emotion."
Emotions were—understandably—running high in the earliest stages of virus awareness, said Curtis, who as facilities director, has another concern on his list: staff security. During the first few weeks there were a couple encounters with people who wanted to get tested and couldn't, said Curtis.
"We would have loved to test all of Bonner County, but the tests weren't available and the labs were overwhelmed," said Curtis. "Encounters like this take de-escalation skills and discussion (so we are) able to reach an understanding with the concerned patients."
Although BGH staff never found themselves confronted by protesters like in other parts of the country, they're acutely aware of a small but vocal minority who oppose the stay-at-home order, contact tracing, and the efficacy of vaccinations.
Overall, however, the community response has been phenomenal, said Cordle. "People have volunteered to sew masks and gowns, built face shields on 3D printers, and brought in boxes and boxes of gloves and other PPE."
Testing and PPE were and still are two priorities for BGH staff, especially as nationwide shortages remain unaddressed.
BGH can now do two more types of testing in-house, said lab manager Cherie Proctor. A nasal swab is done to to test for the active virus, while blood is drawn to test for antibodies indicating past exposure.
Proctor explained that active virus testing does have drawbacks. "In some people, the virus can only be found for a few days at the beginning of the infection, so the test might not find the virus if the swab is taken more than a few days after the illness starts." In other cases, people may be no longer contagious yet still test positive for the virus, she said, adding some of the supplies required for testing are still scarce.
On the other hand, the antibody test BGH is using has a 99.63 percent rate for specificity and reliability, and is more reliable than similar antibody tests on the general market. Both tests were FDA approved in April, and Bonner General was the first hospital in Idaho to provide rapid testing for the virus.
PPE has been another hot-button issue, forcing many healthcare providers to consider alternatives.
Clinical Education Specialist Trina Kennedy was tasked with researching, along with communicating and educating staff about PPE, including investigating the previously-unthinkable reuse of respirators and gowns. She made several instructional videos for staff, stopping by often to check in with people.
"More often than not, I found many staff simply have the need to talk through their fears about this virus and how it could potentially affect their families and/or themselves," said Kennedy.
Communicating with patients also presented unique challenges.
"It became important to limit contact as much as possible to as few people as possible throughout our [emergency] department," said Proctor, as evidence mounted that exposure time to the virus increases the likelihood of contracting the disease.
Although they tried radios, BGH staff realized something more interactive would be better. Proctor turned to Sandpoint High School, where she used to work. They donated five iPads with which staff can communicate through Facetime.
"These allow us to limit the exposure to a smaller number of people who care for sick patients," she said.
While the number of patients who tested positive for coronavirus was small—only six to date—staff took a proactive approach to communication in other ways, too. Several emergency room doctors—Vince Huntsberger, Ben Good, Stacey Good, and Hans Hurt—went on-air with Bob Witte at KPND, as well as on KRFY, to educate the public about the disease and what BGH was doing to help protect the community.
"As a community hospital we are always participating in outreach efforts," said Marian Martin, whose titles include trauma program manager and nurse manager in the emergency department.
Outreach, said Martin, "also allows the community to know we are taking this seriously and are prepared." For example, emergency room staff regularly train for disasters such as a train accident, mass shooting, fire, and even pandemics.
"Two of our physicians have military experience and others have had training in larger facilities," said Martin, who along with another nurse has trained at the Center for Domestic Preparedness with Homeland Security.
"We are all part of the community and care about our neighbors, friends, and potential patients in the county," she said.
Community connectedness has made cutting services extremely difficult, but necessary, said Rickard, who notes that all hospitals are struggling with lower revenue, especially due to discontinuation of elective procedures as recommended by the CDC.
"The decision to close departments was extremely difficult because we understand how important those services are to our community and how important these jobs were to our staff," said Rickard. "We recognized that in order to continue to provide our core services, we needed to scale back on some of the outpatient services that didn't support themselves financially."
Closures include BGH's Cardiac Rehab Unit, Home Health Services, Wound Care Center, Diabetes Education, and the gift shop, as well as suspending the planned remodel of the emergency department and paving the parking lot.
"Those projects will be on hold until we have a better idea of what the future brings," said Rickard.
The future regarding the virus may be uncertain, but the outlook of BGH staff and their preparedness is not.
"We haven't been hit with a big wave of patients yet," said Cordle, "maybe we never will. If we do, we have a plan, and we will keep adjusting it as we must to ensure we are here for our community, just like our community has been here for us."