Kindness in the Heart of a Community
From the Summer 2020 Issue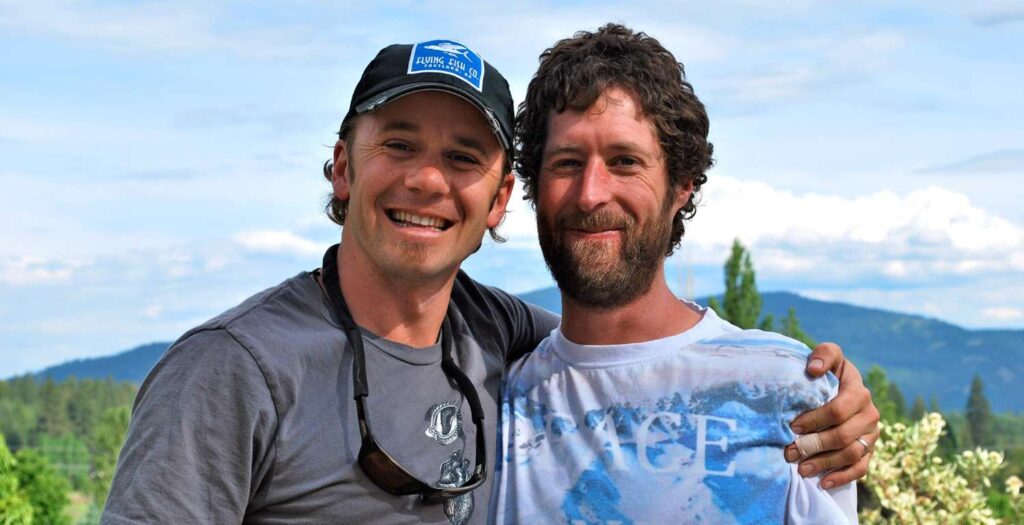 When times get tough in the age of COVID, it's neighbors to the rescue
by Ben Olson
Life throws a mean curveball. Sometimes you're on top of the world, and sometimes the world feels like it's on top of you. Whether it be a medical emergency, an unfortunate event, or a natural disaster, we all need a little help sometimes.
While there are countless organizations and nonprofits in North Idaho willing and able to assist us in our times of need, sometimes the best medicine is kindness shown by our fellow humans. And here, this happens all the time.
* *
Sometimes it all comes down to bad timing.
Travis Dickson knows a little something about that. The Sandpoint native had just moved back home to work his dream job after receiving a masters in environmental science and a PhD in paleoecology only to discover life had other plans for him.
"After 15 years of chasing my education around, I had just moved home and got situated making the best money I've ever made, and now your life is over," he said.
Dickson was diagnosed with brain stem glioma, which is a tumor of the glial cells that wrap around nerve cells and keeps them bundled together.
"I got a prognosis of about three years," Dickson said.
Suddenly, at 34 years old, everything had turned upside down. After dealing with a bit of shock and depression, Dickson said he got his priorities in order.
"When I got that diagnosis, I never worked another day," he said. "I quit. My values shifted. I wasn't concerned about my financial future. I was concerned about how I was going to spend my remaining days."
Immediately, Dickson's extended group of friends banded together and got to work.
"Katelyn Shook told me, 'This is what's happening: We're going to celebrate you,'" Dickson said.
A couple hundred people descended upon Shook's family property for a celebration of Dickson, a kind-hearted soul who has touched many people in this community. A silent auction was organized, with partygoers donating what they thought would fetch a good price. A potluck and live concert with dozens of Dickson's musician friends ended with a hat being passed around. By the end of the night, the crowd had gathered over $14,000, all donated to Dickson so he didn't have to worry about paying the bills in the immediate future.
"Words fail me trying to express my appreciation for everyone that put in that pot," Dickson said. "The financial part, that's one thing, but the love that people came out and expressed for me is by far the most uplifting part of my life thus far. It's my connection to people."
Six years after his diagnosis, Dickson is still in good health, joking that he's "three years past my expiration date." There are good days and bad days, but he said that experience where he witnessed an outpouring of love and support is the reason he's still here today.
"I'm tending to focus on my future again," he said. "That's pretty cool, you know?"
*  *
On election day 2016, when most of the country was guessing who would become the next president, Meagan and Jake Hofmeister were dealing with a much more urgent matter.
Jake was working construction up Pack River when he fell off a roof and had to be LifeFlighted to Kootenai Medical with a bilaterally fractured pelvis.
"We stayed three nights at Kootenai Medical and came home that Friday," Meagan said. "Our neighbors had taken care of our high-maintenance animals and people had offered to drop everything and take our kids—luckily our parents are here and had them."
The young family of five were suddenly faced with the reality that without Jake working, it was going to be a tough winter.
"When we pulled into the driveway that Friday, there was at least $1,000 in cash from people that had heard and knew we were coming home," Meagan said. "Containers for donations were already out at several locations and we had enough dinners dropped off that we didn't have to cook for weeks."
Friends organized a fundraiser at Idaho Pour Authority and other local contractors also chipped in with the rest, generating more than enough to cover Jake's lost wages and any incidentals they incurred from the injury.
"We were SO SO grateful to our community," Meagan said. "The thing that I learned the most from all of that, aside from my renewed faith in Sandpoint, was that receiving goodness can be hard, but it is just as wonderful as being on the giving end."
Meagan said she was lamenting to a dear friend about how hard it was to accept help when the friend told her, "It makes the giver feel good to help. Your only job is to say 'Thank you' and it all comes full circle."
Meagan said as a result of the experience, her and Jake do their best to give to local causes, "because of the generosity we received. I think it was important for our kids to see us graciously accept help and then pay it forward. It's made them more conscious and aware of a sense of community."
* *
While stories of hardship bring a collective power of assistance, sometimes it's just a small act of kindness that leaves a lasting impression.
"My daughter and I have so many lovely people around us who are supportive, gentle, kind, and considerate," said Carrie Clayton, a Sandpoint resident. "One such neighbor called me concerned that my garage door was open and my car was gone. After learning that I was up skiing, they went over to my house, checked on my dog, and shut the garage door for me."
After her daughter's pet rabbit had to be euthanized, Clayton said another friend organized a special burial ceremony in a pet cemetery on their property.
"At this point, I had not had the time to even think about what to do with the body of the bunny," Clayton said. "This kindness was a huge gift to my daughter."
* *
An unexpected gift meant the world to retired Hope schoolteacher Cynthia Mason.
"I had a preschool/kindergarten in Sandpoint for many years," Mason said. "Also, long ago, I was a single mom of two teens and I was teaching and running the business end of the school—it takes a lot of work to teach and run a school. It takes a lot of money to support two teens on your own."
Mason said she ended up working many years without taking a break or a vacation, until a parent of two children that attended her school surprised her with a sudden act of kindness.
"In that time period, they noticed I had never taken a break or vacation," Mason said. "They asked me why not. I told them with raising two teens by myself I couldn't afford it."
The parent offered Mason a couple hundred dollars to take a little break.
"Tearfully, I accepted," she said. "To this day, it brings back those tears as I recall her act of kindness. She has since been fighting for her life for a long time and I have been able in some measure to repay her kindness. What comes around, goes around."
* *
When the coronavirus pandemic put everything on hold in March, a collective fear and uncertainty was evident in everyone's eyes. Normally social creatures, we were all suddenly told to limit our interactions with others, to isolate ourselves to prevent the spread of the virus. Businesses shut down almost overnight, one after another, school was canceled indefinitely. Jobless claims soared as small businesses had to lay their workers off with little to no revenue stream.
Almost immediately, our community sprang into action. Local restaurants began feeding children, and then adults, pitching in to take care of our locals. Community groups organized to sew masks (which were in short supply) for the local hospital and encouraged people to buy gift certificates from local businesses, while individuals reached out to needy families they could support, offered up their 'extras' of baby wipes and cold medicine, and one anonymous person visited a senior citizens community to leave two rolls of toilet paper (also now in short supply) on every doorstep.
In a matter of days, petty bickering and division was suddenly pointless. The bleaker it got, and the more widespread the virus reached, the more we realized we had to band together as a community to get through this unprecedented period in our world's history. We were all in it together, come what may.
That is the crux to this thing we call community. It isn't just a random group of people occupying the same space. It's a fellowship, a tribe of others whose collective power can change lives. A healthy community means we're not alone here. No matter what life throws at us, be it gold or rotten vegetables, there's solace in knowing that there are others out there that can catch us when we fall. That's what binds us together. That's what makes us stronger than any calamity set before us.
Now go out and spread a little kindness.