'Crawdads' Goes Big Screen
From the Summer 2019 Issue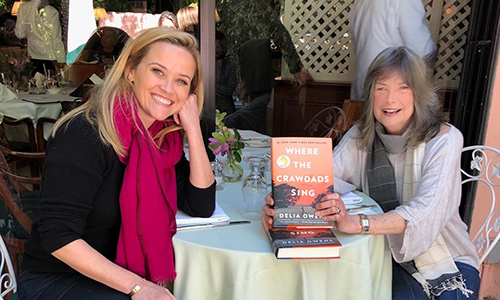 Local author Delia Owens dominates best-seller list
"I saw us in them." Most people are not in a position to compare the social structure of lions and humans, but Delia Owens has made it her life's work, as well as one of many themes for her best-selling novel, "Where the Crawdads Sing."
While spending 20 years observing lions and elephants in remote Africa with her husband, Mark, the spark of an idea entered her scientifically trained brain.
She remembers jotting down notes for what would become her first novel in a tent she and Mark called home for seven years in Botswana's Kalahari Desert. She had no clue these observations—along with many she collected growing up in the South and while living in Bonners Ferry in later life—would marinate into a novel that has owned the top of the New York Times' best-seller list for 32 weeks—12 of them as the number one fiction book in the country as of early May.
Lionesses are the glue that keeps the lion community together. The group of female lions—a pride of lions actually refers to the females—depend on each other to raise offspring while protecting youngsters from harm. They look out for each other, pure and simple.
The comparison with her friends couldn't have been more clear. Owens had her own pride of women, with some of the friendships dating back to kindergarten and many since second grade.
As her pride has gotten older, it isn't uncommon for one or more to convalesce at another's home following various maladies. "I wish everyone could have that," she said. "It is so deep and meaningful."
So what happens when a young female grows up without other females, and is thrown into the middle of a murder, to boot? Although there are no lions, and the book is set half a world away, that question is what underlies the story, and the answer is what makes a best-selling novel.
Where the Crawdads Sing" defies conventional description. It is part romantic novel, part murder mystery and all together something much deeper for some readers.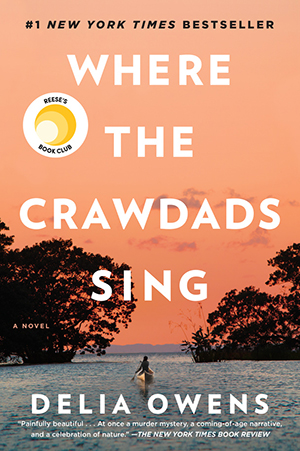 Owens' vivid descriptions, flowing writing style, and science knowledge come through in her debut in fiction.
She and her former husband, Mark, co-authored two best-selling, non-fiction books while in Africa, "The Cry of the Kalahari" and "The Eye of the Elephant." They left for Africa in the 1970s as graduate students at the University of Georgia after selling everything they owned and buying two, one-way tickets. They brought worldwide attention to the slaughter of elephants and spirited a new sense of conservation in Africa. (Read more about the couple in the Summer 2000 issue of Sandpoint Magazine at www.sptmag.com/Owens. )
Book sales gave them the means to live anywhere they wanted, and their preference was pretty simple—away from people, near nature and outside adventure, and no jets flying overhead.
They made several trips back to the United States during their African adventure and would spend some of that time seeking out their new home. They used their Rand McNally map to point the way.
On one trip they drove through Bonners Ferry on their way to Canada and decided to take a look around. Soon they discovered a 720-acre plot of land in the Curley Creek Valley near Moyie that checked off all of the boxes, and they moved here in 2000.
"Believe it or not, moving here was the first time we had ever lived in the mountains," Owens said. "To be able to ride horses on our property and to not see civilization is wonderful. I love having the Purcells and Cabinets so close; it is a blessing and I hike them when I can."
The majestic log home they helped to build includes more than 250 tons of rock from their property used to construct five fireplaces, along with a wall in their dining room. They also deconstructed two 80-year-old barns to reclaim the wood for all of their window frames.
Unfortunately, this information comes from a real estate website that lists their Thunder Mountain Wildlife Estate for sale for $4.5 million. Owens will soon be moving closer to her pride in the Atlanta area.
"As much as I enjoy living here, I am isolated from my friends," she said. "I am in good health and so are they so the time is right to be even closer. This is not to say anything bad about the many friends I have here. I have been so lucky."
Here in this lovely seclusion was where she did the bulk of the writing for "Where the Crawdads Sing,"  a novel she describes as  a "socio-biological thriller."
The title comes from something her mom used to say when she was growing up in Thomasville, Georgia. "My mom would tell me to "go out yonder where the crawdads sing" as her way of getting me out of the house and to go explore."
Set in the coastal marshland of North Carolina from the 1950s through 1970, Owens' story focuses on Kya Clark, who was abandoned by her family as a girl and is now surviving in the wild. Locals have named her "the Marsh Girl." Those early years are contrasted with her later life, when Kya is suspected in the death of a young man.
Bonners Ferry friends and neighbors play a role in the book. Owens' neighbor Tim Cady, a former teacher, will see parts of his personality in Tate. Bonners Ferry's late Mayor Harold Sims' name lives on in the novel; several other people and landmarks are also included. Owens enlisted a cadre of North Idaho friends, as well, to critique and proofread her novel during various stages. "We have a great family of friends in Bonners Ferry," she said. "They helped make the book happen. Couldn't have done it without them."
Owens has worn out several suitcases on a 25-city book tour that started in earnest late last year. She spent four weeks at home in late March and early April before she was off for another tour, which would include Seattle and New York, plus many stops in between.
"Where the Crawdads Sing" was a selection for actor and director Reese Witherspoon's Hello Sunshine book club; when the story was optioned by Fox 2000 to be made into a movie, it was announced that Witherspoon would be directing.
Owens has visited Los Angeles several times as that project is now ramping up. She was touched when Witherspoon recommended her book, and honored she enjoyed the novel enough to make a movie from it. "Humbling and moving at light speed," is her reaction to both the success of the book and the plans for a movie version.
Owens is also working on her second novel. "No ETA on that one," she said. "It took me 10 years to write my first novel, so no reason to think it will happen faster than that."
Photos courtesy Delia Owens and Random House Publishing.