Dog Town
From the Summer 2016 Issue
Alan Barber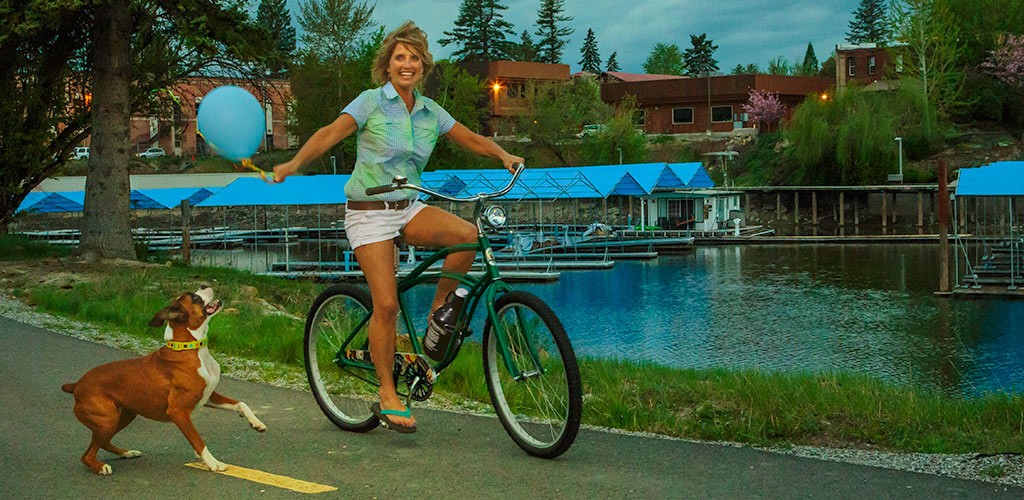 People and their dogs have created a canine culture here,
The local dog culture and Sandpoint's active lifestyle are embodied well by Max, an energetic boxer, and his owner Cathy Schuller, shown here, playing along Sand Creek
(Photos by Alan Barber )
People and their pooches have created a canine culture here
Some dig clods of dirt to rid our fields of gophers, and others pace faithfully by our sides. We take them out for beer at local
taprooms, on our boats and all around town. When the sun coaxes us outside, one stroll through downtown Sandpoint reveals the
obvious: We love our canine companions.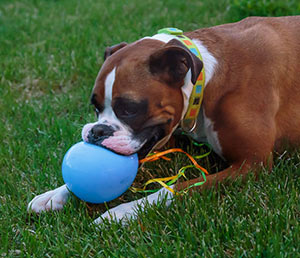 It's a sunny Friday afternoon on Cedar Street in Sandpoint, and Cathy Schuller and Max walk out of Idaho Pour Authority. She clips a growler to a holder on her bicycle. A special rod extends from her bike and she attaches Max, a boxer, to it with a lead. Whether or not Max realizes he's a lucky dog, he is. He lives in a town that allows him to accompany his owner to a premier bottle and taproom. If he gets thirsty on his trot home, other businesses have set out bowls of water for dogs just like him.
Max and Schuller pedal past MickDuff's Brewing Company Beer Hall and Tasting Room where several people bask in fading sunshine, sipping ale in the grassy outdoor patio. Sammy, a wizened golden lab with a white face, watches other passing dogs. His owner chats with a friend who puffs a pipe. What could be better? A puppy. On cue, a 5-month-old husky peeks from under a table with lolling pink tongue to complete the picture of a dog-lover's haven.
As Max and Schuller continue on their way home, they pass several dog walkers on the streets of Sandpoint. One man walking his basset, Grace, on the sidewalk along Oak Street pauses for a photo of his dog. Matt Petersen has spent the day hiking to the falls on the Kootenai River and looking at property to relocate from his home state. He says he had no idea Sandpoint was so dog friendly, and for him that's a factor to move here.
Max, and the other canines in Sandpoint, are at their leisure in town – and all around town, too, as dogs are often out on weekend activities with their owners. Schuller's nickname for her pet is "Mad Max" because, she says, he has the energy of a warrior; he recently summited Scotchman Peak, the county's highest, with Schuller.
Canines kayak, trot alongside horses in the backcountry, sleep in tents pitched in the campgrounds, and splash in mountain creeks. Some even snitch huckleberries. Dogs share the unique lifestyle of the area.
Dog-friendly biz
Because so many businesses are dog friendly in Sandpoint, a dog can rack up the treats in a single day of running errands. Pick up a coffee at a drive-through, deposit money at the bank, or visit the dump, and dog treats abound.
Jon Hagadone and Vicki Reich, owners of Idaho Pour Authority, welcome dogs as long as they remain leashed and with their owners when visiting the pub. Hagadone says it's rare for one dog to scrap with another. "Most dogs are (well) behaved. Sometimes a new dog enters and starts to show aggression and that owner promptly leaves," he said. For the most part, the people participants understand they are as lucky as their dogs to enjoy the welcome at dog-friendly businesses.
Visit the taproom at Laughing Dog Brewing often enough and the staff will know which beer you prefer in your mug and what tricks your dog will do to earn a biscuit. In fact, it's a business based on a dog – Ben. He's the Laughing Dog mascot on the label, and after being in the brewing business since 2006, he's 91 in dog years. Many craft beers at Laughing Dog have dog-inspired names, like the Alpha Dog Imperial, the Rocket Dog Rye and the Dogfather Imperial Stout.
Except for service dogs allowed under the Americans with Disabilities Act, pets are not permitted in businesses with commercial kitchens governed by a food license. Although the Laughing Dog Brewing taproom recently opened a kitchen for food, including flatbread called the Yellow Lab, dogs are still welcome on the patio. Plans are under way to install heaters outside for year-round, dog-friendly seating in compliance with health codes. The company's affection for dogs extends to philanthropy, too. Owner and brewer, Fred Colby, is dedicated to animals and serves on the board at the Panhandle Animal Shelter.
Idaho Pour Authority, meantime, serves cheese, cold-cut meats and chocolate. They selected beer food that wouldn't require a licensed kitchen. MickDuff's Beer Hall on Cedar Street is bring-your-own-food friendly (popcorn is provided free) and dog friendly, as it doesn't have a kitchen, unlike its parent MickDuff's restaurant on First Avenue.
Panhandle Animal Shelter racks up support
In a community of dog-lovers, it's only natural to expect that its shelter would be a key institution for the town – and Panhandle Animal Shelter is. The shelter exists to reunite lost pets with owners and to diminish the number of abandoned, neglected and abused pets in the region. One foot (or paw) through the front door and you realize this is no ordinary shelter; it's a comfortable place for both people and the pet residents. Education and support begins with staff and volunteers and ends with those adopting or in need of surrendering a dog.
Socialization of a dog is set by age 2, according to Devin Laundrie, shelter manager, who understands the importance of exposing a dog to social situations from a young age. She said dogs need structure, exercise and discipline to know what is acceptable.
The shelter's regular Yappy Hour event helps provide that for shelter animals, plus is an outreach to raise money and awareness. The Panhandle Animal Shelter puts on Yappy Hour monthly from April through September with partnering businesses that include Laughing Dog, Pine Street Bakery, Taylor & Sons Chevrolet, Evans Brothers Coffee Roasters and Eichardt's Pub. Between 4 p.m. and 7 p.m. on the last Thursday of the month, the venues offer food, drinks and live music for all the town's dog owners and their pets to gather and socialize. Shelter staff bring some of the adoptable dogs from the shelter, and often bring their own dogs as well.
The Panhandle Animal Shelter typically receives few returns of adopted animals; Laundrie says this reflects the effort of the staff to screen and match adopters and adoptees. Staff try to learn as much as possible about the dogs in their care, their temperaments and behaviors. "We want to be able to disclose everything we can to set up for a successful adoption," she said. Part of the adoption process introduces potential owners to dogs in "showrooms" where the dogs reveal more of their true personalities.
Buddy, a cross-eyed male in the shelter, has trouble seeing. He's nervous because of his visibility impairment and reacts strongly to newcomers, even in the showroom. But get him out of that space, and he'll happily accept a back rub or even settle into the laps of volunteers and staff. He can sit and follow commands for treats. He's a sweetheart who most likely needs a single-dog home, but dogs like him are difficult to adopt. Undeterred, over a period of months Laundrie and staff continued to work with Buddy, plus educate potential adopters – and finally found a good match, and home, for Buddy.
A common reason for pet owners to surrender their dogs is hardship. Even the most dog-loving of families can fall upon hard times through a job loss, unexpected move or medical crisis. The shelter has programs to help.
"Just because you can't afford to feed your dog, you don't have to give it up." Laundrie says. "We are here to help." The shelter can provide free food, access to behavioral training and even temporary foster care; dog owners who have those needs are encouraged to ask.
Dogs on the go
Asking about pet policies and respecting them keeps the area dog-positive, especially when it comes to vacation lodging. Many local hotels have pet-friendly rooms set aside, sometimes for a nominal extra fee. Billie Jean Gerke, of Twin Cedars Camping and Vacation Rentals, makes dogs a priority at her vacation rentals that include a tepee, camping cabin, RV sites, and her and her partner's homes.
"We love taking our dogs on vacation with us, and we want to give people that option, too, when they come to Sandpoint," she said.
Of course, Gerke has rules: dogs on leashes; friendly and well-behaved dogs only; no scratching doors, woodwork or lounging on beds; no dogs left unattended inside rentals. "I like to tell my guests that the rules I ask their dogs to follow are the same rules our own dogs follow," she said.
To a dog, a park outing is like a visit to an amusement park, and Sandpoint has several dog-friendly parks. Dog Beach along the north side of the Long Bridge, Balto Dog Park at Dover Bay and Pend Oreille Dog Park next to the Pet Lodge in Ponderay are all designated as dog-friendly, and the first two give dogs water access. Dogs are allowed at some other city parks if on leash.
The opening of selected parks to dogs has come through the advocacy of dog owners – as well as responsible behavior by dog owners and their pets. As Mandy Evans, executive director of Panhandle Animal Shelter, said: "Over the course of eight years, Sandpoint has gotten a lot better and is the main reason we do Yappy Hour. People here love their dogs."
For locals, dogs like Max become as recognizable as friends we see on the street. Schuller knows that having a canine in her company helps her connect, as well as gets her out of the house. "Having a dog is a conversation starter," she said. "It makes you more approachable."
It also makes Sandpoint a doggone good place to live and visit with our four-legged friends.