Herding dogs herd anything
From the Summer 2016 Issue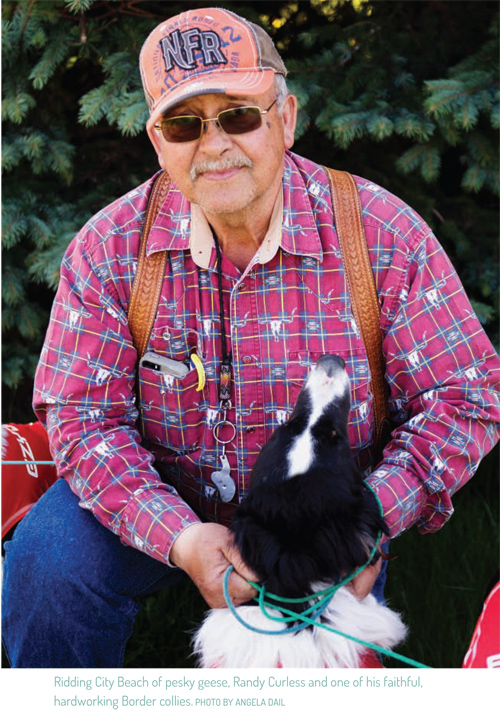 My angst-filled, teenage face reddened as a tirade of swears and cusses gushed from my mouth, aimed directly at my old man standing in the hayfield ordering me to do some blasted ranch chore that was interfering with my time at the lake with my friends. Friends who didn't have to hay, fix fence or herd cows.
The dog trapped me, circling my legs, growling and snapping if I moved, before my tantrum could gain its explosive speed. I hissed another swear at Dad to call off the damn dog. The loyal ranch dog, who was my friend and playmate, snapped closer to my leg, as if I was a nasty momma cow. I cried. Dad laughed so hard, he had to sit down before he could call off the killer beast. 
This is how I learned the power of herding dogs and the great talent my dad, Randy Curless, has for training them to work cows, sheep and even the occasional pigheaded teenager. Today, his influence is reflected in my business massaging the muscles of these hard-working canine athletes who help livestock owners do the work of four people. They have to stay fine-tuned to take on herds of sheep and cows every day, all year long.
Dad's latest project, besides giving herding lessons at his Dover ranch twice a week to dogs and their handlers who come from across northern Idaho, Montana, Washington and Canada, is using his dogs to rid City Beach of the pesky Canada geese who leave fecal droppings all over the grass and sand.
Sandpoint hired him last year to use his Border collies to herd the geese off the popular beach that is downtown's public jewel. Parks and Recreation Director Kim Woodruff said the dogs – black-and-white Borders Nicki, Tip and Keen – make a difference and improve the cleanliness of the beach, but he added that it's a long-term process. 
Woodruff said Dad was a great fit because he not only owns trained dogs but also had served as the mayor of Dover for 19 years and understands city business.
Geese are smart. Sometimes they leave when they see Dad's old Ford diesel rumble across Bridge Street. Others fly off at the sight of the dogs. Some like the drama and force the dogs to work to get them to leave. It's an amazing dance to watch the dogs spook the geese from the beach and then crouch low and eye the birds, putting pressure on them with an intense stare, daring them to return. They don't, at least not until the dogs are long gone.
Borders are intelligent with a natural instinct to herd yet not harm the geese or livestock. They can reason situations and make snap judgments and choices on how to do their jobs. They are also intensely loyal to their handlers.
 Besides giving lessons and clinics, Dad likes to compete in herding trials where the skills are shown off in competition. Nearly 20 years ago, a rancher offered Dad $10,000 for his prized male, Hank, who is the bloodline of most of today's Curless pups. Hank had saved Dad's life, protecting him from a charging bull. No deal. The loyalty of a dog is priceless.
Erica Curless grew up in Dover with Border collies, cows and horses. Besides working as a journalist and cow hand, she owns Dog and Pony Show Bodywork – a mobile massage business focusing on helping horses and dogs move better and prevent injury. She has a 6-year-old daughter, two horses and a Siamese cat but no Border collies because she's on the road too much to do them justice.
One response to "Herding dogs herd anything"