Sandpoint AMBASSADOG
From the Summer 2016 Issue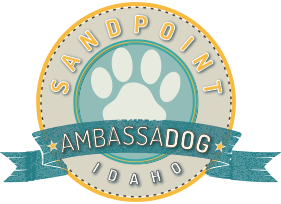 A great last minute idea to settle the dispute on who's dog is the best dog ever... and we'll raise money for the Panhandle Animal Shelter while we are at it.
Enter your dog for
Sandpoint  AMBASSADOG
Does your pooch have the chops to be Sandpoint's first Ambassadog?
Let's find out! This summer Visit Sandpoint and the Panhandle Animal Shelter are launching a tongue-in-cheek contest to name an Ambassador Dog for Sandpoint – that is, our  Ambassadog.
In this coveted role, the Sandpoint Ambassadog will represent the spirit of our most beautiful small town in America. And the contest will raise awareness and money for Panhandle Animal Shelter.
The Ambassadog will have select official duties over the year of his or her reign, including appearances at some of the animal shelter's Yappy Hour events, marching in local parades, and proudly representing Sandpoint to the world.
The Ambassadog will also win a two-night getaway to Western Pleasure Guest Ranch with his or her humans of choice, along with a gift basket stuffed with delightful goods for both dog and owner.
Here's how it works:
1. Nominate your dog. Go to www.SandpointAmbassadog.com to submit a photo or video and a paragraph extolling your pet's virtues and qualifications to represent our fair town, along with a $5 donation for Panhandle Animal Shelter.
2. Tell your friends (and your dog's friends). Five finalist dogs will be chosen in a random drawing among all the nominees – but there's a voting component, too. For every vote your dog gets from the public, he or she will get an additional entry in the drawing. The more votes your dog gets, the better the chance to be a finalist. There will also be an opportunity to help raise money for Panhandle Animal Shelter – because, remember, this is a fundraiser.
3. Go to Yappy Hour. Nominate your dog now to give him or her the best chance to collect votes. The five finalists will be drawn September 15, 2016. Then, at Panhandle Animal Shelter's September 29 Yappy Hour event, the finalists will go before a panel of celebrity judges, who will choose Sandpoint's first Ambassadog.
 Details and Enter at
www.SandpointAmbassaDog.com