De-stressing with dogs
From the Summer 2016 Issue
Photos by Ethan Schussler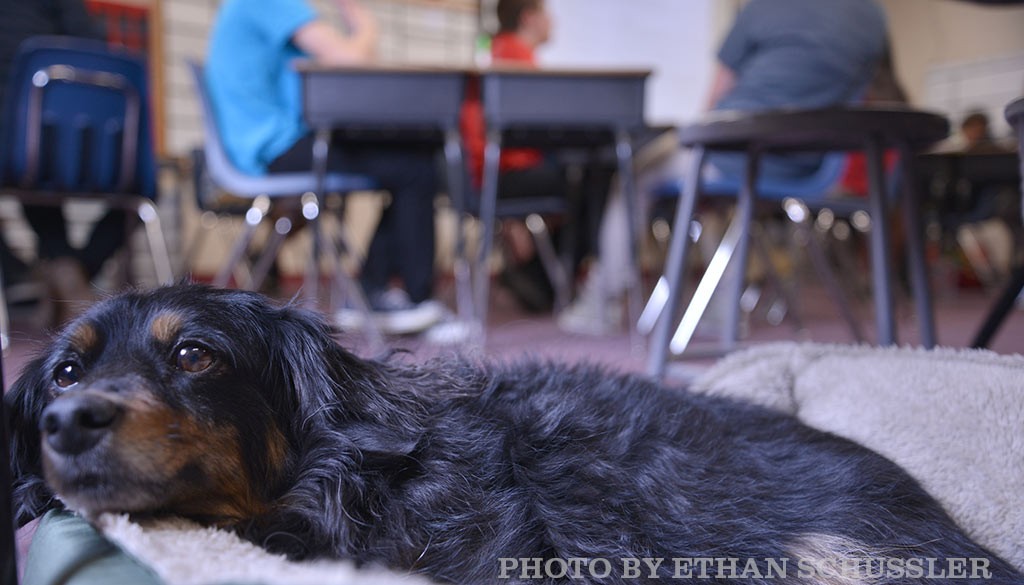 Providing a paw-sitive presence 
Laura Maas, a math and computer science teacher at the Forrest M. Bird Charter School, believes that every little boy should know dogs have whiskers.
Maas said she came to this conclusion her first year teaching at the school, during which a quiet, withdrawn student was enrolled in one of her math classes.
The student, who came from a troubled home environment, struggled with social and academic anxiety.
That same year, Maas began taking her long-haired dachshund mix, Widget, with her to class.
After the student spent time with Widget over the course of her many class visits, Maas said she began to see a change in his behavior.
"He really started to open up and talk with me; she helped him with his anxiety," Maas said.
As the student continued to grow more comfortable in the classroom, Maas said she realized the importance of allowing dogs to be a part of the school's learning environment.
"One day, I was standing next to him and he was sitting on the floor with her. He reached down and said, 'Ms. Maas, I didn't know dogs had whiskers,' " Maas said. "It just tugged at my heartstrings. I was sitting there thinking, Every little boy needs to know dogs have whiskers."
Widget isn't the only dog helping students feel more comfortable and overcome anxiety at the charter school, either.
Janenne Russell, who teaches physical education and health classes, brings her golden retriever mix, Wanda, to class with her most days.
Russell, who used to have a second dog, first decided to bring her pets to work because she felt bad leaving them home alone for a large portion of the day.
"They were home alone and they're such social dogs that I thought they would get a lot more out of coming to work with me," Russell said. "Everyone at work is so laid-back with animals; we all kind of see them as therapy for the kids. Some days, they can calm a sixth-grade boy who's bouncing off the walls or a kid who's having a rough day. A dog just seems to bring a smile."
Since she first began visiting the school, Wanda has helped students feel more at home in their learning environment. She's also helped some students overcome their fear of dogs.
"I had one kid who was very scared of dogs and my dogs are so mellow that now he seeks Wanda out," Russell said. "One kid who actually cowered when he saw dogs; once I introduced him to the dogs and he saw how gentle they were, now he likes them."
Russell said Wanda's popularity extends beyond the classroom.
"I had one kid ask her to the dance," Russell said. "He said, 'Can Wanda be my date to the dance?' and I said, 'Well, I don't know about that,' but they really connect with the dogs."
When Jennifer Greve, the principal of the middle school, was an English teacher, she brought her dog Nahe with her to class on days when she knew the lesson plan required a great deal of focus.
"I did it predominantly on reading days," Greve said. "It helped, especially the boys, I don't know why it was the boys, but they were able to lay on the ground and pet her and focus for longer periods of time."
While Nahe provided a positive presence for students on reading days, not every dog is allowed at the school. Greve said her current dog is too high-energy to be placed with the students. Dogs with poor temperaments or behavioral problems are also not allowed to be brought to the school.
Although Forrest M. Bird Charter School consists of a middle and high school, Greve said the middle school teachers are currently the only ones who bring their animals to class.
"We don't have the right animal personality set yet for the high school," Greve said. "We try to pay really close attention to that – that the animal is the right animal and our high school staff, either they don't have a pet or the animal they do have they recognize as one they shouldn't bring."
If a faculty member believes their pet will do well in the classroom, Maas said the teacher ensures none of their students have pet allergies, and the dog is then reviewed by the administration.
"The dogs have to go through an interview process, almost, with the principal to see if they're suitable," Maas said. "We keep records to make sure they're up-to-date on their shots too."
Teachers have been bringing their dogs to the school for about five years and while some parents have questions about the process, Greve said she has never received any complaints.
Russell said the positive impact the dogs have upon students is undeniable, and that the unconventional classroom pets provide them with a special kind of joy.
"They're used to a class pet like a lizard or turtle or something, but to have a dog, they kind of get this Christmas-morning look on their faces," Russell said. "It's a really happy, pleasant thing for them."