Have Nose, Will Search
From the Summer 2016 Issue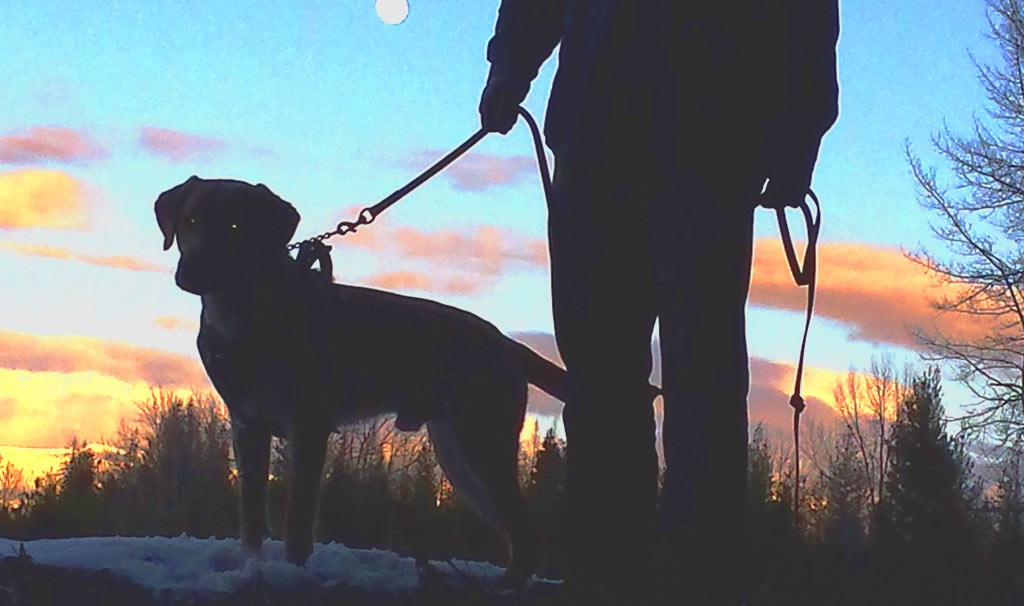 Meet Hudson: young, energetic, blonde hair, brown eyes, big nose and four paws. Hudson is a yellow Labrador retriever and has completed a Human Tracking and Wildlife Detection K-9 program
Meet Hudson: young, energetic, blonde hair, brown eyes, big nose and four paws. Hudson is a yellow Labrador retriever and has completed a Human Tracking and Wildlife Detection K-9 program with his handler, Idaho Fish and Game (IFG) Senior Conservation Officer Matt Haag.
 Haag and Hudson recently graduated from a rigorous, nine-week course in French Lick, Ind., at one of the country's foremost K-9 training facilities. Indiana hosts dogs and their handlers from agencies across the country. Training includes searching and locating hidden wildlife or wildlife parts, locating firearms, detecting gunpowder and tracking people. The program costs $12,000 per dog; a grant from Safari Club International paid for Haag and Hudson.
 Indiana's K-9 program has chronicled successes for 19 years, and state fish and wildlife agencies across the country have taken notice. IFG initiated a K-9 pilot project in 2011, when Senior Conservation Officer Jim Stirling and his black lab, Pepper, attended the Indiana program. Pepper quickly proved his worth by tracking wildlife violators and, most importantly, when he located a lost 2-year-old boy who had wandered two miles from home.
The results of the pilot project have shown the benefits of skilled K-9 teams, and two more teams were added to the program.
 When IFG announced that additional K-9 teams were being added, Haag eagerly put his name in the hat. He is a dog lover and has always been amazed by their abilities, especially when they have a job to do. "Working with a canine partner will be a challenging and rewarding opportunity," Haag said.
 An IFG conservation officer for 13 years, he is well known locally through community outreach activities as well as through a regular column he wrote for almost a decade for The River Journal. Haag and his wife, Becky, both graduated from the University of Montana in Missoula with degrees in wildlife biology. Haag has also owned and trained hunting and pet dogs for years. He and Pete, his German wirehaired pointer, spent many rewarding days in the field bird hunting before Pete aged and passed on. Now the Haags have a Labradoodle named Maggie, who has made room for the addition of Hudson to the family.
Hudson is a rescue dog that was surrendered by his original owner who thought him high-strung and untrainable. Fortunately Hudson is still a youngster and has completely imprinted on Haag, important to all canine-handler teams. Hudson needs to be able to understand and follow direction from Haag; and, as handler, Haag has to learn how to read Hudson and pick up on even the slightest of cues.
Hudson's breed makes him well suited for the job. Labrador retrievers were selected for the IFG program for their intelligence, steady temperament, ability to learn, superior sense of smell and high play drive – all traits ideal for search and detection. In addition, they are good with children and have a friendly and outgoing nature, which is a benefit at public events and school programs.
Labradors also have an intense single-mindedness; they will work for long hours under difficult conditions and will stay with almost any scent until they find the source.
A phenomenal sense of smell is the super power shared by all breeds of dogs used for search and detection. Dogs "visualize" their world through their olfactory abilities. A dog has 125 million to 300 million scent receptors in the nasal cavity; humans have a mere 5 million. Not only can they smell acutely, they have an incredible scent memory. Dogs can remember what smell goes with whom or what, long after they initially register it.
Dogs track humans by focusing on skin cells. Humans shed approximately 30,000 skin cells every minute, even when fully clothed – that's some 43 million a day. When tracking, Hudson not only follows all of those sloughed-off skin cells but he also picks up other details like disturbed ground and broken blades of grass. Moving his nostrils independently allows him to determine what direction the scent is coming from, and by scanning for negatives – where the scent declines – he determines his search direction.
 In order to be effective, Hudson needs to get a scent before it has been disturbed or contaminated. Otherwise he may connect with the wrong scent and track the wrong person.
 Thanks to the scent trails that people leave behind, with Hudson's awesome sniffing and scent memory he can search and locate firearms, illegally taken wildlife and any evidence that humans may have handled. Plus, he is learning other animal smells; while in Indiana, he learned what white-tailed deer, wild turkey, and waterfowl smell like, and he is in the process of learning the scent of nine other mammalian game species as well as fish.
Like the search dogs, the handlers are a breed with particular traits as well. Conservation officers in the K-9 program are typically highly motivated self-starters. They must also work hard to maintain their fitness; field searches are fast-paced and can go for hours and miles.
On a typical day Haag and Hudson work their patrol area and also dedicate time to training and fitness. That's true, Haag says with a grin, "until the phone rings" with a special assignment. Although based in Bonner County, they are the K-9 detection team for IFG's entire Panhandle and Clearwater region and support other law enforcement agencies as well. Hudson is certified for searches and tracking by the Idaho Police Officer Standards and Training Academy, where state law enforcement, including IFG officers, are trained and certified.
 While he is still in training for search and detection, Hudson has another job to fill, too: meeting and greeting the local folks. Haag considers community connections one of the most important aspects of his job.
"Outside of enforcement work, I have always prided myself on community outreach and building positive, working relationships with the good people of Bonner County," he said. "I'm excited about what K-9 Hudson can bring to that table and it truly makes me feel good that I can walk into a school, or do a public relations event and make people happy with the dog and build new positive relationships."
 This summer, if you are out and about and bump into Haag and his tail-wagging partner, stop and say, "Hi." And remember, Hudson will know you by your smell.
One response to "Have Nose, Will Search"