A History-Making Gift to Sandpoint
From the Summer 2022 Issue
James E. Russell Sports Center to fill need for court sports
It may just be the largest donation to a municipality in Idaho history — but that distinction aside, one thing's for certain: the $7.5 million gift from the family of the late James "Jim" Russell will give an historic boost to year-round court sports in Sandpoint, with the construction of the James E. Russell Sports Center.
It's a gift that follows from Russell's heart for the hometown where he was born, reared, and played a variety of sports through high school before obtaining an engineering degree at the University of Idaho.
Russell died in 2019 at the age of 86 after a successful career helping build one of the nation's largest science and engineering firms. When his wife, Virginia "Ginny" Russell, and son Jim were considering ways they might honor their husband and father, a need he had identified long ago came immediately to mind.
"It was Jim's idea years ago," said Ginny. "He would say, 'I should build a tennis court.' I bet for 20 years he would say that. And he was an avid tennis player. So it was simple, when he passed, to do this as a memorial to him."
But it was an idea that grew substantially as Ginny and son Jim weighed out an idea for a donation that might provide improvements for tennis courts, possibly at a city park. They reached out to City Administrator Jennifer Stapleton to explore how they might do that.
Early conversations focused on undertaking repairs at the aging courts at Travers Park. "The initial thought was basically to do a resurface and possibly expand with pickleball," said his son, Jim.
But thanks to work the city had just recently accomplished to develop detailed master plans for its major parks, Stapleton was able to present a variety of options from resurfacing the existing courts, to making covered courts, to building a fully enclosed indoor sports center that the master plan ultimately envisions at Travers Park.
After careful appraisal with financial advisors to ensure that Ginny's needs are fully met, the Russells decided they could commit the full $7.5 million to create something the city completely lacks at present: a four-season facility for court sports that can include tennis, pickleball, basketball, volleyball, and potentially even lacrosse or others. The new facility will include locker rooms and other amenities.
It will be a place where James Russell himself would no doubt have spent a lot of time. He was born here in 1933, one of six children of Alex and Mae Russell. He played basketball and football at Sandpoint High — the latter sport with future NFL Hall of Famer Jerry Kramer — and was an avid hunter and fisherman. One of his best friends, and a fellow Boy Scout, was the future best-selling outdoor humorist Patrick McManus. Their hijinks as youngsters proved fruitful for McManus, who modeled his fictional buddy Retch Sweeney after Russell.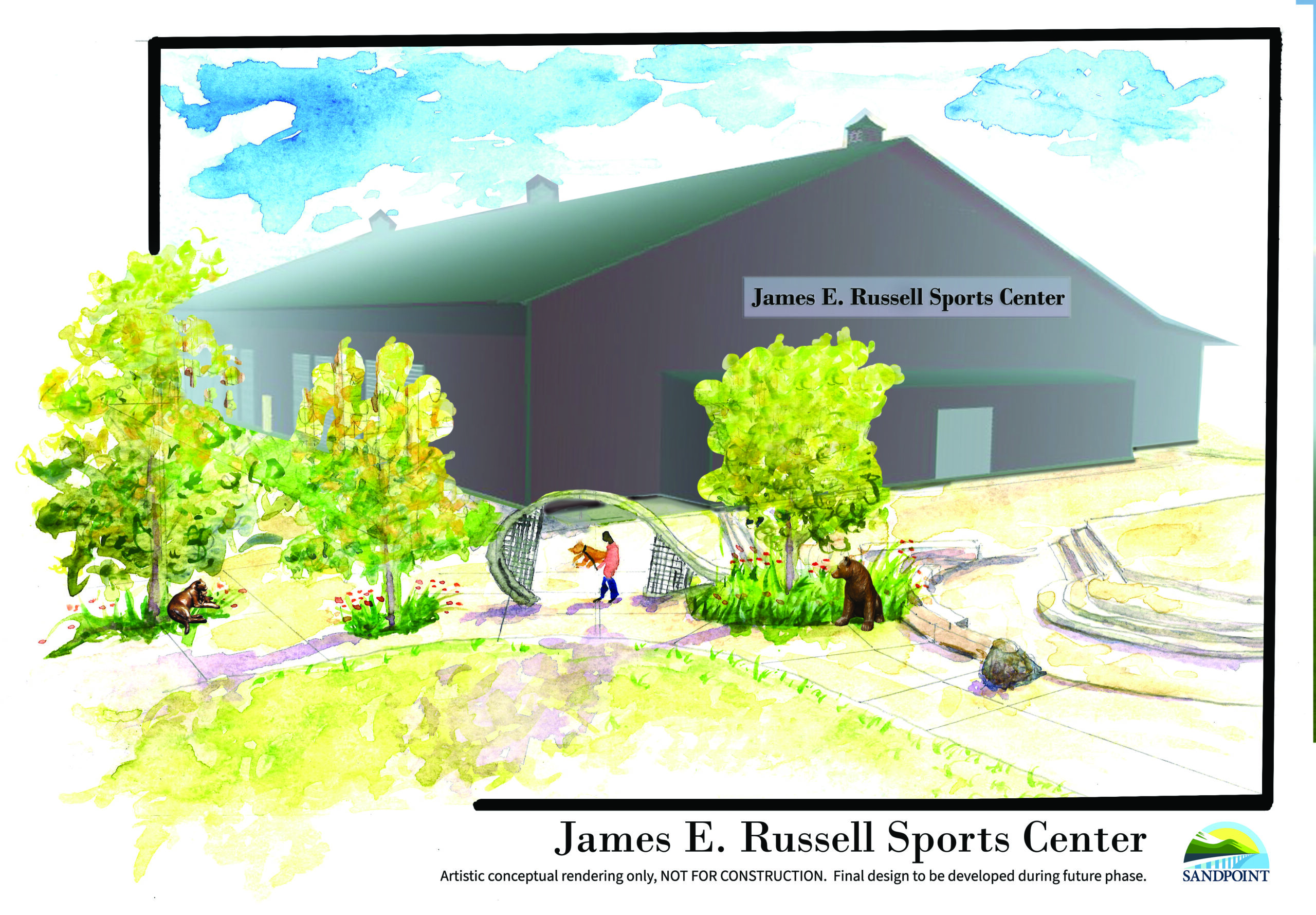 Russell met his future wife Ginny at a dance at the Oden Grange Hall, and three years later they married in 1956. Russell graduated that year and served in the Army at the Redstone Arsenal Ordnance Guided Missile School in Huntsville, Alabama, before a series of career steps that led him in 1972 to a small science and engineering firm, Science Applications International Corporation, as one of its first 110 employees.  For more than 30 years as a senior vice president he helped the company grow to $6 billion in annual revenue. He later stepped into the role of consultant for SAIC and others, helping more than 100 innovative companies chart their growth.
Throughout his life Russell remained an avid athlete, playing tennis and golf, coaching youth basketball and baseball, and passing the love of sports on to his son. Sadly, the Russells' daughter Debi died in a car accident more than 30 years ago.
The family maintains a vacation home in Dover, where they visit annually without fail and also spend time with the senior Jim's siblings who still live here, Ross, John, and Vivian; sister Bonnie lives in Tacoma, while the youngest, Dave, died years ago. "It was some piece of heaven to come out here," younger Jim remembered fondly of vacations during his youth.
And what are his and his mom's dreams for when the James E. Russell Sports Center is built and operating?
"I'd love to see families using it," said Ginny. Added Jim: "The dream is literally just for it to be used. I would love to see tournaments held there and people coming from other places to participate. …Dad really believed that sports contribute to the health and well-being of people, and that it teaches them things about life. He firmly believed that."