North Idaho's Cats
From the Winter 2023 Issue
They are wild... and nearby
Sandpoint residents got a stark reminder of just how wild our forests can be in August when Pine Street Woods notified the public it was temporarily closing some trails due to mountain lion activity. A couple of mountain bikers saw a deer kill next to the crooked tree overlook and, after investigating the carcass, Kaniksu Land Trust Land Manager Jeff Thompson confirmed it was brought down by a mountain lion.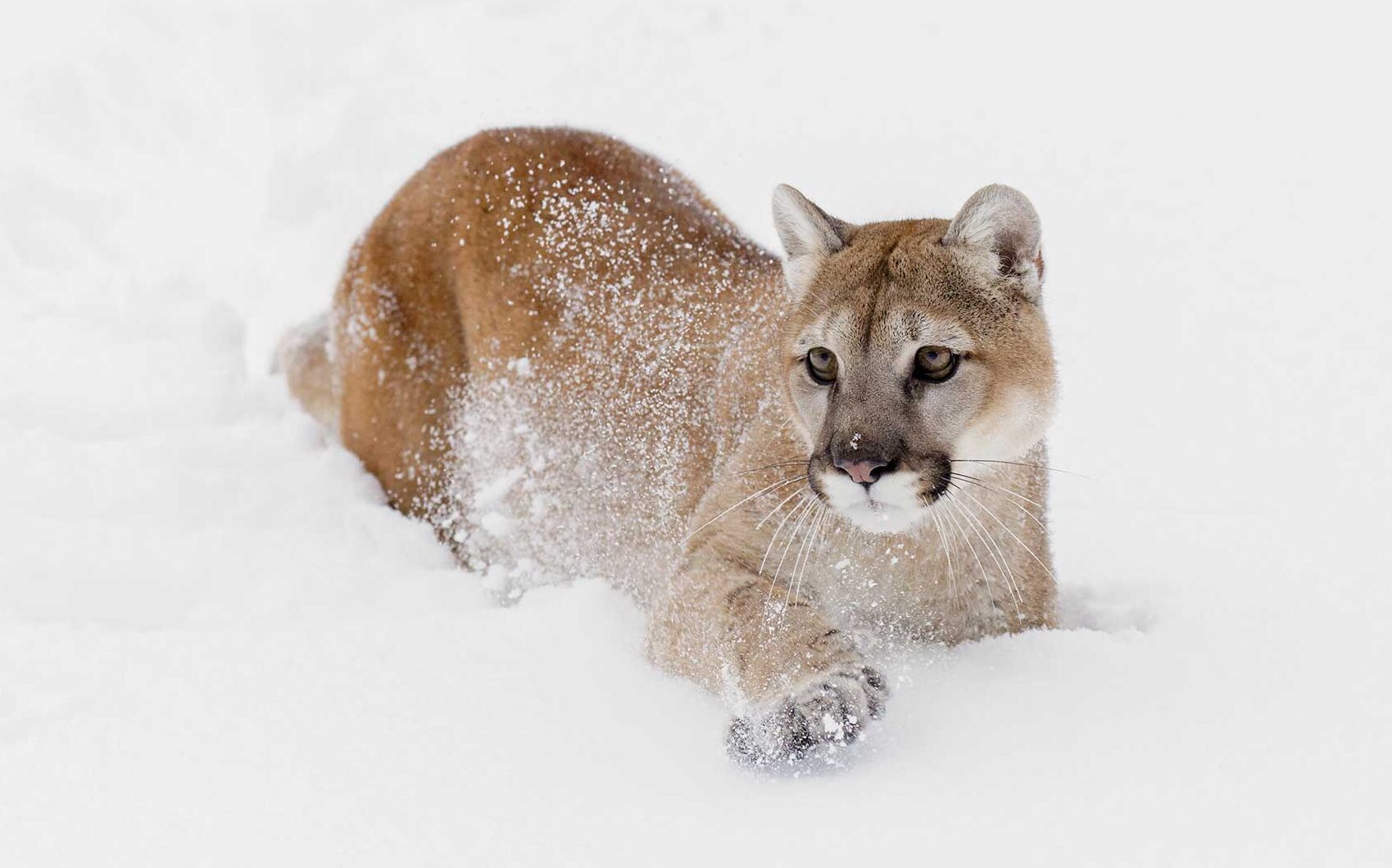 When Thompson hooked the carcass to his truck to drag it away from the trail, he came face to face with one of the most elusive predators in the woods.
"The mountain lion was right there, maybe 50 feet away," Thompson said. "You can see [on the carcass] where the cat had grabbed it and pulled it down and put its teeth in the jugular. It killed it and left it there for the night, and last night went back and pulled it into the woods and ate one of the quarters off of it. Sometimes they kill and eat, then abandon the kill, but usually once they eat on it they'll stick around."
Thompson said the cougar was full-grown and appeared to be well-fed, which is a good thing when considering potential dangers to humans.
"If they're eating good, it's in their interest to leave us alone," he said.
While many who recreate in the wildernesses of North Idaho are aware of how to respond when coming upon a bear in the wild, cat encounters—mountain lion, bobcat, or lynx in this area—can often instill fear because of the rarity of their occurrence.
For Regan Plumb, conservation director at Kaniksu Land Trust, cougar sightings serve as a great opportunity to remind the recreating public that our habitats often overlap with wild cats. Even if we don't see them, they surely see us.
"It's good for people to know that we live with mountain lions regularly," Plumb said. "I expect this cat is a local cat who has hunted at Pine Street Woods for years and never had the misfortune of killing a deer on the trail and getting interrupted by mountain bikers."
Idaho Fish and Game keeps track of cougar sightings across the state, breaking down encounters by county. Over 30 unique sightings—most of them verified or trusted—have been reported in the past decade in Bonner County alone.
Mountain lions (Puma concolor) are large, slender cats whose coats range from tawny yellow to dark brown. They're called by many names in many areas, including puma, Florida panther, catamount, and cougar. (The Wampus Cat, by the way, is a large mountain lion with a spiked ball for a tail—probably mythical outside of Clark Fork, where they thrive as scrappy athletic teams at the small local high school.) Lions are quick, agile predators who adapt very well to many different environments. They can be sighted in mountains, coniferous forests, grasslands, swamps, and even dry scrublands. They feed off of deer, rabbits, rodents, birds, wild turkeys, prairie dogs, and other mammals. Most prefer to hunt at night, and they tend to keep their distance from humans.
That doesn't mean mountain lions and humans don't share the same wild spaces, though.
Josh Rosenau, a conservation advocate at the Mountain Lion Foundation—an organization whose mission is to preserve and protect cougars and help educate people so they can coexist with lions—said a recent study in Colorado showed just how much the lions' and humans' habitats overlap.
"They set up some trail cams on an active hiking trail," Rosenau said. "It was an area where there were some collared mountain lions, so they were able to match up when people were walking down the trail with GPS sticks. There were mountain lions just three feet off the trail, all day long. No one knew they were even there. That's how the lions wanted it, that's how the people wanted it."
If ever encountering a lion in the wild, experts urge the importance of staying calm. The first thing to do is make yourself appear as large as possible, speak firmly and slowly back away from it. (Think about how your average house cat confronts a threat—your goal is to "out-cat" a cat.) Most importantly, do not run. That's good advice when encountering any wild animal outdoors—you can't outrun any of them—but is especially good advice with cats. Anything that runs is prey to a cat.
Luckily, according to Rosenau, the chances of being involved in an attack with a cougar are extremely low. "The likelihood of being threatened or attacked by lions is less than being struck by lightning on your birthday," he said.
Paula Bauer, who lives west of Bottle Bay, recently captured a photo of a female lion and her cubs on a game camera she placed in the woods near her home. She placed the camera after seeing scat and tracks in the woods. She said once she saw the pictures, she wasn't afraid anymore.
"So many people were terrified for me because I walk up the mountain alone," Bauer said. "But she knew I was there long before I got pictures."
Bauer said some neighbors noticed the lion coming down into more inhabited areas and notified Idaho Fish and Game about the sighting.
"They asked if (the cat) was bothering anybody or pets and they said no, so they told them to leave her alone, she's a good cat," Bauer said. "If she leaves, the area is open for another to move into that territory and it might not be so accepting of its human neighbors."
All wild cats are solitary, territorial creatures. Females usually occupy a territory of 36 square miles, while males have ranges that can be as large as 150 square miles.
Bauer said that since initially photographing the lions on her game camera, an extensive logging operation nearby has likely scared the cats away for good.
"I haven't caught her on my camera since all the logging," she said. "That makes me sad."
For Bauer, living in balance with our wild neighbors is what the North Idaho lifestyle is all about.
"I absolutely love where we live," she said. "The wildlife needs its space just like people need their space. It's a respect thing. I didn't put those two pictures of the cougar on Facebook for a while because there are some local people who shoot anything they can get ahold of. I only posted the photos after the lion was long gone."
Cougars are one of three species of wild cat that call North Idaho home. The smallest—and most common—is the bobcat (Lynx rufus). If lucky enough to sight one, you can recognize bobcats by their red-brownish fur with dark streaks and spots. They weigh about twice as much as a house cat and have peaked tufts of fur coming from the tips of their ears. Bobcats are scrappy hunters, feeding on rabbits, hares, voles and squirrels mostly.
The third species of wild cat in North Idaho is by far the most elusive creature in our forests. Often referred to as "The Forest Ghost," lynx are stunning creatures who rarely show themselves to humans. Even experienced hunters and woodsmen who have spent years in lynx habitats count themselves lucky to catch sight of one in the wild.
The North American lynx (L. canadensis ) look similar to a bobcat, but are larger and have gray fur instead of brown. They have longer legs and huge paws, which act as snowshoes during the winter. Lynxes also have tufts of hair at the peaks of their ears, though they are twice as long as the bobcat's. Both species have short tails tipped in black, with the lynx's tail more pronounced. Settlers used to remark about how a lynx looked like it had dipped the end of its tail in ink.
The lynx feeds on grouse, voles, mice, squirrels and sometimes even foxes, but their primary source of food comes from snowshoe hares. The two species are so intertwined, any change to their habitats affects the other directly. For example, snowshoe hares depend on willow plants to live, so if there is a particularly bad year for willows, the snowshoe hare populations can dwindle, and in turn, also the lynxes.
All three species of wild cat have habitats in North Idaho that overlap closely to humans. The expansion of residential homes further into the mountains due to increased growth in the region, as well as excessive hunting, can largely impact the wild cat populations, just like when a preferred food source grows scarce. Some believe lions appear to be growing bolder in their interactions with people, which is likely attributed to humans pushing out into the traditional range of the big cats, as well as them growing acclimated to our presence. Often, we unknowingly leave behind easy sources of food on back decks of porches, which attracts lions that might be chasing an empty stomach.
"These cats live right on the edge of civilization," Thompson said. "They benefit from things they can predict. They like it when they know people are on the trails, cars are on the roads, [and which] corridors they can safely walk and hunt."
While Idaho Fish and Game doesn't release population estimates for how many mountain lions live across the state, each year trophy hunters kill approximately 400 to 600 of the cats statewide. The hunting season lasts ten months of the year and even allows hunters to use hounds to pursue and tree cougars, which isn't allowed in many other states. The most recent numbers on how many cougars are hunted in Idaho come from the 2010 season, when 665 cougars were killed by hunters. This doesn't include those which might have been killed by game wardens or law enforcement in response to depredations or encounters near homes.
The Mountain Lion Foundation estimates there are around 2,000 wild cougars in Idaho
"That's a harvest of nearly one-third of the total population, an unsustainably high level of mortality," Rosenau said. "As a rule of thumb, 14 to 17 percent is what wildlife managers usually recommend as an upper limit for total human-caused mortality."
Living in balance with our wild neighbors begins with understanding the habitats of big cats and respecting their boundaries, much as they respect ours. As we push further into their natural surroundings, more encounters with wild cats are likely in the future. In times of plenty, mountain lions might never attempt a brush with their two-legged neighbors, but in times of scarcity or pressure, they are more likely to intermingle closer to population areas in search of food for themselves and their young.
"Mountain lions are incredibly adaptable," Rosenau said. "That's why they've survived as long as they have, especially in places where wolves were eradicated."
"I'm sure there are cats moving through close to town and around town," Thompson said, after depositing the Pine Street Woods deer kill further away from the trail. "If we knew exactly how close, we'd probably say, 'holy cow!'"