To Schuss or to Shred?
From the Winter 2023 Issue
The answer is simple. Why not do both?
To schuss or to shred, that is the question: Whether 'tis nobler in the winter to ski or board the mountain through outrageous powder .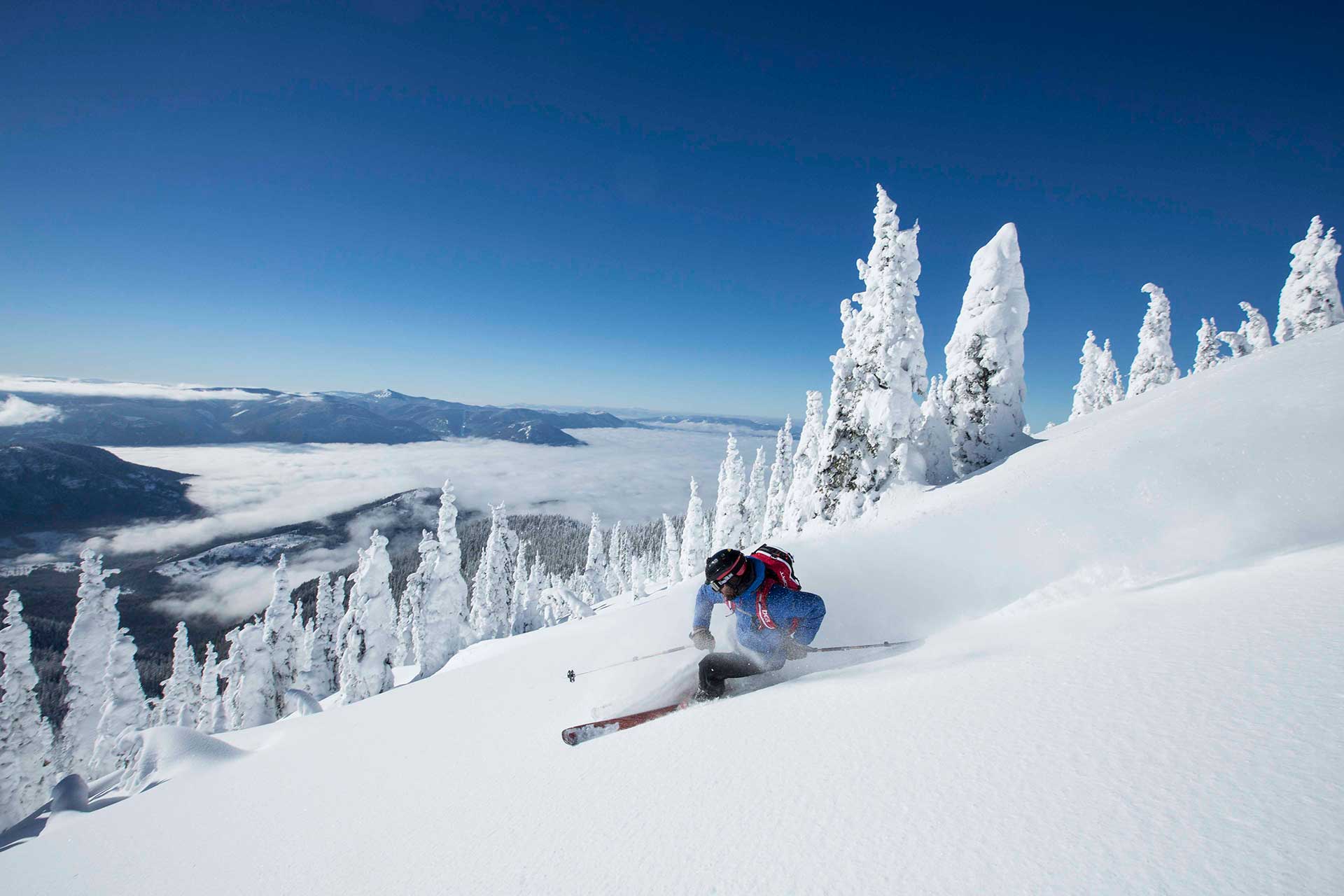 A short historical perspective
In the Stone Age, hunters chased game across the snow surface on wooden slats with animal skins laminated to their underside. The original prototype for snowboards—surfboards—have also been around for a long time. Polynesians began riding Hawaiian waves circa 1150.
The late Jim Lovell, who was a Sandpoint house designer, learned to surf as a kid in California and when he found himself living in a place with mountains instead of an ocean, took up the snowboard. He said it was a natural progression.
Nobody knows who figured out either endeavor, but in the early twentieth century, skiing became less of a survival technique and more of a recreational sport. In 1965—two years after Schweitzer began operations—an engineer named Sherman Popper stuck two alpine skis together side by side as a toy for his daughters. His wife named it the "Snurfer" (snow-surfer). In 1966, Popper licensed the Snurfer to Brunswick Corp., famous for making bowling balls. Brunswick sold over half a million Snurfers that year, and snowboarding was born.
Boarding into the counter–culture
Snowboarders and skiers have been debating the merits of their individual toys ever since. The 1980s and '90s were marked by serious conflict between the two varieties of riders (three, if you count telemark skiers as a separate group—which they are). The animosity was surely driven by competition for style, powder, and space on the slopes, but mostly by cultural dissonance. Snowboarders—and their disparagers—saw snowboarding as counter-cultural, a new thing that the older generation frowned upon, and therefore rebellious youth embraced. Local skier—and freelance writer—Barry Campbell noted that in 1995, even as snowboarding became more accepted, many riders tried not to be seen as mainstream.
Which still seems to be true. But, 27 years later, things have mellowed out a bit. In fact, Campbell and many like him both ski and board, though he mostly skis. "After a couple of bad falls last year, I may give up the board. But I'm going to give it one more try. On a powder day."
Every good rider loves a powder day, but a skier's jealous bone comes out when the powder turns to goop. A boarder successfully navigates Pend Oreille Premix better than a skier. On the other hand, when the off-piste is non-negotiable, skiers have the advantage on hard groomers.
Local adventurer Jim Mellen boards and skis. But he mostly boards, and not many can keep up with him. On skis? Not so much. He reserves them for those days when the snow is "firm," as does Matt Smart.
Smart is a Level III instructor at Schweitzer in both disciplines. "Right now, I'm pretty even on skiing and boarding," he said. "But I have a preference. I'm a snowboarder. I've had a lot of fun on my skis. But in steep, tight trees, I'm on a board."
Smart learned to ski when he was about three, but ten years later, in 1990, he began learning to board. "I wasn't a very good skier," he confessed, "and I wanted to try something that was rebellious. I went back and forth for a few years, and then went with the board."
Campbell was on a similar timeline but a different trajectory. "I started skiing in 1980, and I started snowboarding in 1990, when Sorrels were still considered snowboard boots. I was living in Aspen, and after 75 days of skiing, I was bored. The first day on a board, I beat myself up so badly I didn't ski for three days. Since then, I've snowboarded a lot, but I might snowboard five days a year, while I ski 45."
When Smart came on as a Schweitzer snowboard instructor in 2008, he was asked if he thought he could teach skiing as well. He decided to give it a try and pulled his skis out of the closet, but found out his skis were no longer "cool." A pair of parabolic skis later— which he admits to overworking at first—he started teaching skiing in 2009.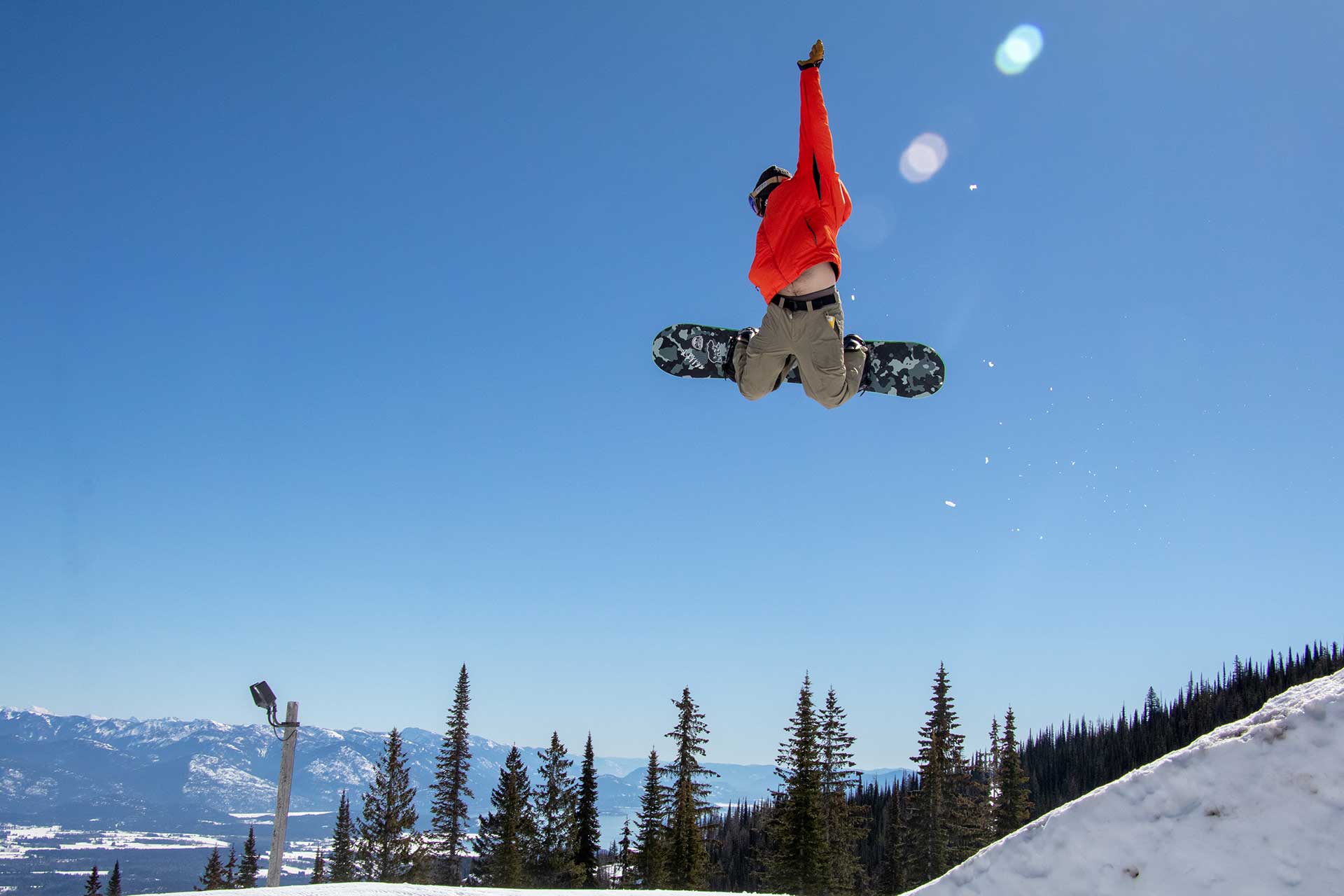 Heading down both ways becomes more common
The ratio of boarders to skiers has remained somewhat constant for the past few years. About 30 percent of riders are boarders—still a firm minority—but there is quite a bit of cross pollination between skiing and boarding. The National Ski Area Association notes that about 30 percent of snowboarders also ski and about 25 percent of skiers also snowboard.
"Schweitzer has a higher percentage of boarders on weekends," Smart said, "and more skiers on weekdays." This could be attributed to the fact that persons who ski the most are 65 and older—retired folks. They can ride midweek, and very few of them are boarders. But as the boomers age out, the ratio is changing.
"Boarding will grow," said Smart. "A snowboard is easier to manage than skis. It's way easier for kids. First time, little kids are rocking it. And, I'm seeing more older folks trying it because it's not so hard on the knees."
In the meantime, the debate continues, albeit at a lower volume. What is true of both sports is that they are fun and graceful ways to descend a snow-covered mountain.