Ron Heller NFL Champion
From the Winter 2017 Issue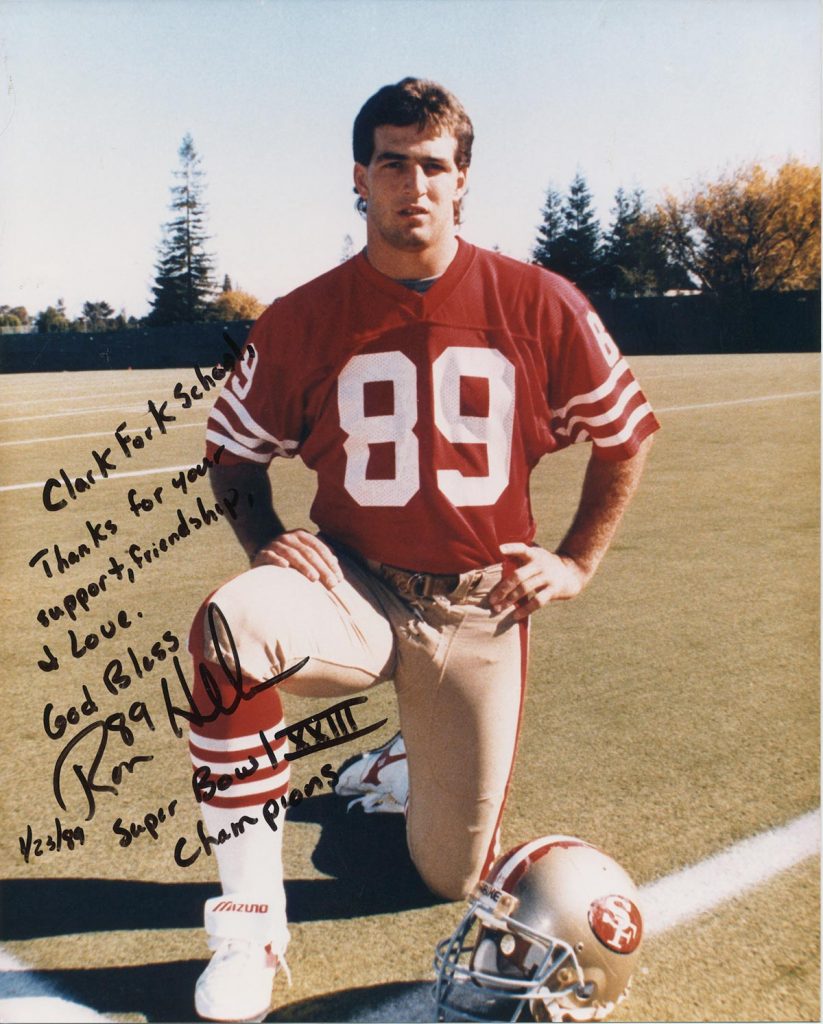 In the fall of 1978, freshman Ron Heller stepped onto the football fi eld at Clark Fork High School. As at most small schools, playing time is virtually guaranteed, given every man standing is needed to fi eld a team. During the next four years, Heller, known for his unusual combination of both size and speed, became a standout as a running back and linebacker. He also won state titles in track and was named to both all-state teams for basketball and football.
For Heller, it was just the beginning of his glory years. Offered a football scholarship to Oregon State University, he studied kinesiology and secondary education and excelled at football, before joining the San Francisco 49ers. In 1989, during Super Bowl XXIII, against the Cincinnati Bengals in Miami, the tight end walked off the fi eld with a Super Bowl ring. In 2006, NFL.com ranked this game as No. 1 out of the top 10 Super Bowls of all time.
Heller went on to play for the Atlanta Falcons and the Seattle Seahawks before hanging up his cleats in 1993 and going to work in the fi nancial services industry. He cofounded Peritus Asset Management in 1995 and is the current CEO and senior portfolio manager.
Heller married Connie Espinosa in 1989. The couple has four children and lives in Santa Barbara, Calif. Heller coaches football at Bishop Garcia Diego High School, where his son is following in his father's footsteps as a three-sport athlete. He returns to Clark Fork frequently (particularly for the annual Alumni Tournament), where his father, Don, and a brother, Randy, live.
Q. You have a sort of "rags to riches" story: small-town boy makes it to the big-time football league, given that you went to a small rural school and a college not known as a football powerhouse. Can a boy in a small rural school today follow in your footsteps?
A. I don't believe it is any harder today than back in 1981. The access to digital technology and social media creates a way for athletes to be seen where a coach does not have to travel to see it in person. We had 8mm tape and that was not effi cient. The number of sports camps, clinics and specialty training now is incredible and many colleges go there to fi nd the athletes. At the end of the day, coaches want a great athlete who does not have any trouble in their past and who has a 3.0 GPA or better.
Q. You were a three-sport star in high school. At a bigger high school, a kid is lucky to play (and do well) in one sport. Is there a benefi t in one experience over the other?
A. I speak to a lot of college coaches and they still prefer multisport athletes. This is because they are getting cross training in different movements and their brains have to think and react in different environments. There has been a slight move away from football at the high school level because the commitment is year-round and many kids don't want to have to go to a weightlifting class before school, spend all summer doing weights and football and enduring the mental and physical rigors the game requires.
Q. Not counting Super Bowl, what moment in your football career was the "best?"
A. The best moment I have clearly in my mind is when Coach Bill Walsh walked up to me after practice in my fi rst year of training camp and pulled me aside and said, "Congratulations, you are now a family member of the 49ers." He went on to tell me that they believed in me and what made the difference between me and another player for that roster spot was the fact that I played with a chip on my shoulder and that I wasn't intimidated by anyone or by the level of the game and wouldn't back away from any situation. I attribute that to growing up in Clark Fork: we had 15 players and every game we played teams that had four to fi ve times as many.
Secondly, literally having to learn to eat what you kill, and being able to handle the rigors of the mountains, streams, rivers and lakes that could do harm to you if you were not careful – you had to learn proper preparation.
Q. What other high school experiences were valuable?
A. I had great teachers and coaches who didn't allow me to slide in any way even though I was getting a lot of attention and offers from colleges. I worked several jobs while playing three high school sports, and that helped me learn to manage my time and calendar. Lastly, I had great friends and teammates like Todd Johnson and my brother Don (named after their dad) who would always fi nd time to work out with me whether it was at midnight or 6 a.m.
Q. You went from football into financial planning. How did that come about?
A. When I was with the 49ers, Walsh started a program to get the players to either continue their education or fi nd work/internships during the off season and I did that. I spoke to Bill and my offensive line coach, Bobb McKittrick – a former OSU Beaver and one of my idols; I also played with his son Ladd at OSU – one day and they said if you want to be rich, either work like the rich or fi nd a way to provide a service to them. I chose that teaching moment to start reading the business section of the newspaper fi rst instead of the sports page.
Q. Have your views about participation in team sports changed as a parent?
A. I have four kids and I have coached many sports, both girls and boys, and the political correctness that has taken over has done damage to our culture. Everyone gets a trophy or ribbon just for showing up – that is not acceptable. Kids need to learn there are different roles on every team/business. Some excel or grow faster than others and you need to keep working hard, learning and your time will come. Lastly, parents allowing kids to quit during a season is wrong. It teaches no commitment.
Q. A lot of young athletes in Clark Fork have gotten to wear your Super Bowl ring. What is it like coming back to Clark Fork as a "superstar" to the young ones?
A. I have never seen myself as a superstar; I am just a country boy who loves my town and country and the people in it. I still get up and go through the same struggles as they do.
Q. If not a superstar, you're definitely a role model. And when you play basketball at Alumni, you're a bit of a beast on the court. Is that intentional?
A. I don't play down to anyone; I love to win and only my daughters have that privilege. In football, every play mattered; never give the opponent the edge. That's a good life lesson about excellence and effort.
Q. For the 50th anniversary of the National Football League, all players and head coaches who were part of a Super Bowl roster were given golden footballs to present to their high schools. This spring, during the annual Alumni Tournament, you presented one to Clark Fork High School. What was that like?
A. It was a small token of my appreciation to the community that helped me in so many ways to reach that dream. I had people hire me, feed me, drive me, tutor me, and give me love and advice all along the way. One doesn't wake up one day as a pro athlete; they grow into that, and much of it is because of the experience, struggles and successes you have during your younger years.
Q. There are always arguments about whether taxpayers should be funding organized sports in the public schools. What are your thoughts?
A. There should be some level of funding for school programs. This gives many kids that don't have the means to play club or all-star sports another avenue of learning.
Sports teaches kids many life lessons, and I encourage all kids to play a sport.
Q. You went to OSU on scholarship. Did it fully pay your expenses? What do you think about paying college athletes?
A. College sports is a multibillion dollar business, and that revenue should be shared with the athletes. They don't deserve big salaries but allowing for expenses, travel, etc.
is important. I was a starving student athlete, and I mean starving. The athletes do get their education paid for, but so do many regular students and the athletes put in many, many hours that the non-athletes don't.
Q. You played pro ball at a time when salaries weren't all that great. Do you think the higher pay is, overall, a good thing for the sport?
A. What a difference a few decades make! In my third year, the year we won  Super Bowl, my salary was $70,000. The rookie salary now is somewhere around
$450,000. The pay is justifi ed as a percentage of revenue for the NFL, as the players risk everything to put on that show we call the NFL. Unfortunately, there are not enough players helping players through their careers in the way of mentoring and guiding these young men.
Q. Injuries are another big issue in football. How did football treat you?
A. I just had another partial knee replacement, which was my 16th surgery. I just do my best to eat clean and exercise. When I played you were pushed back onto the fi eld as soon as you could endure the
pain. As an example, I had a knee surgery on a Tuesday night during the 1990 season, and I played fi ve days later. Today, they allow several weeks for recovery. Did that have an effect on my career, and was I compensated
for it? Well, it did have a negative effect and, no, I was never compensated for that. After retiring I was left with no health insurance or retirement plan.
Q. Do you think it's possible for an athlete to be a standout in sports today without the use of performance-enhancing drugs?
A. Kids can excel without drugs. The science behind nutrition and supplements is so good, you can be a top athlete without them; it just doesn't come as fast or as strong as drugs. The leagues just need to spend the money for blood testing and that will eliminate most of the cheating, but that is very expensive and time consuming.
Q. Would you do it all again? What advice would you offer to young athletes today?
A. I would do it again. The life lessons that this game, and only this game, teachers are priceless. You have to work longer hours, spend summers and train more than any other sport requires. This doesn't even take into account the mental challenges it requires from dealing with pain and injuries to overcoming fears of hitting and being hit.
Young athletes need to study the game, study how those who made it got there and what helped or hurt them. When you figure this out, take that baseline to another level. Lastly, don't let anyone tell you it's not possible; don't believe it for a second. 
6 responses to "Ron Heller NFL Champion"